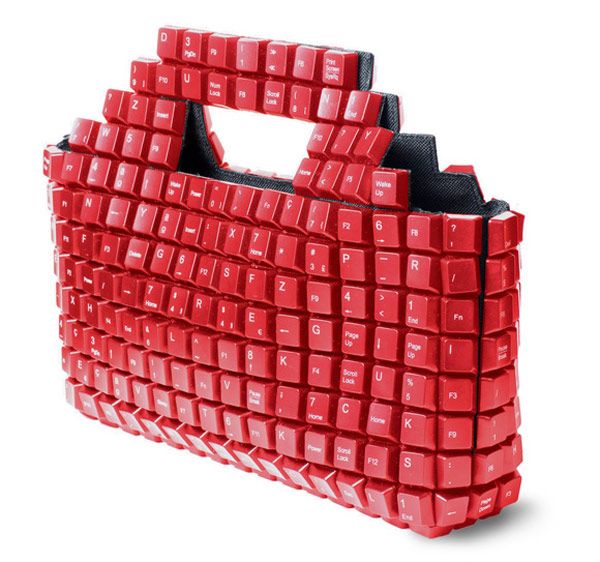 A well crafted purse adds elegance to the woman's personality and has always been a sign of luxury. These are a perfect storehouse of all that a woman may need while she is not surrounded by the comfort of her house. But there are many females as well as brides out there who have geeky soul and can't imagine their handbag without the touch of their personality. Fret no more! If more than pearls and satin, you like phones and laptops, then there is a sea of options for gorgeous brides making them feel all the more special as they carry a perfect bag that oozes style. Have a look at some of the cool and hi-tech purses which will make geeky brides jump with utmost joy.
NES Gaming Purse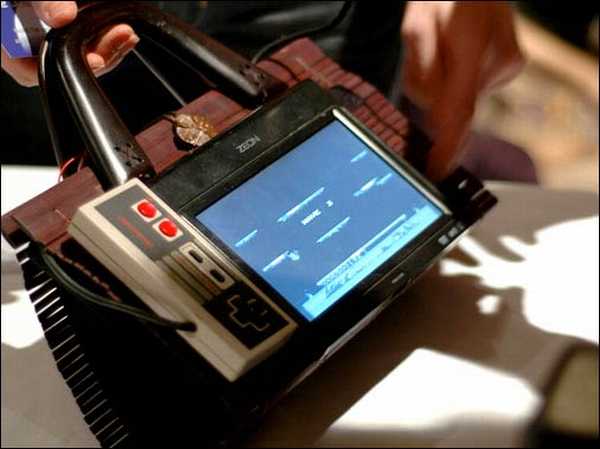 One word for this handbag designed by Jeri Ellsworth is 'Amazing!'The stunning handbag touches the top notes of being a geeky creation as it comes complete with a built in Nintendo Entertainment System. The outside of the design features 2 NES controllers that have been fitted to the surface with the help of a Velcro. The bag has a mod which comprises of an LCD screen extracted out of a portable DVD player along with an NES on chip mods. So, if you get a little bored at your own wedding all you have to do is pull out your bag and enjoy a refreshing game while your better half gawks at you in surprise.
Diffus Solar Purse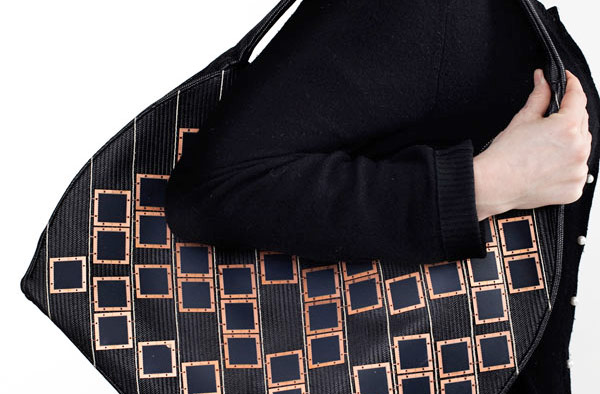 Portable gadgets running out of charge are surely unwelcoming. But, here is some happy clappy news for all the geeky brides who love their gadgets just like they love diamonds. A Danish design studio named Diffus has crafted a handbag that has made solar panels travel from rooftops to this most desired accessory for women. The attention grabbing bag comes ornamented with 100 solar sequins that will harness energy solar energy every time you are out. It will capture enough energy to produce 2 Watts of power, which can be used to juice up a lot of portables devices. The optical fibers in the design will save leftover energy for later use, if required. These will glow whenever the bag is opened, producing enough light that will be useful to find stuff inside the bag when dusk sets in.
Purse with integrated TV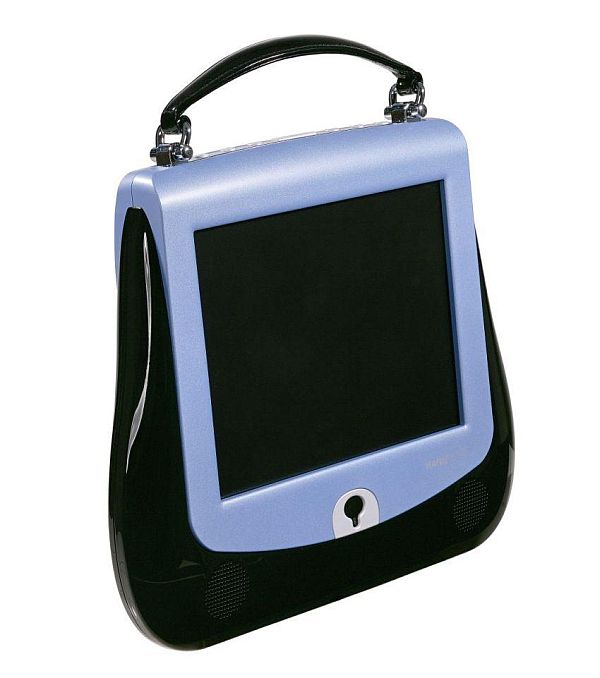 Missing your favorite serial and don't have time to see the repeat telecast even? Well, for all the TV loving brides the stunning creation by Hannspree is worth a steal. The purse TV is only one of its kind as it comes fitted with an LCD screen that has a clear and crisp 9.6 inch display. Crafted out of genuine leather, the purse TV is quite spacious and has an elegant outer skin. The handle gives it a complete look and makes the bag easy to carry with utmost panache like any other classy creation.
Solar Powered Purse by Rosanna Kilfedder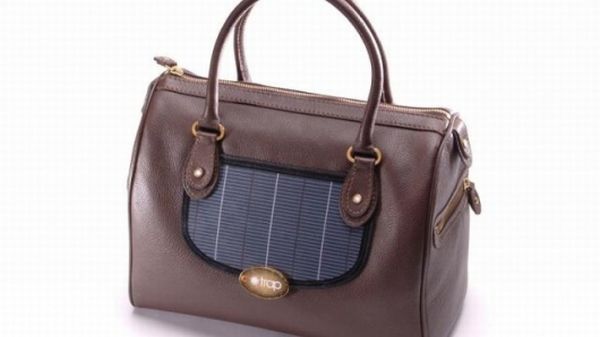 All the contents in a women's bag comes tagged with a lot of mystery, which has the power to even confuse the owner. But, shedding some light to the inside of a female's bag is the Solar Powered Purse by Rosanna Kilfedder. The captivating bag has been fitted with a solar cell, which has been intricately placed on the outside of the design. The energy produced is stored in an internal lining, which is responsible for lighting up the inside lining. The lining of the glittering bag has been crafted using the same electroluminescent material that is found in cell phones. The inside lights get activated when the bag is unzipped and turns off when the zip is closed. So, find your mascara, lipstick, gloss, house keys and even safety pins easily without searching for a zone that well illuminated.
Yoshihiko Satoh's Wooden iPod speaker Purse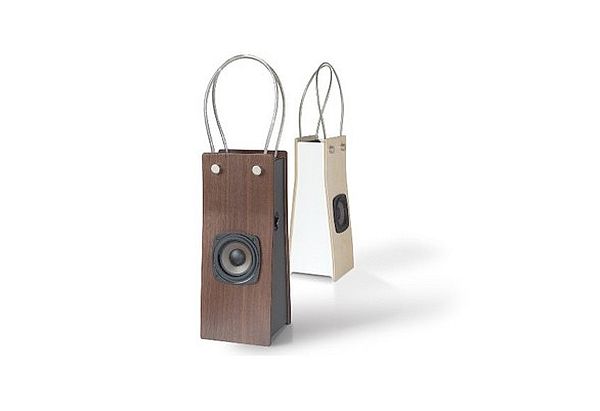 These speakers that look like handbags are actually a handbag! Designed by Yoshihiko Satoh, an artist from Japan, these speakers comes tagged with a secondary function as well, which is a speaker system for your beloved iPod. The mobile speakers will whiff out your favorite tunes, making sure you never get bored and miss good quality sound. The elegantly design handbag, crafted out of wood, will win many praises and is spacious enough to hold a variety of things, which includes a bento box as well.
GPS-packing Marilyn Light Bag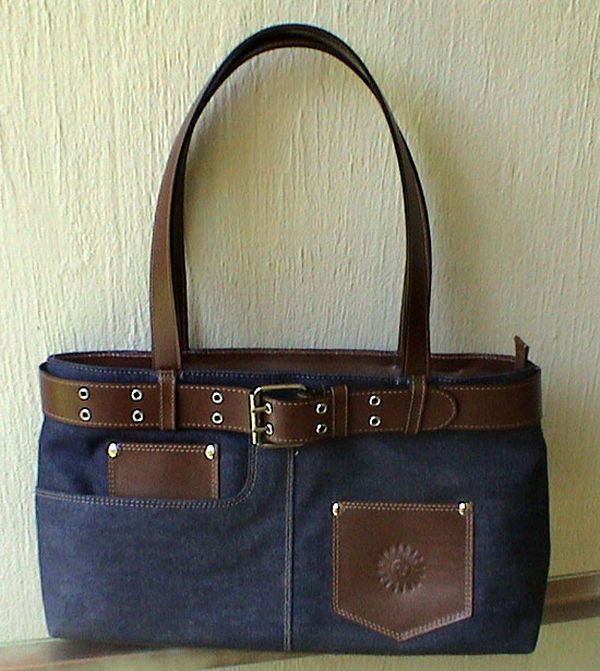 What looks like an ordinary handbag at first sight comes with a very useful gadget that has been ingeniously concealed inside the design. The Marilyn Light Bag, as the name suggests, gets illuminated by the presence LEDs in colors of your choice, which will make it easy to access things that get stuck to the bottom of the bag most of the times. Choose from seven different colors and fetch out all you want even when standing near your dark doorstep. The presence of GPS unit tucked in the seams of the bag will help you locate all your belongings in case they get misplaced or stolen. But, the most useful thing is the presence of a panic button, which lends a sense of security. In case of trouble, simply press the button and alert the police till the exact location.
Esquire Purse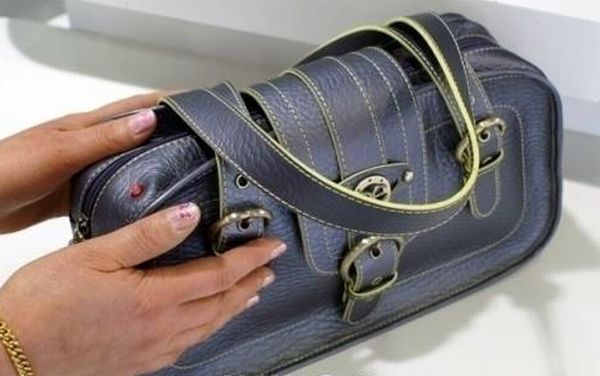 Make your bag shake like Shakira as you grab the Esquire Purse, which makes sure you don't miss any call or messages. The bag vibrates when the phone rings, if it is placed inside it. It can also catch silent alerts and flashing screens, which will definitely prove to be very useful in case the call is very important. The most awesome thing being, the device can be fitted to just any handbag one wants.
DVD equipped Purse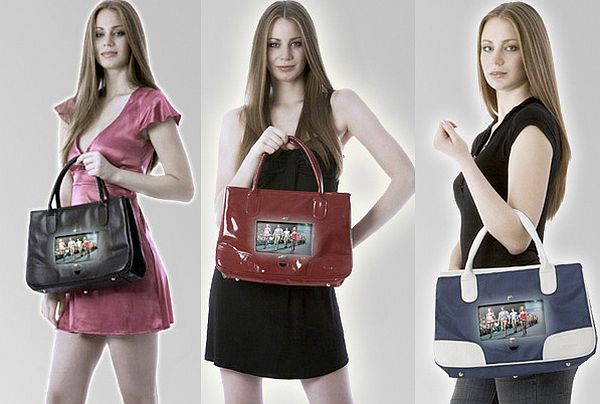 If you one amongst those who gets high on technology, then he sumptuous handbag will be worth every penny spent. The sleek and graceful bags come fitted with a 7DVD/MP3 player and also a digital photo viewer. The technology coated creation will keep you entertained as it is powered by a battery that has a life of up to 2.5 hours. One can also upload photos from the PC or laptop and cherish all memories while traveling. Look nothing less than a diva as you pick this geeky creation from a variety of colors and finishes as per your taste.
iPod handbag with built-in speakers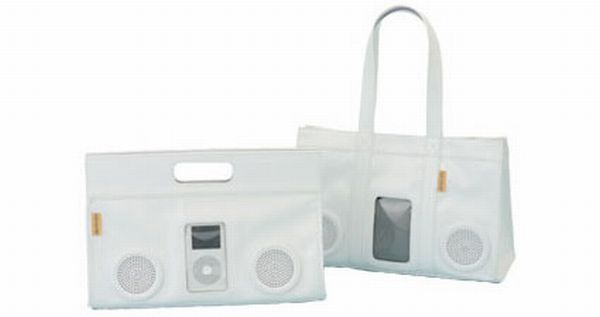 Look super stylish and steal glances as you carry the iPod handbag with built-in speakers. The cool and hi-tech bag comes with special pockets that will hold your tasteful iPod if you crave to listen to your favorite playlist while on the go. The iPod Shoulder Bags by Brighton have been fitted with speakers that will blast out the tunes of your choice. Crafted out of synthetic plastic, the design comes embedded with an amplifier and stereo speakers. It fetches power from four AAA batteries, while the outside of the pocket that holds the iPod comes draped in vinyl that lets you access controls without pulling out the iPod from the awesomely styled bag.
Lifepop's Atom Amp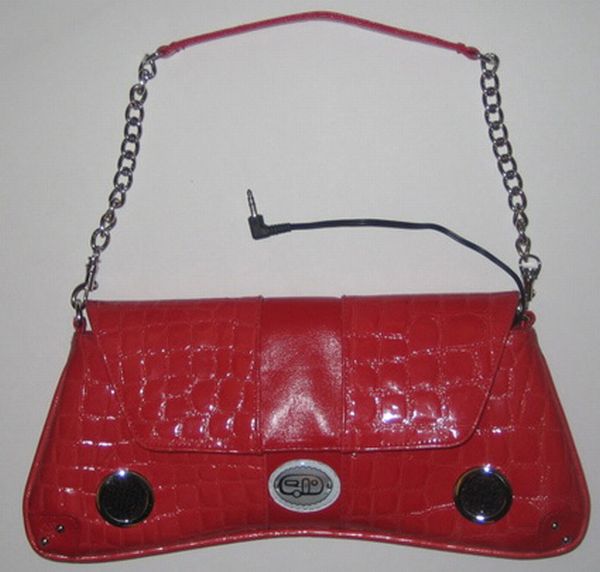 Love music, then you have to love Atom Amp from Lifepop and it will make you go weak in the knees. The stunningly amazing bag will spill your love for music as it comes embedded with a pair of speakers, which will let you savor catchy beats for a good 12 hours at a stretch. The creation will wow onlookers and make men envy as they cannot lay their hands on it.
Keybag Purse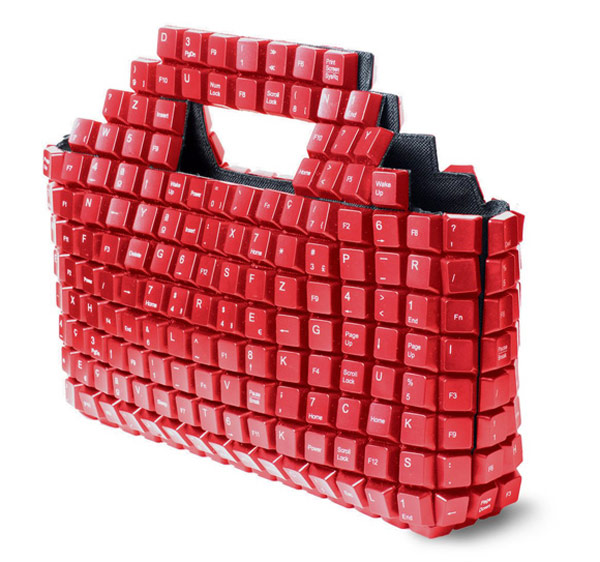 If keys on a keyboard make you go gaga, then its time you revel in the glory of these alphabets and numbers with the Keybag. Every inch of the spectacularly designed handbag comes smothered with 392 computer keys. The creation is a perfect in this technology driven world, where even female's love their laptops and phones as much as they feel excited on seeing good clothes and shoes. But, don't expect the bag to type an email as the keys are just for an added aesthetic appeal.
Stylish Deja Vu Purse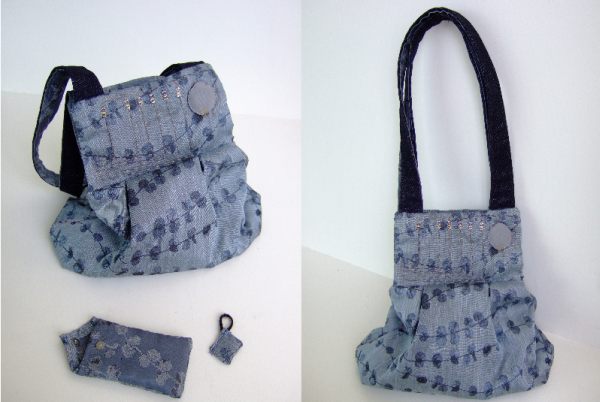 Deja Vu Handbag is perfect for ladies who tend to forget something or the other while leaving home. The trendy bag has been intelligently fitted with RFID that will remind you to keep all the essential things like keys, wallet and a cell phone before you step out. Simply, attach the RFID system tags on all the important things you want to carry and leave the rest for the awe amazing bag. It will give you the flexibility to tag a good 5 items as forgetting things take a backseat in your life.
Noon Solar Purse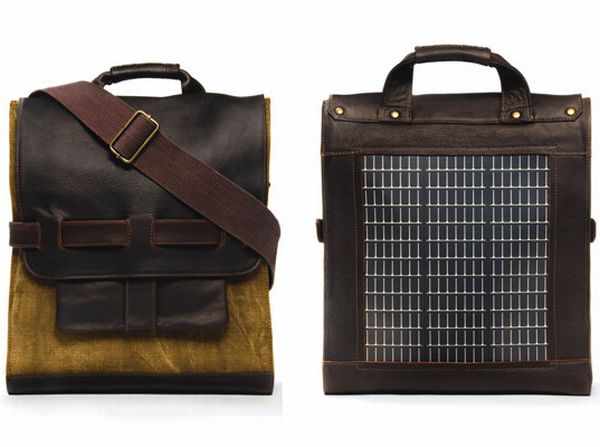 Here to pamper a bride's geeky soul is the beautifully designed Noon Solar Purse that makes sure you never get a flat batter. The chic creation will charge all your gadgets, like cell phones, MP3 players, iPods and other small electronic goods using solar energy. The bag comes packed with a lot of utility, which is a must in this fast paced world.
The Reva Bag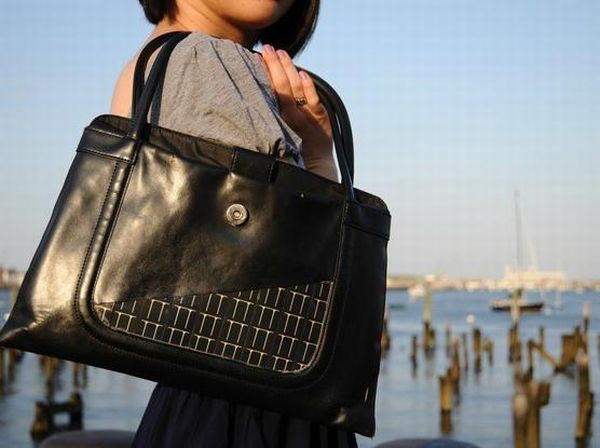 The Reva Bag is pretty darn appealing and will leave onlookers wheezing. Elevate your geeky style quotient as you charge all the gadgets while traveling that too in the same space that holds essentials like makeup and house keys. The trendy creation features a solar panel that will help store enough power to tackle with all your charging woes. So ladies, if your smartphone uses up a lot of charge while your friends call to congratulate on your wedding day, then the Reva Bag is at your rescue.
ELLE's gorgeous solar Purses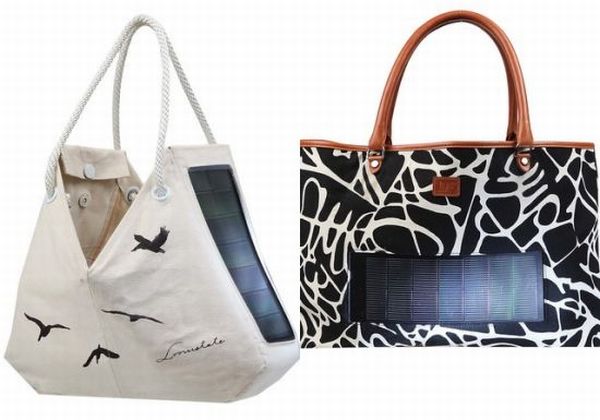 This fashionable solar powered handbag will prove to be a complete portable charging station for your portable music players and cell phones. The handbag by Elle magazine has been graced with FLAP technology that is used to charge portable gadgets. The super cool and hi-tech fashion accessory will make eyes do a cartwheel in surprise as it comes complete with a rechargeable battery, LED lights and a flexible solar panel.