A wedding is undoubtedly the most important day in the lives of all of the different kinds of people in the world. These people make it a point to plan out all of the different kinds of aspects regarding the wedding. Every single aspect of the wedding that can include decorations, entertainment, food, guests, flowers and other particulars are required to be carefully thought out and planned out in the best possible manner. This is because most of the different people want to make their wedding days into the most memorable days of their lives. But such days can also take unexpected turns and can become very difficult for the couple to live down their difficulties.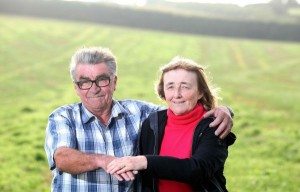 For Brenda and David Caunter, their wedding day forty years ago was supposed to be the most memorable and beautiful day of their lives. For this purpose, they had a picturesque wedding in Cornwall and it seemed that everything would go according to plan. They had a very good ceremony until things took an unexpected turn. The trouble that they faced that day had effectively plagued and followed them for an excess of forty years of living together. Soon after they got married, the wedding ring that was worn by the bride had slipped off her finger.
A chance meeting gives them happiness
Getting the wedding ring stolen or lost can be one of the most difficult times that people can face with regards to their nuptials. The couple in question also was absolutely heartbroken after the event had occurred. In fact, the couple was unaware that the bride had lost her wedding ring until after the entire ceremony had taken place and they were off for their new home. It is then that they realized the horrific account that had taken place and they were completely shattered.
The commendable matter is that the couple did not give up looking for the wedding ring. They kept on looking even after forty years of living together. It was not until recently that the couple found some solace and they got back their lost happiness. A neighbor had been to the field with a metal detector and surprisingly, he had found the ring. Upon a chance encounter with the couple who were discussing their decades old tragedy, the neighbor broke the news that he had found the ring which indeed turned out to be their wedding ring.