Most of the women keep a fairy tale wedding idea in their mind. They cherish a dream of making their wedding exciting. I think Lauren Busher also had some idea otherwise she and her husband Ben Youngkin could never be able to make their ceremony such exciting. Their wedding news is now buzzing in the air. It is not that they are some famous persons but it is their wedding idea which has brought appreciation of the world.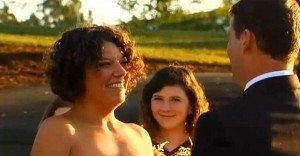 What an Innovative Idea!
Are you waiting for some innovative ideas for your marriage? Don't you want to make your wedding ceremony attractive to others? You must want. Ask yourself. Your mind would help you to weave the dream of your wedding day. If still you find that your mind does not give you any worthy innovative ideas then look at the wedding videos of Lauren Busher and Ben Youngkin. Instead of a traditional walk on the aisle on their wedding ceremony they planned to fly via Zip wire. Like the other couples they left the boring idea of walking on the aisle and in their wedding venue of North Carolina they found a zip wire. This flying over the zip wire idea helped them turning their dream into reality. They added more tender and more excitement into their wedding day.
You must have seen two doves preening and cooing for a long time to offer some quality time to each other. It is very interesting indeed. This a second look pictures of those two doves capture a room in the onlooker's heart. I was at a wedding ceremony of one of my friends. The couple had a plan to make their wedding exceptional and for this they brought two doves in their wedding places and kept them at the entrance. These two beautiful white doves were making love to each other. This conveyed the message of love. Undoubtedly this was a sweet way of expressing love to each other. I was surprised and mesmerized then. But I became more surprised watching the video of couple flying through the Zip wire on their wedding ceremony.  I really admire this innovative thought of enriching the wedding ceremony.
These days no one really wants to pass through the boring ceremonial ritual. We want theme and fun at our wedding.  Eschewing the boring conventional idea of marriage you can make your wedding a fun experience like this North Carolina couple Lauren Busher and Ben Youngkin.