There are times in a wedding when most guests are bored stiff and may want to get out on any fancy excuse.  Yard games are a great way to keep them entertained; besides it is also a fun way to get to know the family. Some traditional yard games will act as a great icebreaker in your wedding while creating some memorable moments.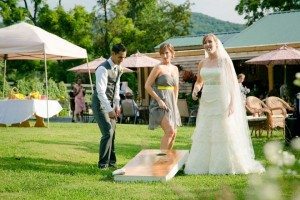 Cornhole
Cornhole is a popular wedding yard game to keep wedding guests entertained. The designs for the board can include images of the bride and groom as well as other prints that may catch your fancy, you might match it to the wedding theme.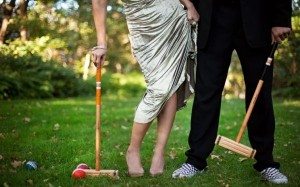 Croquet
A favorite American yard game, Croquet is enjoyed by all age groups, especially the grandparents who played it while growing up. The game will keep your guests engaged for hours and create some memorable moments too. Arranging this game will require a bit of planning on your part, such as, designating an area for it. The wickets for the game are partially buried in the ground and hence guests may trip or accidently stumble upon it during the reception. The game is easy to pick and not very challenging, hence it will keep the moods sober during the game.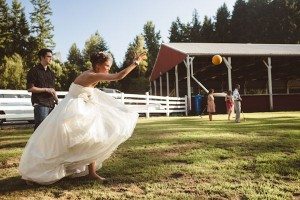 Bocce Ball
This is a classic yard game, which requires 2 to 8 players and little equipment to get started. You have to create a court and get a set of bocce balls to get rolling. You can view numerous videos for instructions and rules on how to play the game.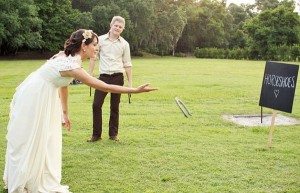 Horseshoes
Traditionally, horseshoes are considered a lucky gift for the bride and groom. Playing a wedding lawn game with horseshoes will bring old associations of luck and fertility in the marriage with them. This will earn approval of the old and young at the wedding.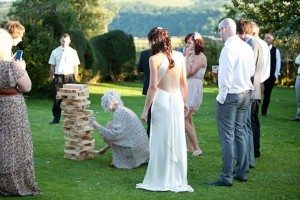 Giant Jenga
The giant Jenga pieces are enough to get everyone excited and thrilled. The kids especially will love the game while the adults will be challenged, especially as they will be assisting the little ones. There are videos online that you can refer to create your own Jenga set, you can personalize it to signify the special day.