Weddings are extravagant occasions. Style and glamor blend in generous proportions to lend lingering memories for everyone, especially the bride and the bridegroom. Whether it's the aisle or the altar, the bridal gown or the nuptials, the exotic venue or the sumptuous dinner, they all make wonderful memories.
In such a scenario nothing can be compromised, not even the wedding car. Check whether you want the wedding car decor for the arrival of the bride or for your joyride. If the car is a luxury one, you've already added glamor quotient to your wedding car decor. But there are a lot of other props that can help you make loving, witty and romantic decorations on your wedding car.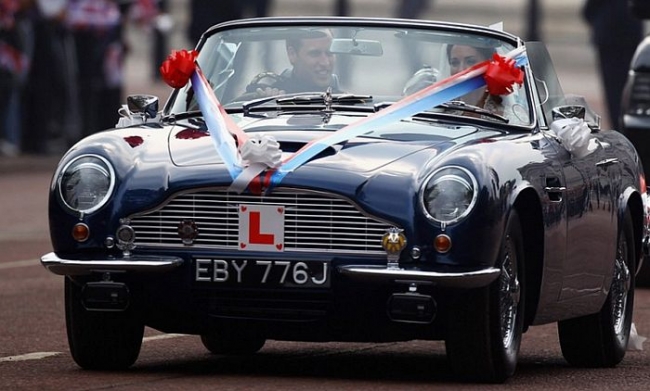 1. Decorate the wedding car with flowers
Just like the rest of the venue fresh flowers are the best accessories to dress up your wedding car. Without flowers a wedding venue lacks freshness. Roses, orchids, lilies you name it! Flowers make an ordinary space extraordinary. That holds true for a car too. Dress up the car hood with a wreath of red roses. If you can make that heart-shaped, it goes great with the mood of the new weds.
Add corsages to the door handles. The bonnet and the bumper can have interesting bouquets strapped to them with colorful ribbons. Silver ribbons look classy so add them liberally to the car decor. Whatever flowers you choose make sure they are in sharp contrast to the color of the car. Or else they will not stand out. For instance dark red roses will never look good on a maroon car. But yellow ones will glow and stand out.
2. Write some romantic notes
The 'Just Married' sign is now dead and gone. That was written on the rear of your parents' wedding car. Get innovative. Write a romantic message or good wishes. Say thank you. Whatever you write make sure it's washable. Use foam, shoe polish or lipstick to write your message. Otherwise you'll spend a good chunk of your next salary on getting it cleaned. Also, make sure it does not obstruct the view of the driver. You don't want to take risks on your joyride. You also don't want to arrive in a plaster at the altar, right?
4. Tying cans and bottles
What's almost become a tradition now is tying metal cans to the back end of the car. This creates quire a noise and attracts attention of passersby on the road. Don't be surprised if this leads to loud cheers and honking on the road. A fun way to dress up the car for sure! But if you don't want to disturb the noise levels in your neighborhood go for glass or plastic bottles. They do clatter but do not create a ruckus.
5. Customized decor
If you want the decor to suit your personality adorn your car with your own style mantras. If it's a festive season like Christmas, add Santa colors to the decor. Use a lot of foliage, red flowers and silver ribbons. Or maybe you can dress up your wedding car with the embellishments that are used to decorate the Christmas tree. Now, that's an innovative way to dress the car. If the bride loves teddy bears, add tiny teddy bears to the floral arrangements on the car especially the door handles.
6. Theme based decor
If you've decided on a theme for the wedding include your wedding car decor in it. That way you'll be respecting your theme right up to the time you drive away from the scene. If it's a color theme like white and purple add fresh orchids to your wedding car decor. You can use satins of the theme color to suit the occasion. If it's a beach wedding, use shells to dress up the wedding car. Use your imagination to the maximum.
7. General props
Use colorful bows and satin ribbons in different sizes if you want to keep the wedding car decor minimal. If the bride is petite, use small well-dressed dolls to extend her persona to the wedding car. If you want a touch of flamboyance yet not flashy use tie-and-dye fabrics across the wedding car in different colors and in interesting styles. Colorful balloons, especially heart shaped ones make every decor look good. Use silk netted fabrics in strong colors like gold, red and silver. These colors will look good on every car irrespective of its color. May be you could use a broad red satin ribbon and wrap your wedding car like a gift. Now that's a wonderful end to a beautiful day, isn't it?