With their flattering fitting and classic take on contemporary designs, Demetrios has carved out its own credential and bestowed brides with amazingly stylish wedding dresses that exude femininity and elegance. From traditional designs to contemporary looks, Demetrios' 2012 bridal collection offers a plethora of options in wedding gowns. Therefore, whether you are a shy-kinda bride who loves classic long-train wedding gown or you are a sassy bride who wants to wear something that defines your era, there is something for every taste. Read on to know more about Demetrois' latest collection.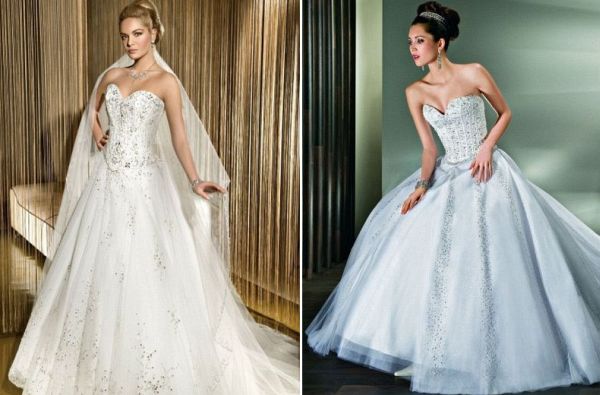 Demetrios James Elias
Demetrios James Elia needs no introduction when talking about famous bridal designers who always bring on timeless designs wrapped in the contemporary cloak. As designer and owner, Demetrios has taken a giant leap in the bridal gown industry and clearly understands the idea of looking elegant and sophisticated on one's wedding day and . With umpteenth designs ranging from traditional to vintage to contemporary, Demetrios' sophisticated take on bridal fashion makes him the most coveted bridal brand all round the globe.
Inspiration
Demetrios' bridal collections never miss to hit the fashion mark among its posh clients and customers. Each bridal piece is designed keeping in mind the wearable-ity and glamor quotient of the outfits. While these dresses allow you to flaunt your feminine approach as a bride, it also ensures that the ruffled designs and embellishments keep your silhouette at utmost ease for hours. The real inspiration behind this uber-glamorous wedding outfits swirls around flaunting flattering figure while providing the haute couture feel to the silhouettes.
Demetrios' 2012 bridal collection
Similar to his prior collections, Demetrios' 2012 bridal collection also celebrates the concept of femininity, sophistication and timeless beauty.
Case in point: This beautiful wedding dress looks more glamorous upfront than it looks in images. The lace design boasts a fit 'n' flare fabric that seamless hugs any figure type. It also features a sweetheart neckline and multi-tiered organza skirt with floral adornments throughout the gown. Available in long and short both, this ultra-feminine lace-up back strapless wedding dress holds beaded satin belt for fastening. The hint of sophistication and inclusion of lace work lend this wedding dress an eternal contemporary edge.
Another bridal outfit that we loved is this super-stylish one shoulder mini gown. This exquisite wedding gown features taffeta and lace work, a pleated bodice and tulle skirt with flower embroidery on its hem. This sheer bridal dress defined for the slender silhouette will perfectly go with the brides with fearless taste in style.
Why buy?
In case you want to induce even an inch of glamor in your bridal silhouette, the Demetrios bridal collection is something that will certainly suit your taste and fashion preferences. With introducing the widest and versatile designs, Demetrios has undeniably produced the fashion landscape in bridal outwear that is worthwhile. Want to browse for some stylish and feminine bridal pieces? Visit Demetrios' official page now!