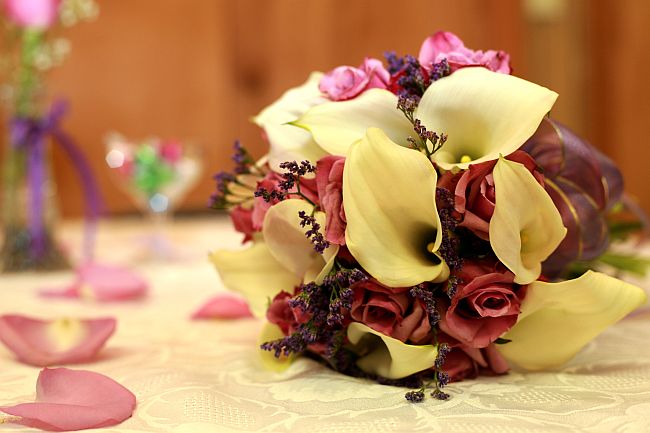 Autumn is one of nature's most romantic times of the year and is perfect for weddings. The rich and vibrant hues of autumn create a natural wedding decor with autumn flowers, foliage and fruits. Anyone planning for a wedding in the autumn months of September, October or an edge of even November can make the most of fall's colors. Gold, greens, bronzes, browns and rust stand out as a tribute to nature against the blue skies and sunshine. Here we'll show you how to use nature's palette to make a glorious fall wedding.
Wedding favors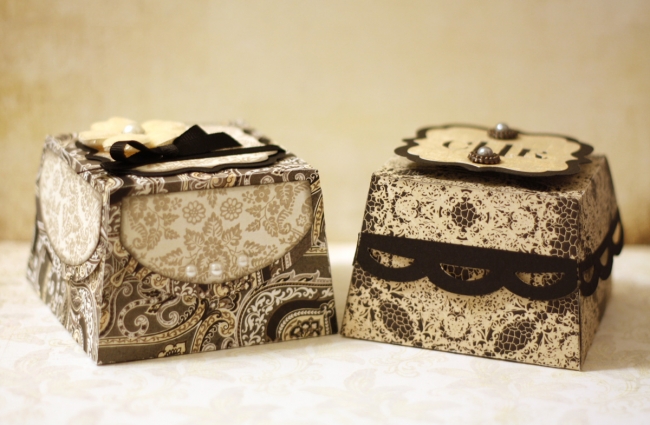 Apples, the fruit of the season can be deliciously caramelized and packaged attractively with a matching ribbon. Soy candles are ideal as they are available in autumn colors. Pack them in pretty boxes. Chocolates being all time favorites can be served along with the desserts in separate trays or packed in clusters with ribbons and placed at each table with a thank you note. Floor your guests with tiny maple syrup bottles after the wedding breakfast as a token of gratitude. Pumpkin shaped soaps or apple cider packets are great ideas as reception favors.
Fall Wedding Flowers

This September there is going to be a huge bounty of those fiery dahlias and delicate roses. They come in a range of sizes from a buttonhole size to a huge size of 10 inches diameter. Hybrid roses in an unbelievable chocolate color and cosmos in the same shade are ready to hit the market this year. Along with flowers you can consider hollowed out pumpkins, cornstalks, fall leaves, acorns and gourds for a unique touch. Since you are going to portray the colorful Autumn of Nature, let your imagination run. Include woodsy ideas in your bouquets like berries, seed pods, rye grass and hypericum. Splash the vivid colors of autumn in your flower arrangements. Use orange and burgundy roses that are in full bloom now interspersed with holly, irises and small squashes or pumpkins. Add colorful leaves instead of the usual green foliage with lighted candles lending warmth to the occasion. Wicker baskets or hollow gourds are ideal containers. Cinnamon and nutmeg give out heady scents reminiscent of Halloween and Thanksgiving. Spread the leaves of fall under the centerpieces and make the arrangement as stunning as the season.
Fall Centerpieces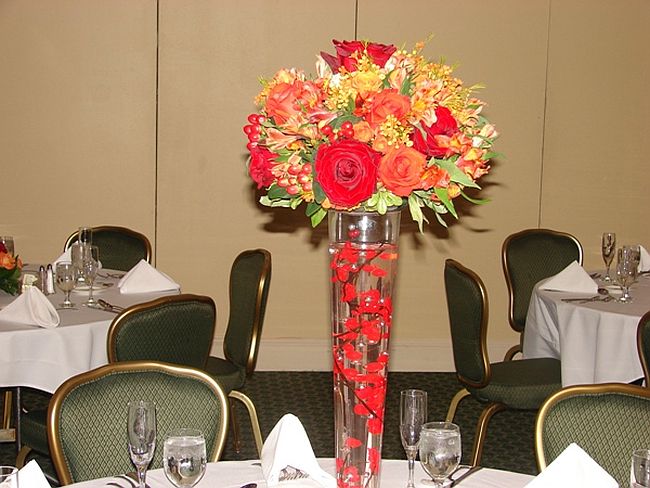 Little pumpkin men or vegetable carvings make enchanting table decorations. Show the presence of autumn with leaves spread under the centerpiece. Antique candlebras with colored and scented candles look great in the center. Make floats with maple leaf shaped candles in a moss green solution. Enhance it with shells and colored glass stones sunk in the bottom. Jack-o-lanterns or pumpkin lamps little wicker baskets filled with candies or vividly colored fruits of the season and the leaves of fall under the centerpiece makes the arrangement as stunning as the season.
Wedding colors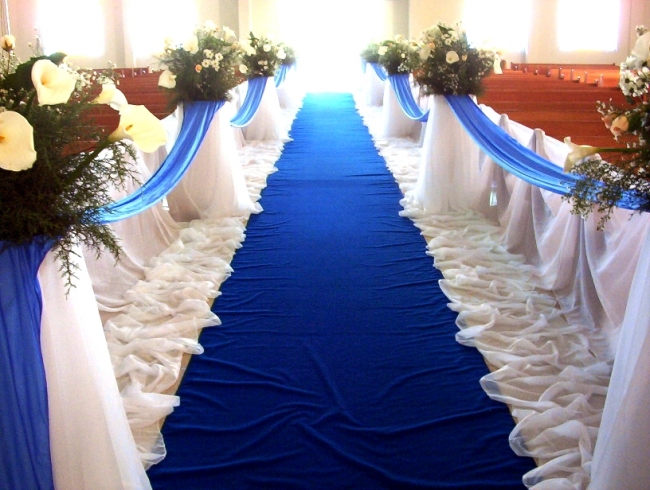 The colors you choose decide the gaiety of the occasion. In a fall wedding, remember much of the colors are already chosen by nature. So choose colors which don't clash with the general theme. Go for tangerine, coral, red, soft violet, fuchsia, burgundy, purple, plum and gold. These colors will enhance the autumn setting which spells warmth and beauty.Choose a splash of blue or purple along the aisle to make it stand out.
Wedding Dresses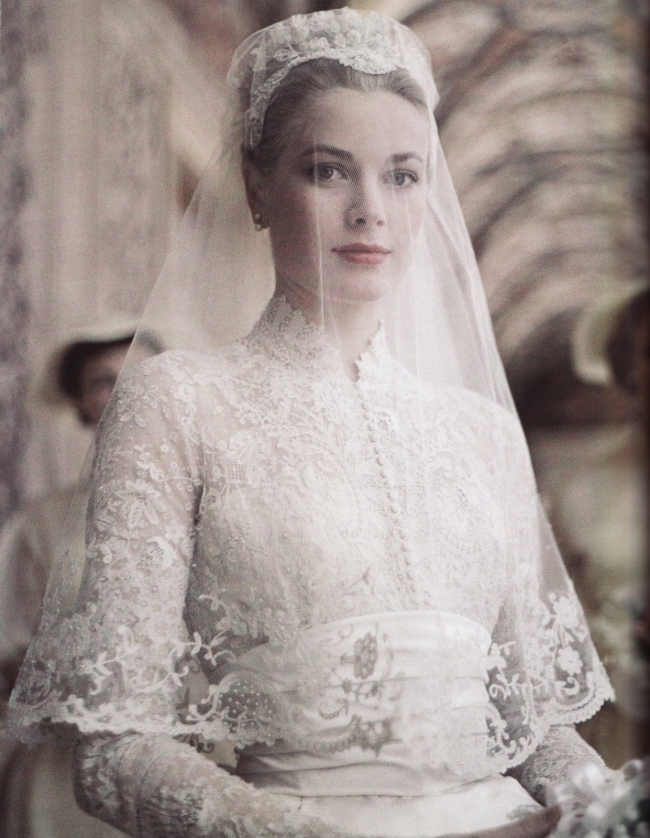 Depending on how formal the reception is going to be, you can go for full gowns for a formal gathering or little more daring sequined minis for casual parties. Classic styles like ball gowns in sheer chiffon or lace that billows out softly are perfect for outdoor fall weddings. The backdrop from Nature's palette in autumn makes white or creamy fabric and loose flowing shapes picture perfect for the occasion Bridesmaids in cocktail dresses in jewel tones complement the white gown of the bride.
Wedding Cake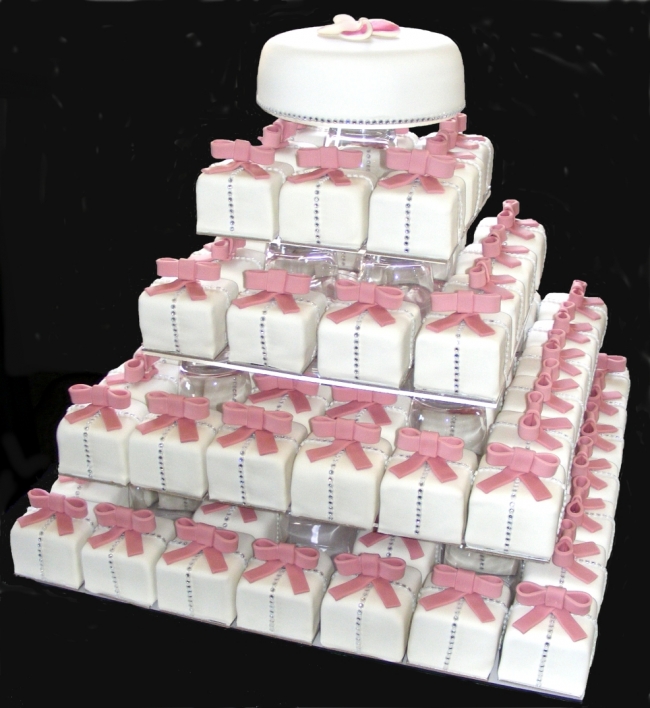 Any cake can be served at a fall wedding but serving a spiced cake or a spiced chocolate cake adds to your autumn theme. Chocolate cake decorated with marzipan fruit is a wonderful idea or instead of cake, serve pumpkin bread with apple or pecan and pumpkin pie. The look that modern cakes have are mind blowing whether it is a hint of fall with a sprig of green or pink flowers decorating the cake or it is drenched in colors of the season like orange or yellow which is a refreshing change from all the usual colors.
Wedding Menu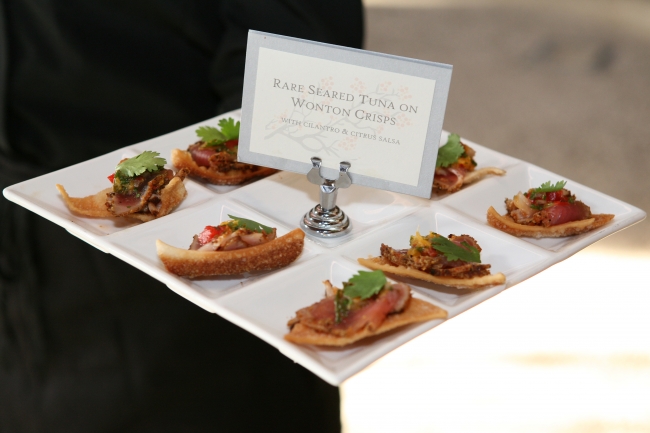 The most sought after traditional dinner is roasted turkey but you can try seared tuna on wanton crisps with pumpkin pie for dessert . Use hollow pumpkin bowls for a rich soup with whole grain rolls. Serve warm apple cider with a cinnamon stick stirrer in sparkling glass mugs. An alternative for cake is a scrumptious baked apple dessert. Roasted quail with squash or mashed potatoes go well. Mushroom ragout is a great entree for vegetarian guests. Include as many seasonal fruits and vegetables, and grains too to evoke the autumn splendor.
Fall Wedding Invitations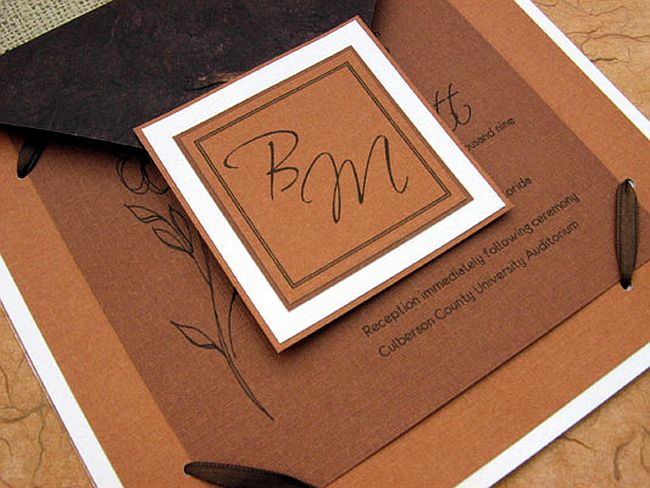 Make full use of the phenomenal color changes of the maple leaf in Autumn as the insignia for all your wedding stationery.You can give a creative touch by cutting out maple leaf shapes to be used as gift tags or pressed dry leaves on the place cards, service booklets, menus and invitations. Stamp the contours of the maple leaf in the corners of napkins and tablecloths. Let the theme be unified in all the articles. Brown hand made paper with embossed signatures of the couple give a warm personal touch to the wedding invitations.
Glamorous Fall Wedding Ideas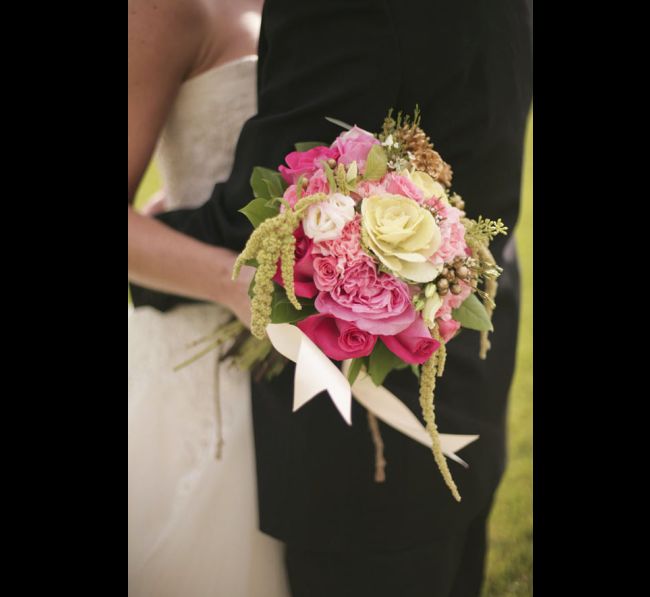 Bronze or Gold shimmering through myriad details like pine cones in the bouquet or center piece, edges of the invitation or place cards, bordering the leaf symbol in tablecloths and napkins lend a glamorous touch to the beautiful shades of autumn. Halloween pumpkins and gourds with gold stems, Menu cards hung from branches of trees decorated with lights are delightful outdoor ideas.You can also make welcome arches with sheaves of wheat and corn with gold berry bunches
Altar and placecards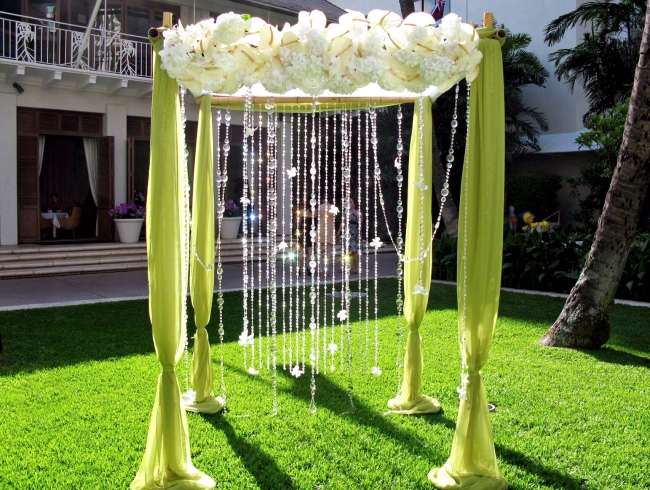 The ceremonial altar can be made from willows braided into an arch with yellow sunflowers and daisies decorating it. Wooden stiles made into an altar with autumn flowers decorating it, gas lanterns with white lilies, shepherd hooks carrying silver buckets of wild flowers and drapes, tall candlestands and vases, the combinations are endless, but stick to a homogeneous theme that spells autumn. Place cards can be kept under little hollowed pumpkins holding goodies for the sweet toothed or under tiny candlestands.