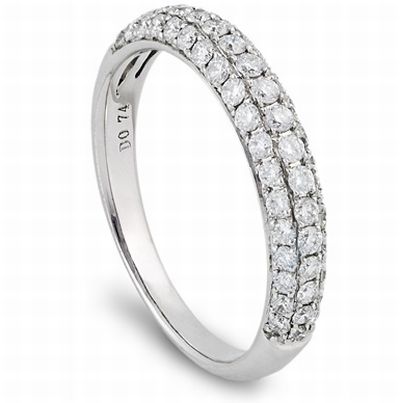 The life long union of two souls in love begins with the exchange of engagement rings, which symbolizes their love and affection. Needless to say, an object of such significance must be as aesthetic as it can be but not necessarily of an exorbitant value because love is too precious to be measured with money. Present your beloved with a designer diamond engagement ring and let its never fading shimmer symbolize your ever true relation. Here you will find ten diamond engagement rings which are designer and yet affordable. Have a look.

1. Pave Diamond Ring (ref 2003943)
BRAND : Lussori
PRICE : USD 1995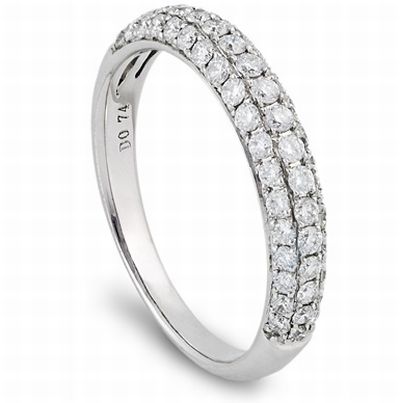 This beautiful ring has been crafted in 18K white gold with 3 rows of stylish pave set round diamonds. It has simple and elegant design that makes it best suited for special occasions like engagement. This gorgeous ring has been designed in classic style with a round brilliant white cut diamond weighing 0.74 carats. 18K white gold white rhodium has been used in the designing of this beautiful engagement ring.
USP
It is an elegant engagement ring with pave set diamonds around the ring.
PROS
It could be used as an anniversary or wedding band.
Round cut diamonds with brilliant shine imparts magnificence to this simply designed ring.
2. Charriol Celtic Noir Diamond Ring (ref 2005475)
BRAND : CharriolGeneve
PRICE : USD 1395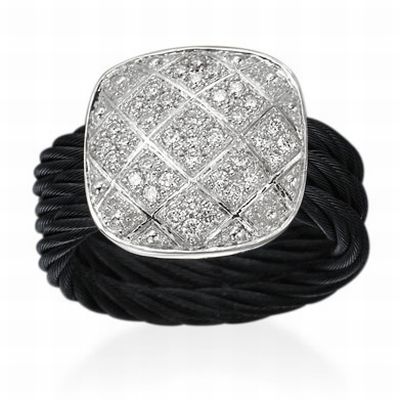 It is a unique and stylish ring to make you feel special on your special day. This ring is a beautiful piece from Charriol's "Celtic Noir" collection. It features a pillow-shaped centerpiece design decorated with pave diamonds on the top of it. The diamonds are set in a harlequin pattern designed using 18K of white gold. Ring shank of this unique ring is crafted using contrast black stainless steel cable rope. The diamonds embossed on its top are plain white with immense shine and beautiful round cut style.
USP
The ring showcases a Harlequin patterned diamond centerpiece complemented with contrasting black stainless steel cable rope.
PROS
White gold with rhodium plating imparts immense shine and durability to this beautifully crafted ring.
Stainless steel PVD coating gives it a long life and makes this precious gift stay by you for life long.
3. Ritani 1R1232HH Classic Collection Diamond Engagement Ring
BRAND : Ritani
PRICE : USD 1420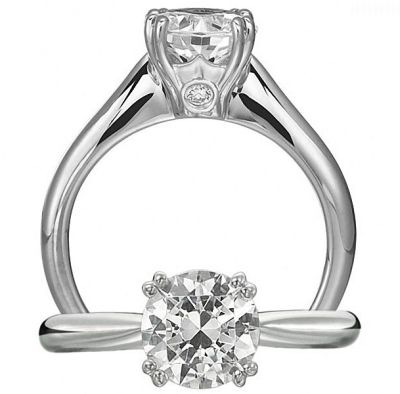 This engagement ring features a classic look with a royal crown at the top. This crown has prong set solitaire round cut center stone. Bezel set single diamond with sparkling shine makes it look attractive and impressive. It is supported with a solid metal shank. Similar type of rings are available in various shapes like round, pear shape, asscher cut, heart shape, princes cut etc.
USP
This is an elegant ring with a royal crown design holding the round cut diamond with bezel set.
PROS
Classic design with solid crafting imparts long life to this precious piece of jewelry.
Its shank is crafted in white gold with rhodium covering to give lustrous look and non rusty surface.
It has solid prong setting design to hold diamond firmly in its grip.
4. Tacori Platinum CZ and 1/6ct TDW Diamond Engraved Engagement Ring
BRAND : Tacori
PRICE : USD 1359.2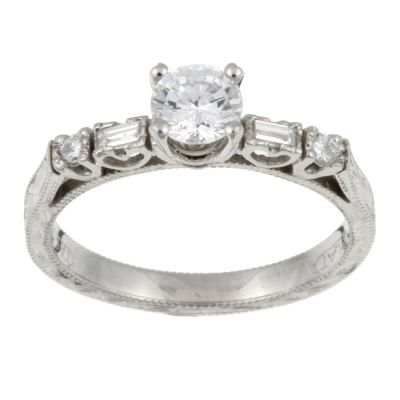 This gorgeous Tacori ring is the perfect choice to express your love and dedication. It has been made using platinum and features a center cubic zirconia surrounded by diamond rounds and baguettes on edges. Its band engraved detailing showcases beautiful heart designs. Its band is around 2.4 mm wide and has 5 mm round cubic zirconia held firmly in a prong setting. Four side diamonds, two on each side, cut in round and baguette designs look splendid. These side diamonds are also held by prongs.
USP
A beautifully crafted ring band with an engraved design and single cubic zirconia in the center, adds to its elegance.
PROS
Detailing in the side and diamonds on the edges, gives it a unique and stylish look.
It is a beautiful gift to present to your loved one on special occasions like anniversary or birthdays etc.
5. Engagement Ring Round Brilliant Certified Diamond Ring, 0.25ct Diamond
BRAND : Ariel
PRICE : USD 1135.5
This elegant ring is best to suit your priceless beauty. It features a round diamond at the top of the ring, gripped in a very stylish manner by four-prong set. It has been crafted using 18K white gold. The ring shank is elegant yet stylish with tapering design near center diamond. There is a 750 gold stamp and the total metal weighs around 2.3 grams.
USP
The simple design with a round cut diamond showcases the true beauty of the ring.
PROS
Certified diamond and durable metal makes this ring a long lasting piece of jewelry.
Plain design and simple crafting makes it suitable for daily office wear.
6. Jeff Cooper R-3009 3.3MM Ladies Wedding Ring from the Eternal Collection
BRAND : Jeff Cooper
PRICE : USD 1310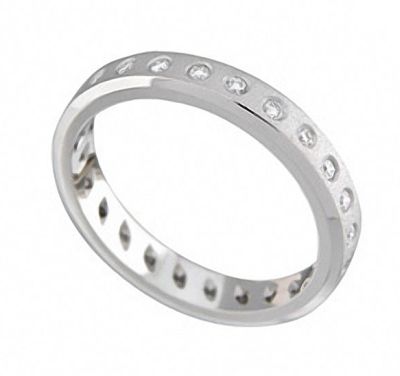 This gorgeous ring has been chosen from beautiful collection of Ladies Wedding Ring by Jeff Cooper. It is created in form of a solid band like structure with 24 bezel set diamonds. The diamonds are placed in equal spacing with symmetrical design and comprise around 0.25 total carats. It's a beautiful wedding band with modern design. The certified diamonds compliment the shine of white gold band and make it look splendid.
USP
A simple wedding ring with band design and 24 bezel set diamonds throughout its structure.
PROS
It is easy to wear and maintain as there is no top and shank in this band.
You can wear it on casual as well as formal occasions.
7. Henri Daussi R6 Shared Prong Diamond Wedding Ring
BRAND : Henri Daussi
PRICE : USD 1400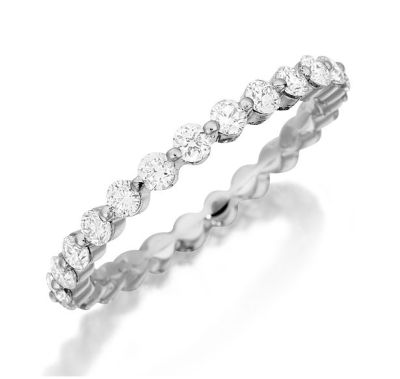 This gorgeous ring by Henri Daussi is a beautiful wedding ring designed in symmetrical pattern. It features a single row of hand matched diamonds throughout the band. It has been crafted with 1.00 carat diamonds, graded G in color and VS2 in clarity. A similar ring is available with diamonds across half the design of the ring. The eye catchy design of this ring would definitely make people notice it and you are sure to get compliments for its exclusive sparkling crafting.
USP
It is a sparkling diamond ring with diamonds all the way around the band.
PROS
This beautiful ring has been crafted in a very unique and trendy design.
8. Natalie K 14k White Gold 3/4ct TDW Diamond and CZ Ring
BRAND : NatalieK
PRICE : USD 1184.24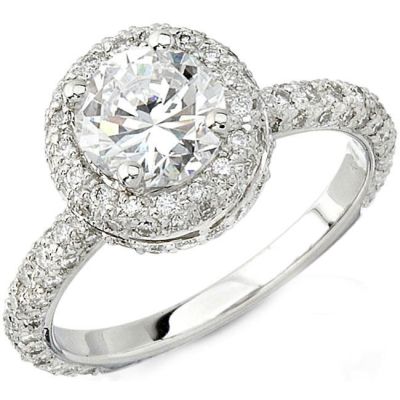 This sparkling ring by Natalie is best to make you feel special on your great day. The shine and spark of this ring makes it noticeable from a distance. It features cubic zirconia at the center surrounded by diamonds around it and also on the ring shank. These diamonds are embedded on 14K white gold base. It has 125 diamonds in total with round cut designing. The side diamonds have pave setting with SI1 clarity. Its ring band is around 2mm wide and features exclusive design that would definitely win many hearts.
USP
A gleaming diamond ring with single round cut zirconia at the center in prong setting surrounded by diamonds on all sides.
PROS
The side stones with pave setting do not let the diamonds fall off.
9. 1 ct. Round Diamond Solitaire Engagement Ring in 14k White Gold
BRAND : ND Outlet Black Diamond
PRICE : USD 1391.38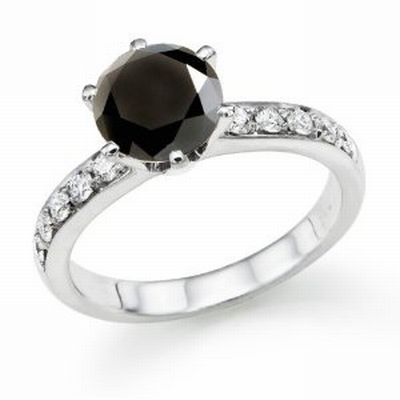 This beautifully crafted 14K ring has been designed by Natural Diamond and features 1.00ct centre stone I black color. The most attractive part of this ring is its round cut diamond not only because of its popular shape but also because it results in the strongest light reflection, offering a brilliant shine and spark. The centre diamond has SI1 clarity and prong setting style. Five clear side diamonds on both sides of the centre black stone look quite pretty.
USP
This ring is a beautiful combination of black and white diamonds on white gold base.
PROS
The ring is beaten out of 14 carat white gold which is immune to corrosion and always retains its lustre.
10. 18K Gold / White 1/3ct Certified Diamond Engagement Ring Round Cut D Color
BRAND : Chris Yard
PRICE : USD 2820.63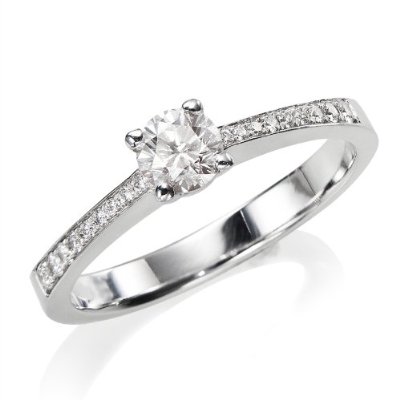 This beautiful engagement ring by Chris Yard has been made using 18ct white gold. It has been decorated using sparkling diamonds studded in prong setting. In total 11 gems have been used to decorate the ring with a big shiny diamond at the center and five on each side of it. These diamonds weigh around 0.33ct and feature D color, the highest color grade which is rarely available. VS2 clarity of these diamonds present an excellent value in clarity.
USP
It has extremely clear diamonds, free of visible inclusions that are less expensive as compared to high clarity grades.
PROS
Each and every diamond used in the ring is accompanied by the Certificate of Authenticity.