Reserving the table by giving the numbers to the wedding tables at your reception can be made all fun and creative an experience by taking the aid from this little DIY. This will tell you that how you can make hanging miniature hot air balloons for the wedding table numbers and surprise your wedding guests. Do click as much as photos of them on your wedding day to memorize the joyful experience that you self-created. Go ahead and get to know the little instructions that will help you create these wonders.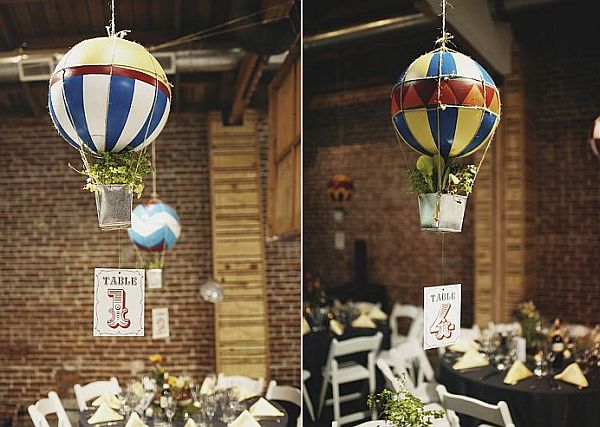 Difficulty level: Moderately easy
Time required: 15-20 minutes
Things needed
· Bouncy balls (of the football size)
· Tin pots (square shaped)
· Herbs (potted)
· Brush
· Acrylic paint
· String
Procedure
1. Get the large football sized bouncy balls with you.
2. Paint these balls using the acrylic paint with the help of the brush and then let these ball dry for a while or so.
3. Now take the tinned pots and integrate the herbs into them.
4. Tie strings to the four corners of the tin pots.
5. Place the painted bouncy ball in between the strings in such an order that they lie above the herbs.
6. Tie the knots at all the necessary places so as not to lose the balls.
7. Tie a horizontal knot along the diameter of the ball.
8. Finally, use another string and tie it to the strings intersected to the top of the ball. (This will be the string that will help you in hanging.)
9. Draw the table number on a rectangular or square shaped paper or the card. Attach this card in a hanging position to the bottom of the tin.
10. Hang all the miniature hot air balloons above the tables at your wedding reception area. Voila!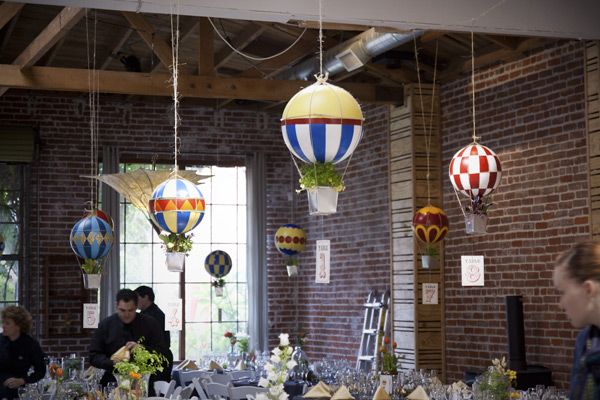 Things to watch out for
· Do not puncture the bouncy balls while working out with them.
· Let the balls dry completely after they are painted so that the color pattern doesn't get ruined.
· Ensure that the string used is strong enough to hold all things together.
Via: ruffledblog