Fabric boutonniere adds a glint of glamor to the attire of the Groom or Groomsmen in a wedding ceremony. The best thing about fabric boutonniere is that they are Eco-friendly and will last forever. You can also chose any wedding color or theme and match the boutonniere according to that. Here are some tips. Take a glance!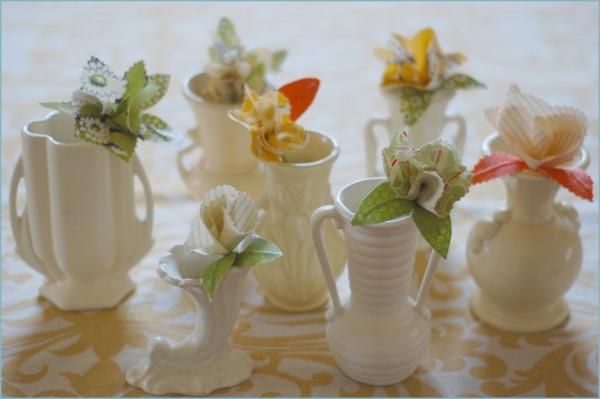 Things you need
Fabric coated wire
Corsage tape (floral)
Scraps of fabric in coordinating colors
Ribbon of ¼ inch wide
Wire cutters, Sponge paint brush and scissors
Mod Podge and Pinking shears
Procedure

Take the fabric piece and cut a piece of 5 inch square of cotton piece from it.
Make a fold in it and then make another fold to make it a square. After squaring, give another fold and make a triangle folding again.
Fold it again and then cut a circular "v" shape from the points that are non-pointy. After cutting the fabric, it will look like a flower when you will unfold it.
Pinch the cut fabric piece from the center and wrap the wire around it.
Cut a fabric piece of 3" x2"( give it a rectangle shape) and apply a coat of Mod Podge to the inner side of the fabric.
Now place the coated wire in the middle of your rectangle fabric. Fold the rectangle in half and apply a Mod Podge to the outside of the surface.
Now allow the fabric to dry and give a leaf shape bu cutting with scissor, keeping the wire in center.
Assemble your flower and leaves together and wrap the corsage tape. Keep the stems about two inch long.
Add a sparkling touch to the flower by cutting 18 inch piece of ribbon and make a beautiful bow around the stem. You can also use a boutonniere pin and stack it to a lapel.