This is a great and unique DIY idea that all brides must try for sure. You might feel lucky to get the knowledge of this pretty DIY here with our help. Birdcage veils are special and when you desire to have a vintage and classic touch added to your wedding then you see the beauty of the veils like this one that you can prepare all by yourself. So why just spend money on getting a ready-made birdcage veil from the bridal market? Learn here how you can make it and then use the DIY idea to look gorgeous on your D-day.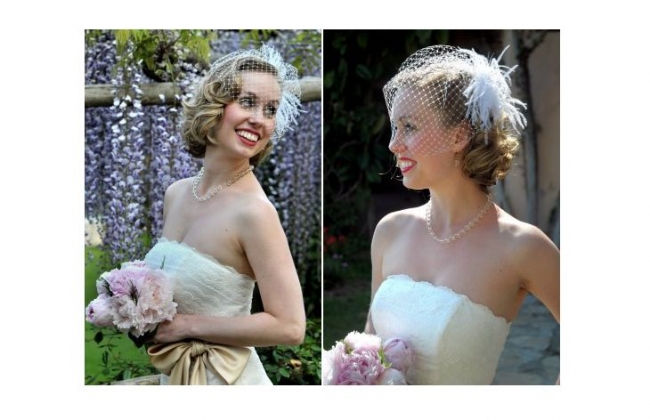 Difficulty level: Moderately easy
Time required: 1 hour
Things needed
In order to make an exquisite birdcage veil that will make you look stunning you will need these items before you actually give the DIY a hit:
· Millinery netting (Choose width as per liking)
· Matching ribbon
· One hair clip
· Glue
· A needle
· A thread
Procedure
Start like this:
1. Before you actually start the birdcage veil making process you will have to select the area of your head where you will be clipping it with the help of a hair clip. It can be forward, backward, left or right inclination, as per your choice. This will also help you to get an idea about the width of the veil that you need to make.
2. Take some glue and then glue one of the ends of the hair clip that you have selected with the ribbon.
3. Take a needle and put the thread inside it with the knot at one end. Now start stitching the corner of the netting towards the clip corner.
4. Taking the thread now, you will have to start weave around the netting hole to make diamond patterns. Go up to one cut edge and then to the final edge (One which will come in the front of your face).
5. Keep collecting the netting accordingly and then see how you prepare the falls. Adjust the symmetry of the pattern.
6. Now if you find the pattern fine in appearance then stitch the final corner from the lower side of your veil (which is the side that will touch your face) to the clip corner.
7. Get few more stitches to the hair clip of the hair comb so as to get much more stability.
8. You are now all done so keep the birdcage veil in a place where it may not get spoiled. Wear this on your wedding day and see how you will make other women feel so jealous of the charm and appeal that you carry. But for sure your groom will keep falling in love with you, whenever he will see you in this pretty veil.
Things to watch out for
· Do not keep loose thread after you are done.
· Take care of the symmetry of the pattern.
· When using the glue be cautious not to spill it unnecessarily.