The wedding shoes that you can dye in different colors are always fun to have. Satin shoes are the best in this category. You can dye them in so many different colors of your choice. Not only for the brides but this DIY is surely important to know for the beautiful girls who will play the role of the bridesmaids or even any of the women who wishes to look gorgeous. With the passage of time you realize that the best of the colors to use and dye your wedding shoes is obviously black. No matter what was the color of your wedding shoes before; the black colored dye will conceal all the signs of the previous color. So, this herein is your DIY to dye your wedding shoes in black.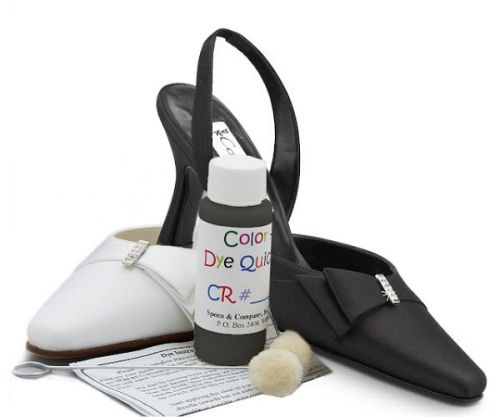 Difficulty level: Easy
Time required: 20-30 minutes
Things needed
To dye your wedding shoes in black color you are going to get these things with you:
· Dyeable shoes
· Black shoe dye kit
· Rubber gloves
· Qtips
· Plastic sheet
Procedure
1. Get your dyeable wedding shoes with you. Clean them with a shoe-brush, so as to get rid off any dirt.
2. Put a plastic sheet on the floor and then place your wedding shoes on it.
3. Open all the buckles and the closure of the shoes and brush them too.
4. Look for any fade marks on the dyeable wedding shoes.
5. Using a dye brush start coloring your wedding shoes. Remember to dye as quickly as possible or else the streaks will appear on the shoes afterwards.
6. Using Qtips, dye the areas where a normal dye brush would not reach.
7. If you have any embellishments done onto the dyeable wedding shoes, wipe the dye with the Qtips that is clean and damp.
8. Now you have all new looking black wedding shoes. Let them back in the sunshine for a while and then save them for the wedding day.
Things to watch out for
· Keep your rubber gloves on especially at the time when you actually dye.
· After you accomplish your task of dyeing the shoes, store them in a cool and dry place; but remember to store them only when the dye has all dried up.
· Take care of water when you use the shoes. It can ruin all your dye.