A bridal bouquet adds a burst of natural colors to the bridal attire and uplifts her charm to an extreme level. While choosing a bridal bouquet, you should give a deep thought about your likes, color combination and should choose flowers according to the wedding season. By giving a less importance to the small things can ruin your impression. Thus, a bridal bouquet deserves equal preference as your wedding gown, beautiful hairstyle and dazzling jewelry.
Roses and peacock feather bouquet adds a great amount of color and texture to the bridal looks. Below are some of the best tips to make a beautiful roses and feather bridal bouquet to achieve an exotic wedding day look.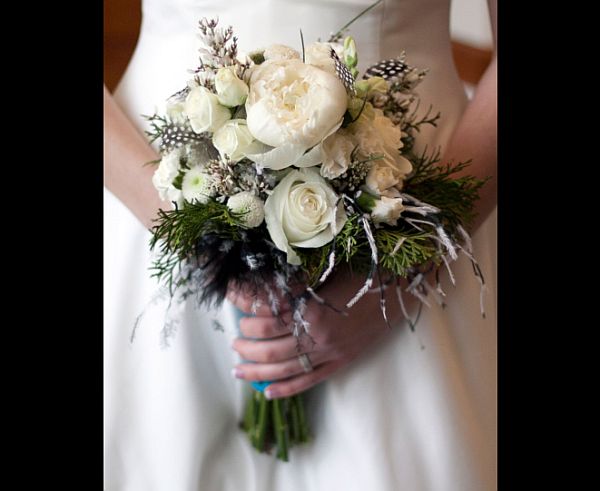 The things you need
1. White roses
2. Peacock feathers
3. Floral tape
Time required
1- 2 Hours
Procedure
1. First of all, just buy white roses and some peacock feathers from the market and lay them on the surface and arrange all the stems in the kinds of shapes you want them to give.
2. Flowers can deviate from their original position so arrange them by wrapping a piece of floral wire around the stems. This will keep flowers firm and tied perfectly.
3. Flowers stems are usually of various shapes and lengths, so you can use floral sheers to cut the stems and give them equal shapes.
4. Add floral tape around the bouquet. This you can do starting from the top and then working downwards.
5. Take some peacock feathers and place them outside the bouquet. Place feathers such that they can show some color. You should use hot glue to fix feathers on the stems.
6. Modify the shape of your bouquet by wrapping the ribbon around the floral stems.
Via: ehow