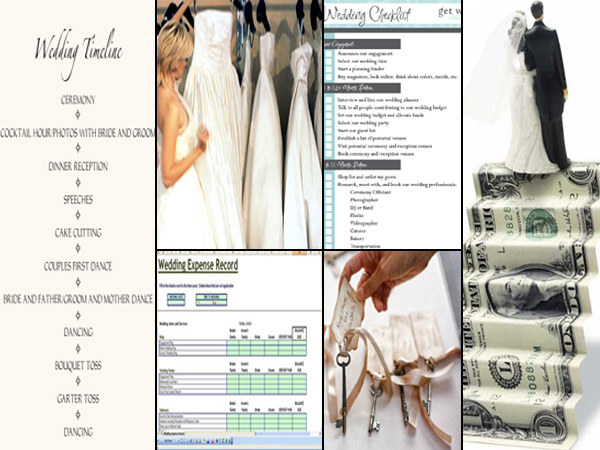 It is pretty transparent that the wedding day is one of the most cherished days of an engaged couple's life. Every couple only wishes for their wedding to be performed smoothly without hassles and chaos. It is the moment which will be captured by a lot of people present at the wedding. Even the minutest of plans should be carried it thoroughly without doubt. It is highly important especially for a bride, for everything to go as planned. It is always a good idea to have a checklist, especially if planning your wedding day all by yourself. Prepare yourself with things to do, with the checklist provided below.
1. Set a timeline
This is the first thing you need to consider. Take into account the time duration between your engagement and marriage so that you get a clear idea as to how much time your have for planning the wedding. You need to ensure that you get ample time to plan and organize things for the wedding, else it will become quite stressful for you. You also have to keep in mind that people book vendors and reception sites a year or more in advance. So plan early and book as soon as possible to save yourself from last minute hassles and increase in rates.
2. Envision and select the place
The place that you select for your reception will have an impact on your marriage style. Decide if it has to be a luxurious ballroom or a private backyard or your hometown or the city where you live etc. Ensure to consult your fiancee to know his/her preferences. The place must such, that the first look just gives you the chance to say "I love it" at first sight. There are mainly two places which must be kept in mind and that is the reception venue and the wedding venue.
3. Plan your budget
This is the most important checklist as it would affect your marriage preparations and the rest of the things. For deciding the budget several factors need to be taken into account. You must know that a formal reception demands an appropriate place, food, decor to make the guests comfortable. In other words, it demands more money. You must know the proper date and time as some particular days of the year would cost you more money, like Saturdays, summer months, and evenings. Weddings in big cities and metropolitan areas are more expensive than in smaller towns.
4. Finalize a date
Though it may seem to be very simple, in reality this is a tough task as you need to take into consideration several things like time needed for the wedding preparation. You also need to check the availability of your guests, whether there is any conflicting graduation, vacation, or pregnancy due date that clashes with the wedding date. Availability of your favorite venue, band, or photographer also have to be taken into consideration. Avoid getting married on important national days or events as this makes difficult to book hotel rooms for out of town guests.
5. Choose your family members and close friends as attendees
Now you need to pick your wedding parties and honor your closest family members and closest friends. You need to ask them as early as possible so that they confirm their help.You must finalize the guest list. For making this you need to take into consideration several factors. The number of guests depend on the size of the wedding venue. Your budget also determines the guest list. You must also take out this time to finalize the seating chart, which is knowing where ever guests would be seated. The parents of both sides must be at the front always.
7. Hire a wedding planner
A wedding planner or consultant can be hired by couples who are very busy. The consultant can help in preparing the entire event. You can also opt for a part-time consultant. He can assist you and make a blue print for your wedding and plan – budget, schedule, and reception site choices. You can also hire a coordinator just for the wedding day. He will ensure that wedding day ceremony goes smoothly and as per plan.
8. Buy the wedding gown much in advance
Wedding is one event when the bride and groom look their best. Hence decide your wedding dress and check the proper size and other designs. You need to figure out and decide on which style will look best on you. Before going to a dress salon, research about silhouettes, necklines, trains, and hues that might flatter you. Take into account the season when you are getting married to opt for light weight fabric like linen, chiffon or organza if your wedding is in summers and faux fur or velvet fabric if it is in winters.