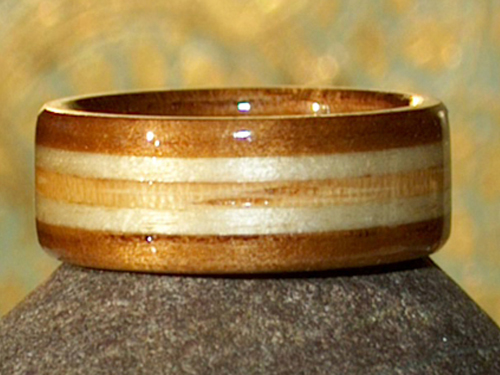 Much has been said and written about the bonhomie between human beings (women in particular) and jewelry. Of all the various types of jewelry, one that signifies intimacy and togetherness is the wedding ring. At the same time, our wedding rings bear testimony to our commitment and dedication towards our partners. Taking a clue from that aspect of commitment, a growing number of couples are emphasizing on Eco-friendly weddings, marking it as their tribute to our earth. And it should not be a matter of surprise if we come across Eco-friendly wedding rings! There are in-numerous Eco-friendly wedding bands which have emerged, read on to know more about the designer's who have come out with their own set of environmental friendly rings.
Wooden wedding rings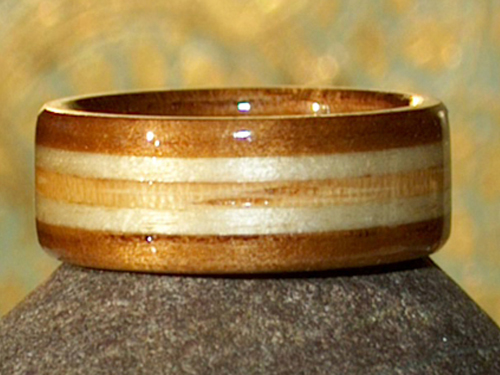 Designer: Nicola and David Finch (Handcrafted)
Description: These beautiful creations are intensively designed from wood and are durable and handy. They carry a fanatic appearance and interesting pattern detailing, which is enough to envy all the ladies invited in the gathering. They are available in a variety of colors. One can pick a ring of their choice and can also design it themselves with their soul mate. This facility is restored as a private affair and is not disclosed to anybody without your permission. The rings are custom made and superbly designed in British Columbia by Nicola and David Finch.
Green Factor: Adorning a wooden ring articulates volumes about your commitment and concern about the environment. Wearing them will illuminate the pure human soul in you and will help gain additional self assurance. These Eco Friendly bands will ensure your input in the up-gradation of the environmental need and deeds. The green based rings are made of harmless materials and that is separates it from the rest of the wedding bands.
Earth Friendly Ivory Wedding Rings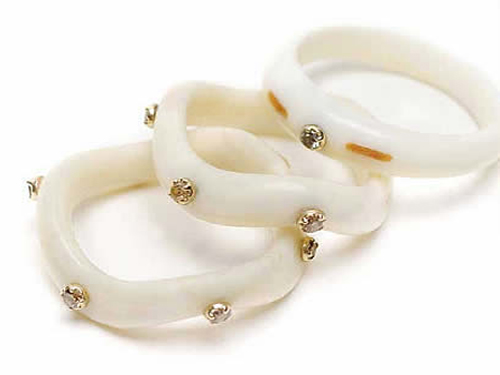 Designer: Monique Pean
Description: This eco friendly ring suits everybody's hands and grabs instant attention from the onlookers. it is uniquely designed and inimitably created out of all the useful Eco Friendly products. Monique Pean has designed this enchanting beauty with eco friendly features. She has collaborated with Alaska Native Eskimos for this eco friendly sustainable walrus ivory and this makes it an extra ordinary buy and a sure to pick accessory for your wedding.
Green Factor It is made from walrus ivory adorned with recycled gold and devastation free diamonds from artist Monique Pean. The whole grouping exhibits superb finesse and zing to the whole appearance. It makes it look more flamboyant and compassionate. It also appears more bright and soothing to the eyes. So next time you wear any Monique Pean Eco Friendly Wedding band, ensure that you flaunt your pick it in style!
Ethical engagement/Wedding rings by ken + dana design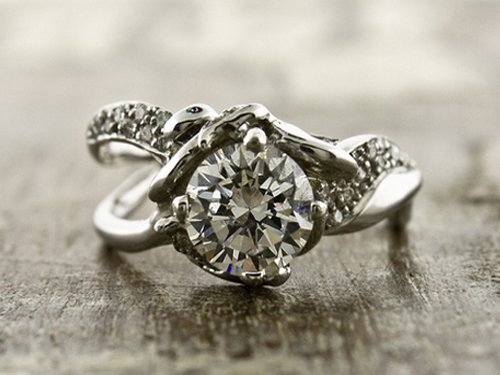 Designer: Dana Chin
Description : Ken + Dana wedding rings are designed beautifully and delicately and exempt soothe and elegance. The rings are committed to ethical sourcing. The whole idea behind creating these superficial designs is to create an ambiance of greenery all around and spread awareness. The design looks equally enchanting and alluring like any other wedding band made of toxic materials. So make a wise choice and pick these beautiful wedding rings.
Green Factor: They use recycled metals and eco chic jewelry to design their products. It serve as its main high point and exhibit a larger than life appearance. The art of recycling the jewelry is being done to a larger extent. The rings are inspired by the Ebb and Flow of love and that represents the true value of our mother nature. the whole collection focuses on the Eco Friendly designs.
Simply Wood Rings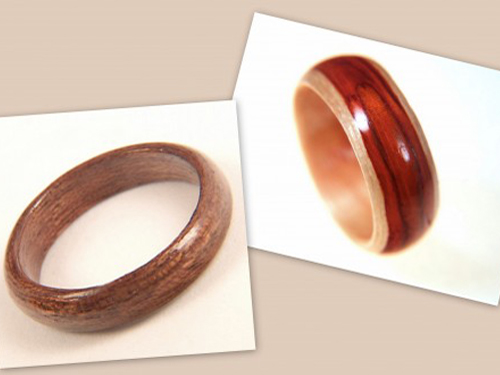 Designer: Gustav Reyes
Description: They are another fabulous creation from the designer brand. They are eco- conscious and are earth friendly and are designed keeping in mind the nature and surroundings. The designer creates affordable and alluring designs which can steal away your heart in the very first look. They are refine and subtle. They are made of wood incorporated with semi- precious stones and metals which gives it a bling of gleam.
Green Factor: The products designed under this brand are Re-transformed and made to a new version for that extra beauty and attraction. The Re-transformation factor of this whole collection leads to a unusual high and brings in lot of attention and recognition. It lends a whole new look to the bands and makes you feel more special and priced. It also attracts a lot of eyes, because of its subtle designing and elegance.
MiaDonna Diamond Wedding Rings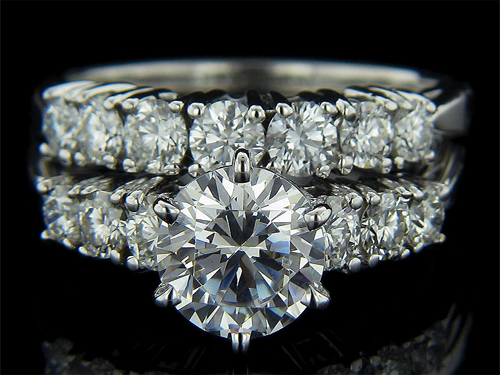 Designer: Mia Donna
Description: If you are looking for an antique wedding ring with convoluted patterns and accenting side diamonds or a Classic, you'll surely find all those beauties here. MiaDonna's line of exquisite hand Made Diamond alternative Wedding Ring Sets, come set with magnificent Simulated Diamond Hybrid® center stones and are accented with natural diamond side stones in sizes under .20ct. Gemstones like Rubies, Sapphires and Emeralds are also available for an extended glam appearance.
Green Factor: You are sure to get the best of the quality with superb design quality with these designs because you are buying the Greener Diamond. It is free of unethical mining, unethical labor practices, exorbant prices and is conflict free. The fact that these rings are made of non toxic, ethical mining and ethical labor, gives it an edge over other ring options available in the market. You can definitely be sure of the quality and the rings' outlook because it meets the international standards.
GreenKarat Wedding Rings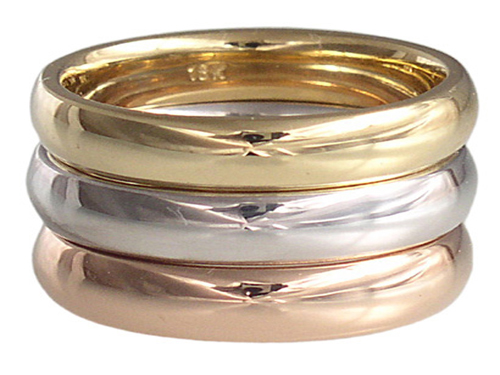 Designer: Matt and Bonita
Description: The rings are exquisitely reformed and designed from elite gold wedding bands, Cultured ruby ring and recycled diamond earrings. They detour no harm to your body and nature; and are absolutely safe for your to wear. They are not synthetic and fake and don't harm your body in any way. The enchanting blend of all the auspicious metals and materials allow complete satisfaction and relaxation. It also lends a elegant and classy touch to bands.
Green Factor: Green Karat designers Matt and Bonita has a deep connection to the world around them and they continuously try and make the products which are green based and are eco friendly. Their collection includes wedding bands, engagement rings and gifts inspired by nature. the designers focus more on the Eco Friendly designs because it not only attracts a lot of discussions but also help the environment and the surroundings.
New York Wedding Rings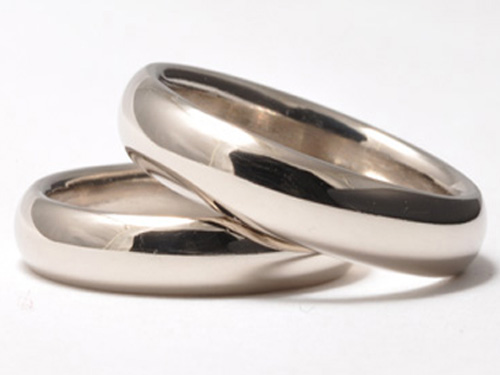 Designer: New York Wedding Rings
Description: Share a romantic and intense partnership with your partner with these heartwarming rings from the New York wedding rings collection. They have their studio line in New York and San Francisco. They make meaningful customized wedding bands. The rings accentuate poise and panache. The whole outlook is so heart warming and soothing that it actually steals your heart away in a spur of a moment.
Green Factor: All the rings choices namely the Gold Rings, Eco gold rings, Platinum rings, Mokume Gane Rings and rings made of other materials are purely made on green basis and exhibit no harm to the nature. All these varieties bring the designs to another niche level and exhibit grandiosity and grace. The vast variety of designing and material allows it to be more greener and Eco Friendly.