Korean women have a radiating beauty of their own, which comes from healthy, beautiful skin. Most of the tips are now revealed and are simple, everyday steps that anyone can take up to achieve gorgeous skin.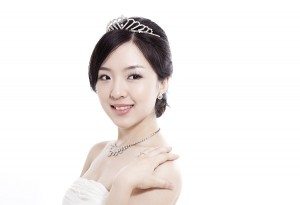 Easy Korean Beauty Tips  for the Would- be Bride
Korean women have been the epitome of flawless and glowing skin since ages. While make-up is essential to look good on your wedding day, beauty tips straight from Korea will give brides a flawless skin to work on the day of the wedding and add to the glow. After all, healthy glowing skin is what is most beautiful.
Hydration – Koreans drink a lot of fluids to keep their skin and body hydrated. They always start their day by drinking water.
Cleansing – Korean women spend a lot of time cleansing and exfoliating which keeps their skin radiant and gives them a glowing complexion. Take your time doing it, they certainly do with hours and hours of an extensive cleansing regime. They use a lot of lukewarm water while washing and spend 15- 20 minutes just washing their face thoroughly.
Long hours in the bathroom – Korean women spend a lot of time in the bathroom , their baths are exotic with warm water and essential oils. They take care of their hands and feet by soaking them in warm water with half a teaspoon of salt to relieve themselves from a tired day.
Moisturise – We all know only how important it is to moisturize thoroughly. Korean women moisturize their entire body skin , leaving exception to no body part. This keeps their skin hydrated. To ensure glowing healthy skin on your D day, make sure you do the same. For facial masks, they apply a cleansing mask and then a nourishing mask.  They apply all creams on their face and neck only after rubbing them on their fingertips for some time to make it warm. Neck cream and hand cream is also applied thoroughly.
Facial Exercise – Korean women do a lot of face stretching exercise . Almost every celebrity of Korea admits to doing it. They repeat ' Ma Me Mi Mo Mu ' ten times at once. If your wedding is far enough out and your worried about your smile, you can get clear braces or Byte aligners in order to be perfect smile prepared before the wedding.
Beauty Products – Korean beauty products are gaining a reputation and are becoming popular amongst the masses. They have exotic ingredients like silkworm cocoon powder. However since attaining them might be an issue, you can go for their homemade masks of mixing egg-white and honey and apply it on your face.