They say love is ageless. Lillian Hartley who is 95 years old and Allan Marks who has an age of 98 years have just made this statement come true. They are now the proud owners of the Guinness world record for being the oldest newlyweds so far in the history. They now also have under their world record belt the tag of oldest aggregate age of a couple that sums up to 193 years (the previous record was made by a French couple in 2002 with the aggregate age of 191 years). Living together with one another for about 18 long years, the couple celebrated their love by exchanging wedding vows on the leap day this year. The civil ceremony for the wedding was held in Indio, California. Meet these wonderful lovebirds who refer themselves as the 'Romeo and Juliet' of the senior citizens.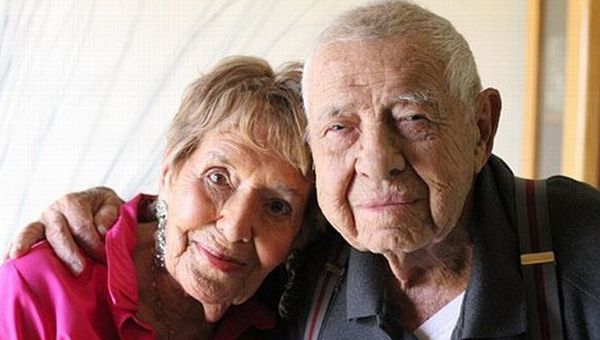 Lillian and Allan were both widowers when they met about 18 years ago in Palm springs. They both somehow never managed to get married but then they decided to do it finally. They love each other like lovebirds. They even have same interests like going for the temple trips on Saturdays and watching Los Angeles Lakers play basketball, being their favorite team mutually.
Yvonne Cruz who works as the Riverside County Clerk's Office Deputy Commissioner of Marriages was the official who held their wedding ceremony. According to Cruz, it has been the most romantic wedding ceremony that one can ever see . The elderly couple came to the officer, holding each other's hands close and saying that they want to be together for the eternity. Mark was so filled up with his love and zest that he even tried to kiss the bride rather too early. Setting an example of matchless love, this couple stands too tall and young at heart than others. They inspire even the young couples of today. May the romance and love of theirs kind be there till eternity!