Bridal shoes are as important as jewelry or any other accessory, making sure that the wedding day is nothing less than stylish. Being essential part of the wedding day, the shoe should have an exquisite appeal which can match up to the prettiness of a wedding gown. If you want to own a unique pair for your D day that is truly beautiful then the lace wedding shoes will prove to be an ideal pick. These come injected with a dainty yet sexy appeal, which will wow just everyone around. If you are already dreaming of donning an amazing pair wrapped in lace, then have look.
Fancy Lace Wedding Shoes

The peep toes come smothered in an intoxicating charm, which further gets elevated by the presence of delicate lace placed at its front. The lace is nicely complemented by the presence of ivory satin, which exudes sheer brilliance. Fancy Lace Wedding shoes are dyeable and will blend perfectly with different wedding dress styles. The beautiful wedding shoes will fetch plenty of attention as the bride walks down the aisle towards the man of her life.
Noble Lace Bridal Pumps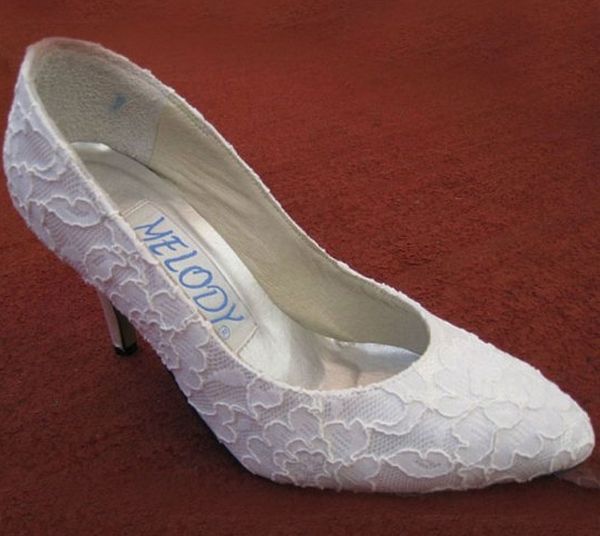 The stunning high heel Noble Lace Bridal Pumps will be a massive hit with brides. The shoes have been wrapped in lace, which will prove to be just the right thing if you wish to hit high on the style graph on your wedding. Fetching attention will be the flower patterns on the lace which can make anyone go weak in the knees with its captivating presence. Slip your feet into the absolutely stunning pair and match steps with the love of your life in style.
Melanie Lace Wedding Shoes – Rainbow Club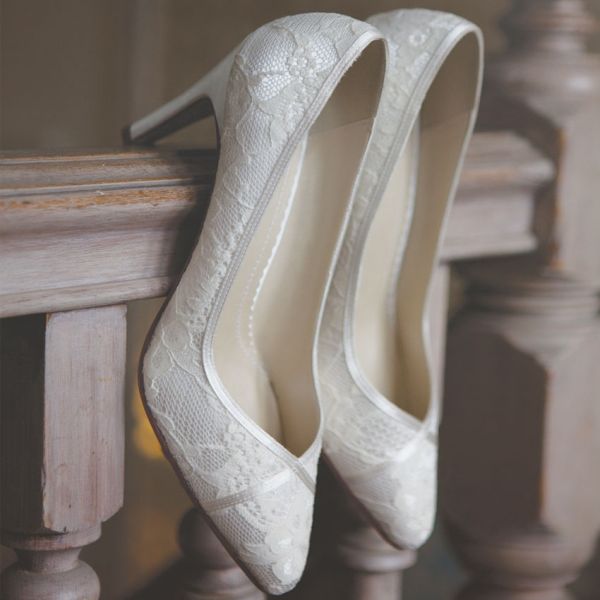 Look nothing less than a Diva on your D day as you walk in a grand way with utmost panache in the Melanie Lace Wedding Shoes. The insoles have been given a padding, which ensures complete comfort despite the 8.5 cm heel height. Giving it additional prettiness is the presence of a crossover design, which has been intricately placed over the attention grabbing lace creation. The extraordinary shoes are simple to look at but very classy, which makes the footsies effortlessly lovely.
Ivory lace court shoes

The breathtaking shoes are amazingly sophisticated and will leave everyone wheezing on your special day. Ivory lace court shoes come smothered in a mesh lace design, which ooze sophistication and will give the bride a lady-like charm. The feminine style is further accentuated by placing a satin bow on the side, which spills undying romance and will make your lover run towards you. The stiletto kitten heels and cushioned insoles make sure that the stunning pair doesn't fall short on providing comfort.
Ivory Lexus Melanie Lace Slingback Wedding Bridal Shoes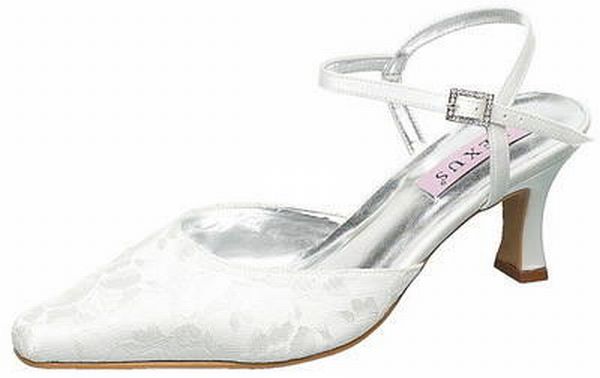 Walk down the aisle in these gracefully understated beauties, which have a moderate heel height and have been caked in subtle lace. The adjustable slingback design will surely please the court, as the flow of unending praises will make you one ravishing bride. Walk in these delicate delights and glow in elegant perfection, which is all a bride wants while exchanging vows.
ASOS PARANORMAL Lace Platform Shoe Black lace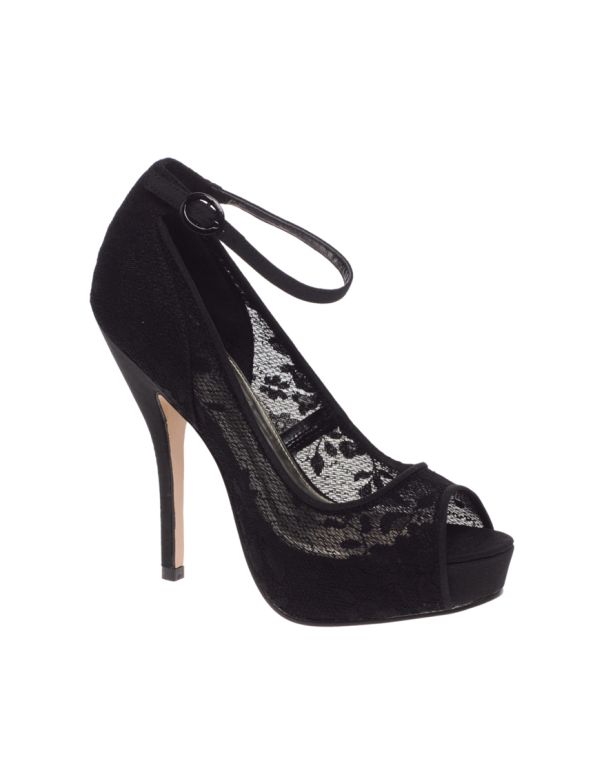 You can never go wrong with black and proving this yet again are these Lace Platform shoes in the color black. Eyes will pop and jaws will drop as these shoes flirt with your bridal gown and tease onlookers present at the wedding venue. These beauties have a well concealed platform at the front for added comfort, which will definitely be required keeping in mind the 13 cm heel height that makes sure you tower high above everyone at your wedding. The transparent lace detailing will make words fail as your step out in these, which are nothing less than a work of art.
Kate Lace Wedding Shoes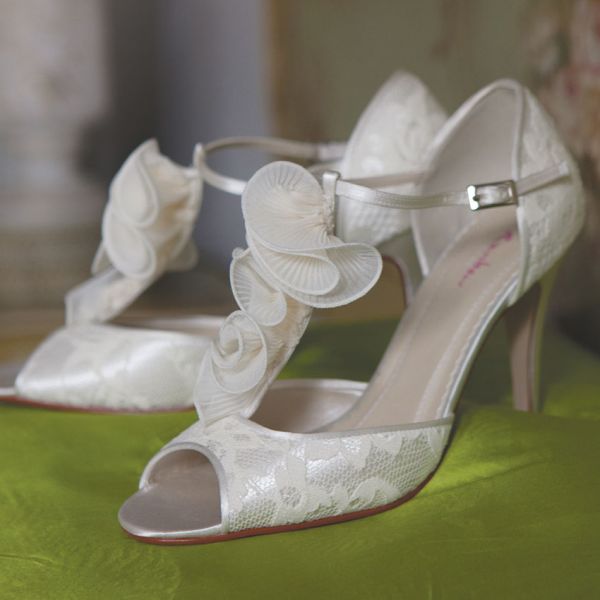 These heels are unmistakably glamorous as they come wrapped in the sweetness of serene white lace. Adorned with an equally charming frilly design, Kate Lace Wedding Shoes are nothing less than a dream that will fall on your feet that will transform any ordinary woman into a princess. These shoes, with sexy pleated ruffles, will have heads turning, so get ready to whiff thank you countless times and make sure the smile doesn't smile away.
Clara Lace Wedding Shoes – Benjamin Adams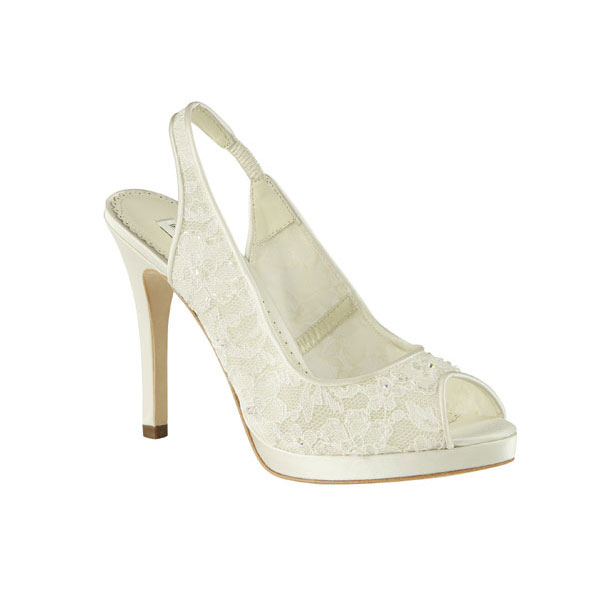 Clara Lace Wedding Shoes are effortlessly lovely and comes draped in sheer grandeur. The Spanish lace body with slingback details will have every bride jumping with joy. These sweethearts are delicately accented by the presence of Swarovski crystals, which sparkle with all their worth. The use of high quality materials and awe amazing craftsmanship makes this handcrafted pair a true stunner.
Ivory Lace 'Dorothy' Vintage Wedding Shoe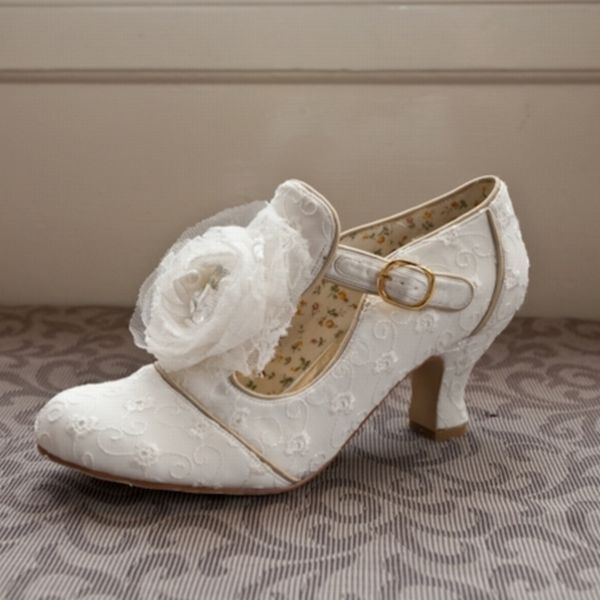 Cute is what best describes the Ivory Lace 'Dorothy' Vintage Wedding Shoe. The divine shoes have been flawlessly set in the color white, while giving the pair a fanciful flair is the use of lace. The heavenly design gets a streak of freshness as a pretty flower motif has been placed on its front, which will spread an extraordinary grace. The meticulously crafted wedding shoe will make you feel nothing less than a superstar with its uniquely elegant appearance.
Swarovski crystals and lace bridal shoes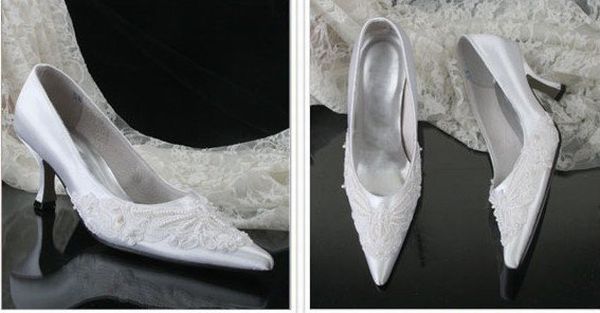 The incredibly spectacular Swarovski crystals and lace bridal shoes are a definite showstopper. These heels have been dramatically fashioned out using Swarovski crystals, satin, rhinestone and mesmerizing lace details. The handmade shoes have crystals and rhinestones sewed on them, which will leave you smitten as you adorn this pretty creation. These beauties have been created to flatter any and every woman as she starts a new chapter of her life.