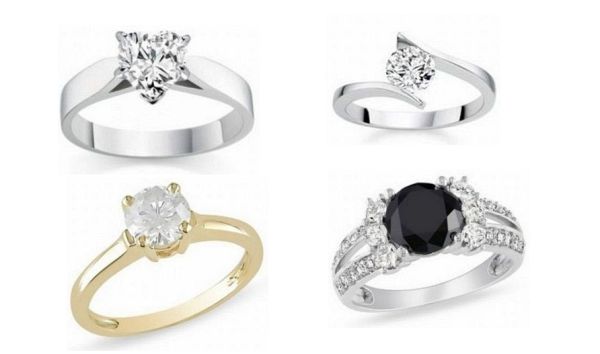 Finding the perfect engagement ring for your special someone is indubitably a serious business. You need to consider many things before buying one, especially your budget, ring pattern, color selection and most importantly, the liking of your partner. An engagement ring symbolizes love, passion and emotions. Since every girl dreams of an engagement ring that's unique and extraordinary, you need to find one worthy of your everlasting love. The shelves are flooded with a variety of beautiful and dazzling engagement rings from renowned jewelers around the world, so picking the right piece of beauty might not be that easy. Here we have some of the exceptionally beautiful engagement rings you might love to consider for the woman in your life.
X3 Diamond Ring, 18k White Gold Certified Diamond Engagement Ring (1-1/2 ct. t.w.)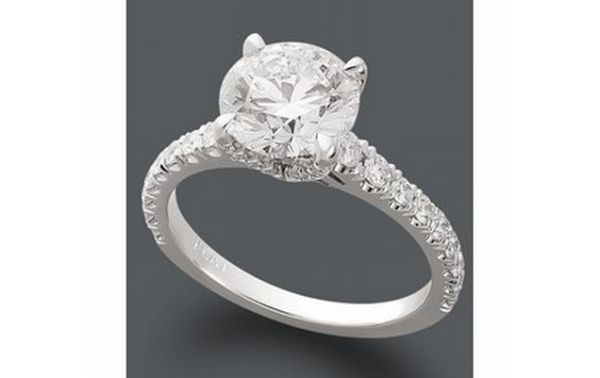 When considering for a wedding ring for the woman of your life, you must go for something special and there is nothing more luxurious and precious as diamonds. The X3 Diamond Ring is one such engagement ring that will dazzle her and leave a sparkle in her eyes. This stylish girdle features a round cut diamond (1-1/2 ct. t.w.) set in 18K white gold with scintillating diamonds constellated at the shoulders. This gorgeous wedding ring can be yours for $13,300.
1/2 carat Diamond Engagement Ring in 14k White Gold GHI I2;I3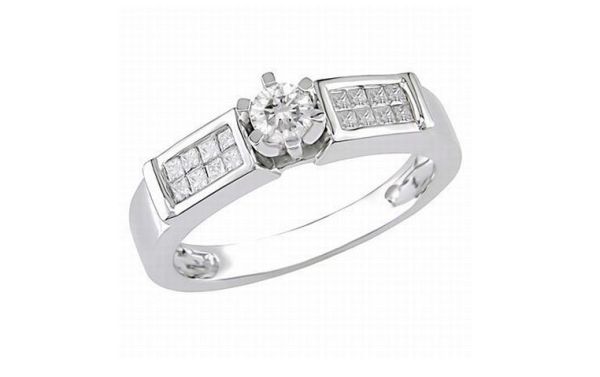 This ½ carat Diamond Engagement Ring will let you say 'I do' in style. The dazzling ring is crafted in 14 K white gold. The centrally placed round, white diamond coruscates brilliantly on the white gold girdle. This sparkle is enhanced by the little sparkling diamonds arranged orderly at the shoulders of the girdle. The carat total weight of this twinkling beauty is 0.5 carats and come with a price tag of $1,129.
Diamond Ring, Sterling Silver Pear Cut Diamond Engagement Ring (1/2 ct. t.w.)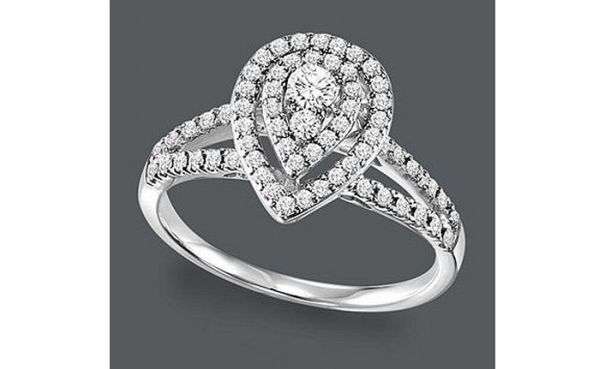 This splendid diamond wedding ring will adorn the beauty of your bride with the scintillating spark of the round cut diamonds (1/2 ct. t.w.). The remarkable wedding ring features a Pear Cut Sterling Silver Ring studded with twinkling diamonds. The size of the lovely ring ranges from 5 to 8. The intricate ring is priced at $780.
Diamond Ring, 14k White Gold Diamond Square Cluster Engagement Ring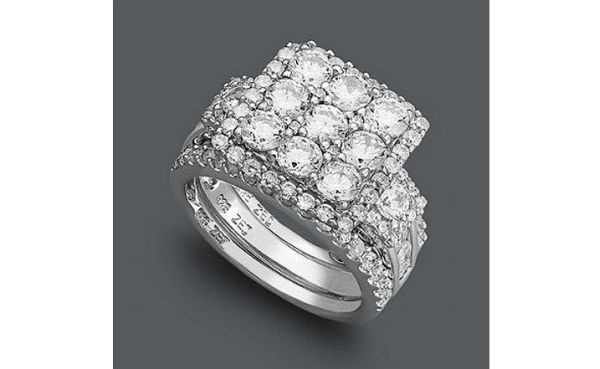 This extraordinary engagement ring comes with a stylish and brilliant design disseminating the charm and glitter of the round cut diamonds, not only in the eyes of your bride but also the guests. The ring is made of 14K white gold adorned with several sparkling round cut diamonds arranged in a square pattern in a different chic style. The carat weight of this scintillating beauty is 2 carats and is valued at $4,699.
1 carat Diamond Engagement Ring in 14k White Gold GHI I1;I2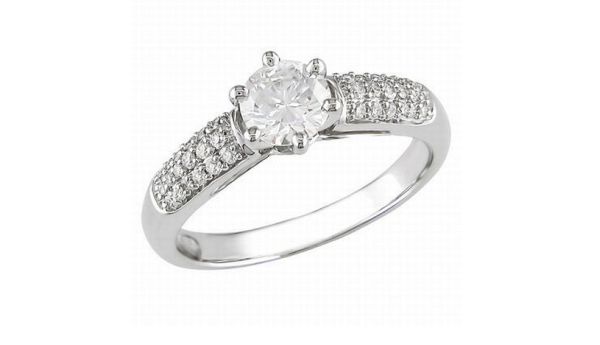 There is sheer glamour meeting the contemporary style design in this gorgeous Diamond Engagement Ring. The woman of your life would be enthralled by the charisma of this glittering wedding girdle that is crafted magnificently on 14 K white gold. The central round, white, diamond weighs 0.78 carat. There is a multitude of small round cut diamonds engraved beautifully around the big diamond to enhance the sparkle of this lavish wedding ring. This adorable wedding ring costs around $5,154.
Diamond Ring, 14k White Gold Trilogy Diamond Engagement Ring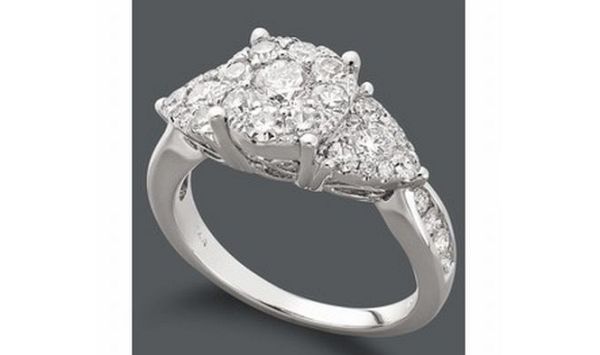 This spectacular diamond ring is all designed to symbolise your everlasting love and affection for your bride. The scintillating luster of this beautiful diamond ring would set her aback. There are three big round cut diamonds, each clustered with several little diamonds. This coruscation of diamonds is gloriously crafted in 14 K white gold. The ring carries a total carat weight of 1 and ½ carats. Priced for $ 6,000, the beautiful diamond ring represents every aspect of your relationship.
0.35 Carat D/VS1 Heart Certified Diamond Solitaire Engagement Ring in 18k White Gold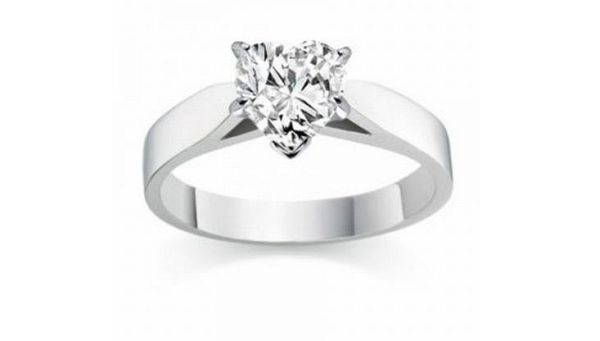 This heart shaped beauty represents the love and affection that will be held forever in your heart for your bride to-be. The Heart Certified Diamond Solitaire Engagement Ring would make your special occasion extra special. The simple yet fantastic design is set in 18 K white gold. The weight of the scintillating solitaire diamond is 0.35 carat. The diamond is ideally cut, thus allowing maximum reflection and sparkle with a perfect symmetry. The beautiful heart stone is finished with excellent polish. This piece of brilliance is priced for $4,800.
0.40 Carat D/SI1 Round Brilliant Certified Diamond Solitaire Engagement Ring in 18K White Gold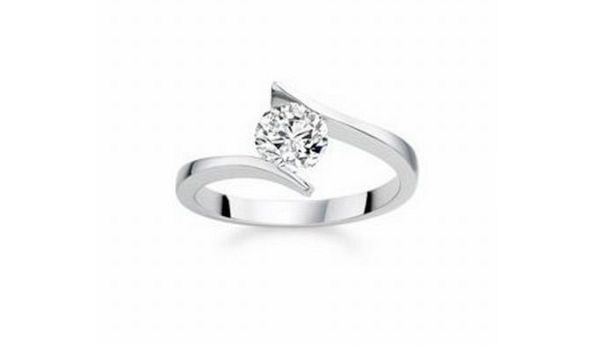 This simple yet attractive diamond wedding ring is a perfect choice in engagement rings section. The glitter of the 0.40 carat diamond will add to the sparkle of your special day. Christened 'Round Brilliant Certified Diamond Solitaire Engagement Ring' is crafted in 18K white gold. The scintillating diamond that has a bandwidth of approximately 2mm is set on a Channel Setting on the metallic girdle. The diamond is ideally cut providing the luminescence from every angle. The cost of the ring is $3,900.
2 2/3 Carat Black and White Diamond 14K White Gold Engagement Ring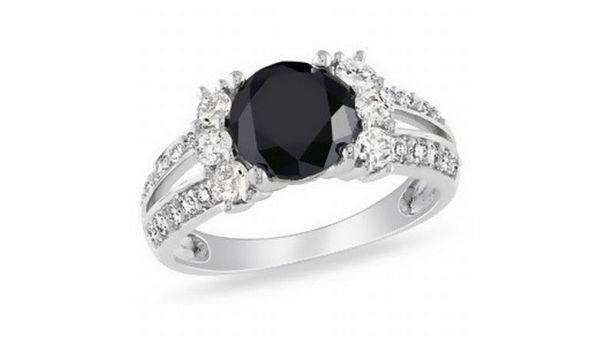 The marvellous Black and White Diamond Engagement Ring is sure to allure and turn many heads. This shining wedding ring is designed with by making brilliant use of black and white diamonds. This pretty design is taken from the Moonlight Black Bridal Collection. The 2 K black diamond, which is centrally placed, is accentuated with 2/3 carats glittering diamonds constellated magnificently around the black diamond. The diamonds are engraved in a lustrous 14 K white gold girdle. This splendid beauty carries a price tag of $1,295
1 Carat Diamond 14K Yellow Gold Solitaire Engagement Ring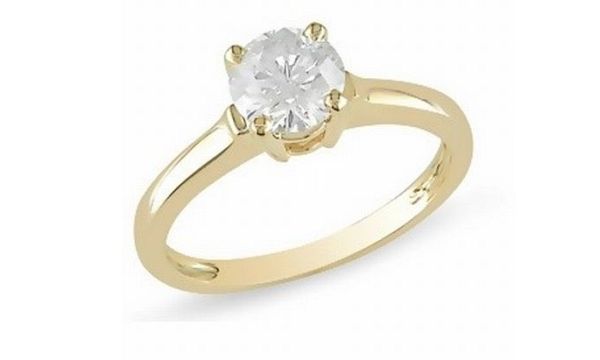 This stylish and stunning piece of diamond wedding ring would be admired by the woman you adore. The Solitaire Engagement Ring features 1-carat round-cut diamond that sits atop the metallic girdle made of 14 K yellow gold. This sparkling wedding ring will add charm to your life. The brilliant luster of the diamond will glow more on the polished yellow gold band. This piece is priced at $4,995.