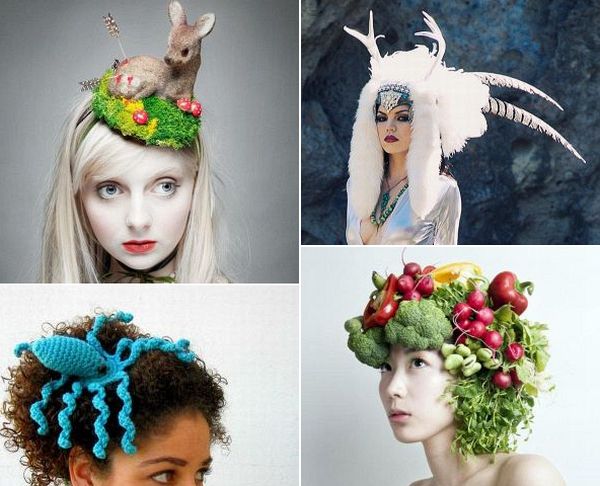 Head gears and accessories, as an add-on to your wedding attire for the D-Day, help to impart an element of beauty and charm along with a tinge of style and uniqueness. Not only do they look fascinating and adorable, but can even alter your entire look, making it quite interesting, as well as eye-catching. Moreover, to make you the center of attraction, a whole range of unusual looking tiaras, circlets, crowns, cocktails hats and veils are now available which are just perfect to gracefully adorn you from top to bottom and make you look stunning and beautiful on the most special day of your life. Lets take a look at some of these extraordinary headpieces.
Headpiece from Chatham Girl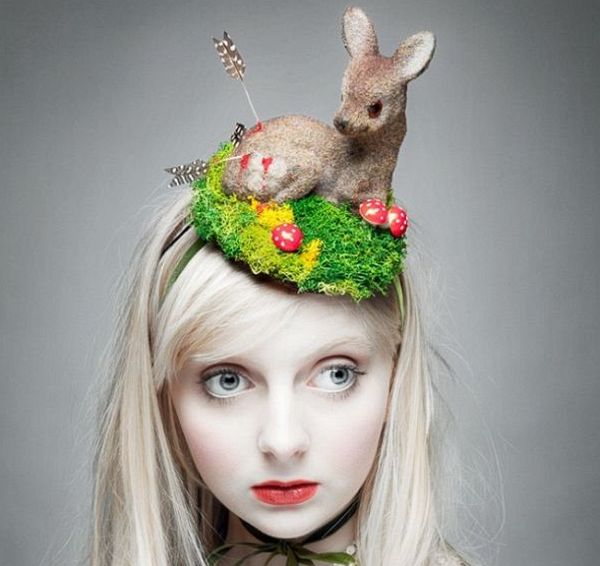 This strange looking head wear from Chatham Girl has a uniqueness of its own. It is truly a quirky and unusual piece with a kooky and slightly macabre deer along with a toadstool hat. The arrow on the Bambi's bum looks utterly wonderful and cute, thereby adding to its innocence and attractiveness. Surely, this piece would definitely make you stand out from the rest of the crowd. The best part about this unusual-in-appearance headgear is that once you get bored of using it, you can place it as a showpiece in your room. Now that's called beauty along with utility.
Snow Enchantress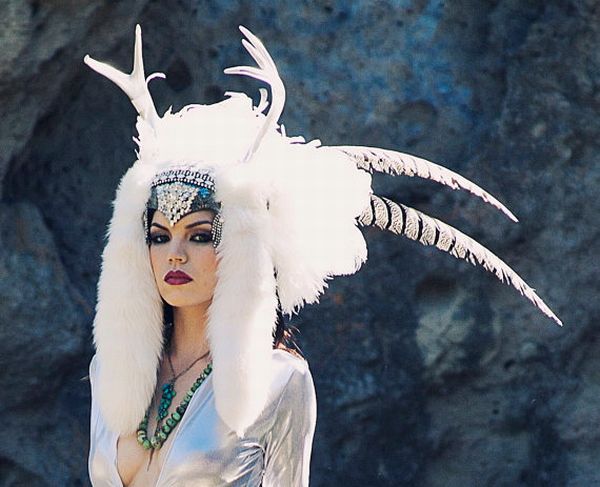 As the name signifies, the wearer of this extraordinary and sparkling adornment, named Snow Enchantress, seems like a regal demeanor. This breathtaking head accessory glows up the surrounding with its presence as it goes way beyond to shine like stars thrown over fresh snow flakes, thereby making every path that she treads free from darkness. To add on to the enchanting and magical effect, crystalline sparks seem to fly from her tongue, illuminating everything around her. Surely boss, this is truly mesmerizing, capable enough to drive everyone crazy with its killing looks.
Gaga Orb Headpiece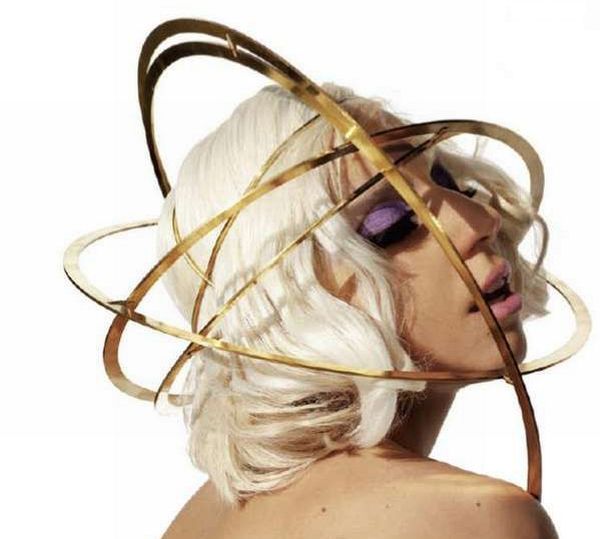 The Lady Gaga Orbital star head piece goes way beyond the thin line which marks the demarcation between trendy fashion concepts and being down right eccentric. The Orbital wires set across zig-zag pathway looks more like a piece of battle equipment rather than an add-on to your beautiful attire. Our take on this- 'If not anything else, this unusually created head accessory is sure to poke your face'. Looking at its price, marked at $46,000, the only thing that comes to our mind is that even if you have loads of money, utilize it in something more fruitful and sensible instead of wasting it in wrapping your head around a ridiculously designed gadgetry headgear. But for the ladies having an appetite for experimentation this is with no doubt a worth trying head accessory.
Raw Food Headpiece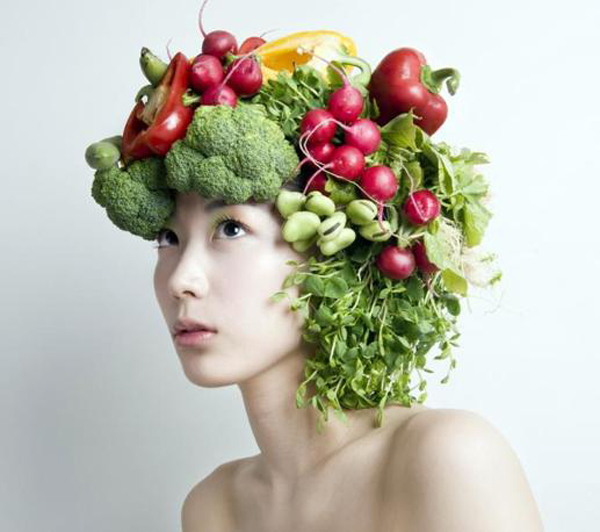 It is a usual sight to notice fresh flower arrangements done along with the hair-do on a woman's head to accentuate her beauty. But it is quite surprising and unique to see how beautifully and artistically Takaya, the famous Japanese floral artist cum designer uses fresh ingredients to adorn the sensational bliss and beauty of a bride-to-be and make her look outstanding and special on her D-Day. By blending cascading blossoms along with raw vegetables and attaching it to styled hair, using an innovative technique, is a rare specialty of this talented designer. This particular Raw Food Headpiece, made of broccoli, radish and red pepper looks not only unexpected and unusual, but is quite tempting and tasty too. Now that's called perfectly 'suitable and edible.'
The Ghostly Headpiece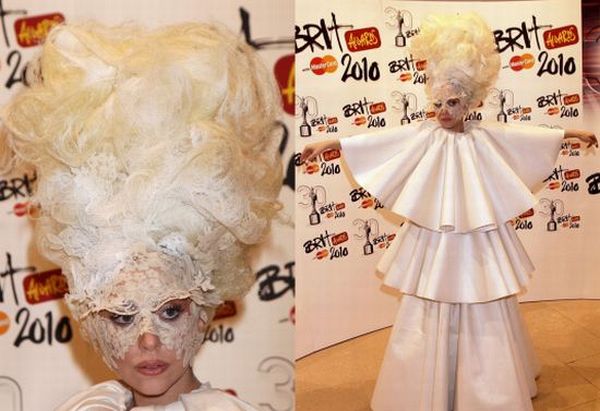 Designed by the trend-setter of unique headdresses, Lady Gaga; this ghostly headpiece is sure to drive all your guests away. An off-white bizarre and weird tiara, set against a white gown can only make you look scary and wacky even if you carry it in the most confident and appealing manner. Our suggestion is opt for a unique headgear which makes you look appealing on your wedding and not something strange which spoils your look, in an attempt to look different. This kind of a headpiece would be a worthy one those who are in love with horror themed weddings.
Dolce Diana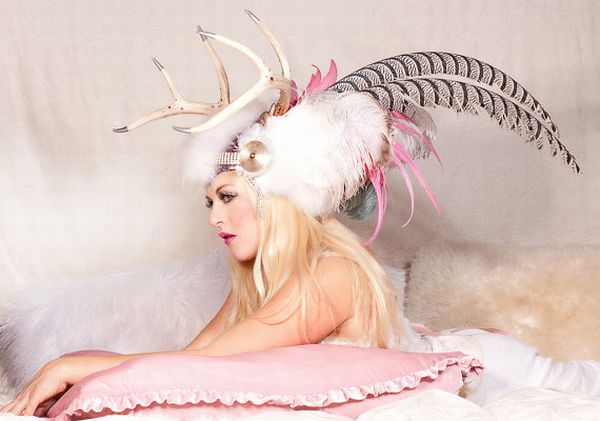 This strikingly eye-catching head accessory can make you look like a 'Queen of the Hunt.' Set against a fluffy white fur and pink delicacy, along with horns popping out from the center, this one looks quite attractive and is sure to make people 'beware' of you. Our suggestion to your list of invitees is 'better be good to her or you might just get a taste of those horns.'
Mohawk Chic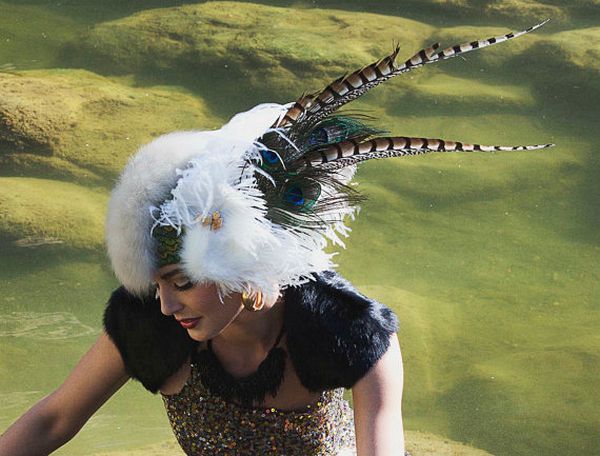 Made to order, this tribal looking punk rock headpiece is just perfect for an outdoor gathering. The vintage fox fur Mohawk has been well coordinated with the beautiful and pleasant looking peacock feathers, accentuated by small citrine geodes. All in all, a very smart choice for your wedding day which can make you appear extremely tribal, like a little wood nymph.
Lady Gaga's Lobster Headpiece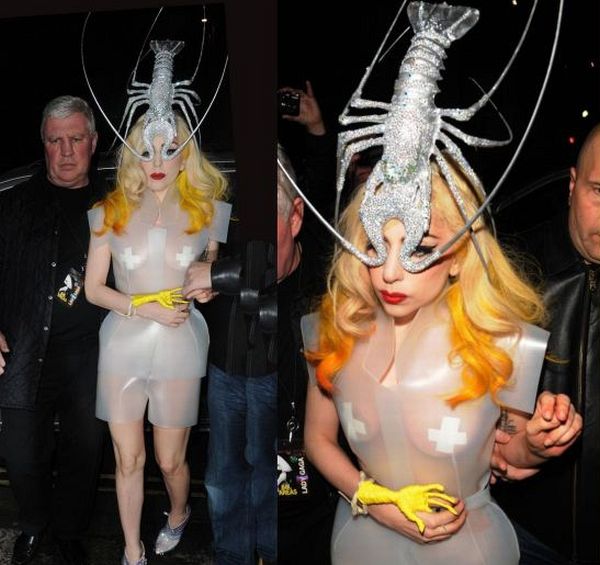 Lady Gaga, known for her ridiculous and abstract headpieces, has recently made her public appearance in her latest glitter-tastic lobster headpiece. Though the concept and style feature could be easily deciphered, but the idea behind it was hard to comprehend. We suggest it's a perfect pick for an avant-garde fashion statement, but not for a wedding ceremony. However, it's totally based on personal preferences to love it or loathe it, but we are sure it would make it difficult for you to find your way through those elongated tentacles.
Rat Headpiece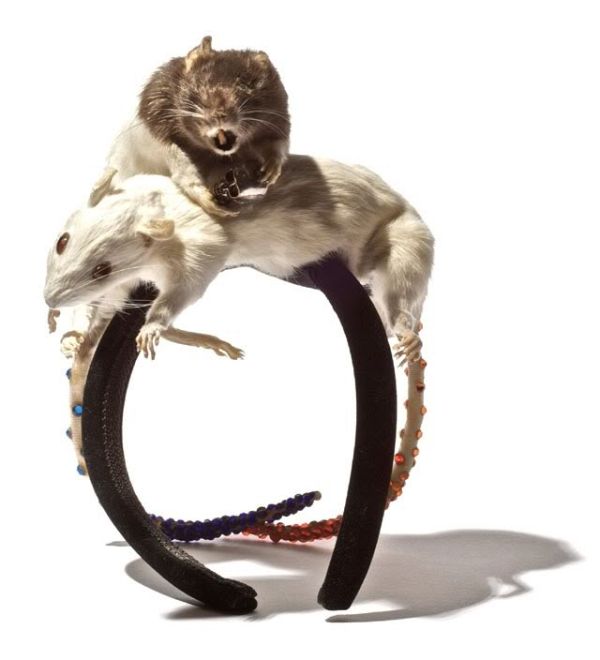 Created by accessory designer, Reid Peppard, this rat headpiece is truly a piece of art in itself. Quite different from the usual head-gears that we see on the ramp or otherwise, this one was picked by Lady Gaga who went Ga-Ga over it. It's important here to mention that the designer is an anti-meat eater and uses only road kills for her designs, before those eyebrows of animal activists get raised to get to the rescue of these cute little stuffed rats. Our take on it – it surely is an innovative design concept, smartly executed without harming those innocent creatures.
The headpieces by Anna Dello Russo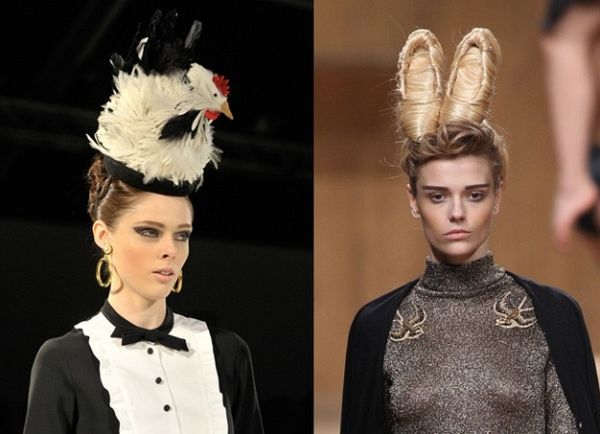 Milan Fashion Week A/W 2011 saw some amazingly awesome and unique head accessories which stole the heart of omnipresent. Designer Anna Dello Russo claims that headpieces are a reflection of one's own emotions which one carries in his or her own mind and is reflected by using some abstract ingredients in an attempt to create something halfway between sculptures, hats and decorations to give rise to something more innovative and unique.
Octopeep Fascinator Headpiece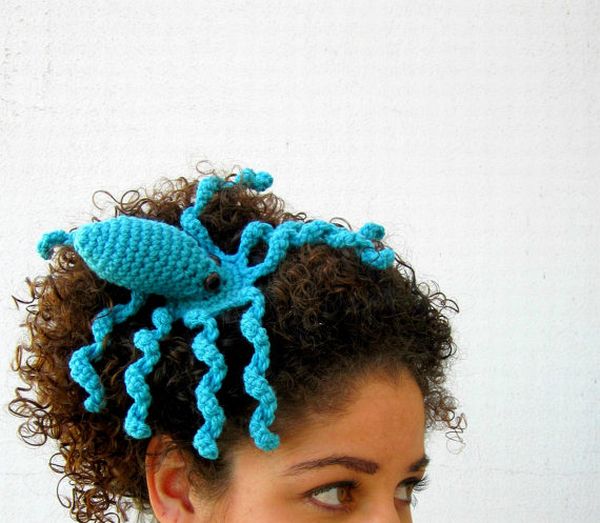 The Octopeep Fascinator headpiece is a perfect fun accessory pick for marine-life lovers, who love to experiment with new pieces of trendy add-on accessory pieces with a splash of uniqueness and originality, to adorn any outfit, costume or mega event. This nerdy, whimsical and bright hued octopus, christened as Ludicra-Polypus, is a crazy invention in an attempt to gracefully honor the playful and curious nature of the creature. It can be hooked on to your hair with a French Barrette clip and can alternatively be used onto your purse strap, tank top or belt loop as well. We advice its an extremely hot creative pick which can really make you the star of the event, so grab it before it disappears.
Animal inspired headpiece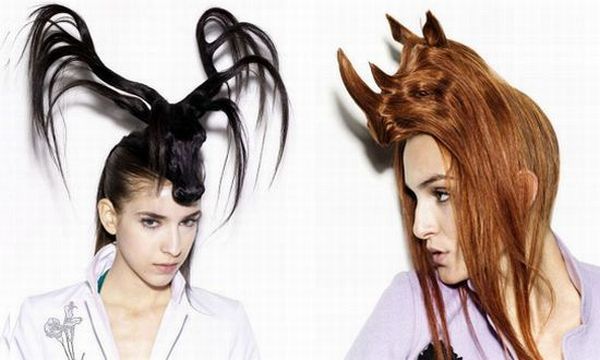 Our list of unusual headpieces has to end on an eco-friendly note and what better way of wrapping it up than bringing forward these fabulously created headpieces which imitate animal postures by utilizing hair as the main ingredient. Inspired by wildlife, 15 unique pieces of head accessories have been designed by giving them a shape of different animals like poodles, goats, elephants and others. In spite of being bizarre, these stunning, eco-friendly hair hats are sure to turn heads in fascination and allurement on your wedding day. We say 'Thumbs Up' to this one!