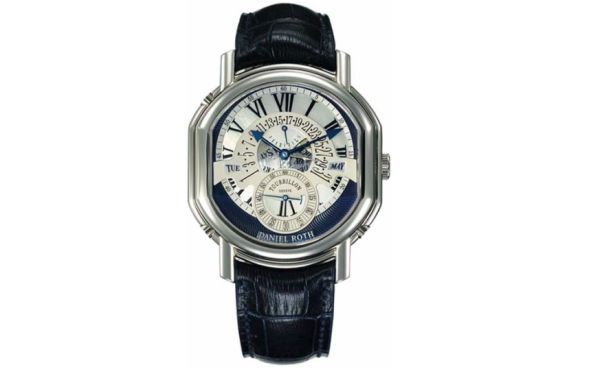 Men love wrist watches. They are an integral part of men's jewelry too. So, you can do no mistake if you feel like gifting a designer watch to your man on your wedding. Your gift would always adore your life partner's wrist for you even when he is away from you on his business trips. So, if you are not constrained by budget, close your eyes and start thinking how that watch will go with his designer wedding suit. Here we have some of the most exquisite and expensive watches to gift your man.
Patek Philippe Sky Moon Tourbillon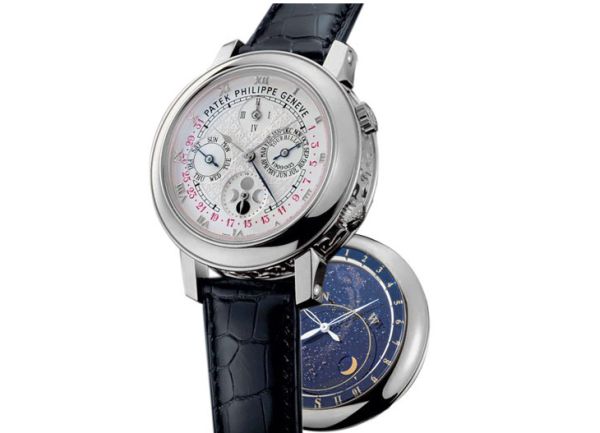 Designer: Patek Philippe
This is a pure investment-grade continuously produced wrist watch from the Patek Philippe. With external casing made of platinum, this is the first watch to sport dual dial. On the front dial, you get complications like, equation of time, hours and minutes, moon phases, retrograde date and perpetual calendar. The rear dial is a horological wonder. It shows you placements of stars, sidereal time, moon orbit and 24 hours. Definitely, this is too much of a marvel to wear on wrist. But your man will never ever miss any opportunity to praise your sense of value. Sky Moon Tourbillion is one of those very few rare objects that never satiate connoisseurs' appetite.
Price: $1,450,000.00
Buy Here: Gemnation.com
Ulysse Nardin Royal Blue Tourbillon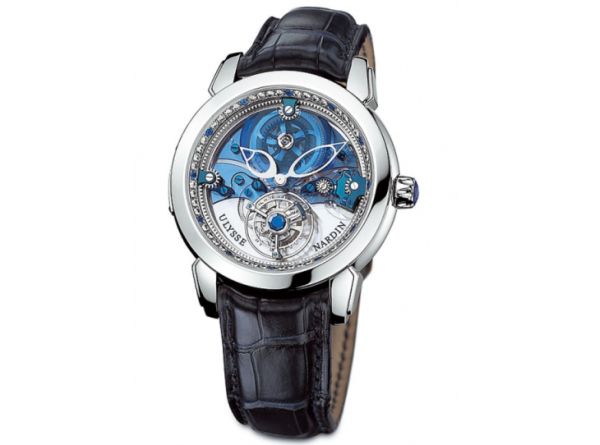 Designer: Ulysse Nardin
Royal Blue is a genuine designers' delight. While white diamonds and blue royal sapphires stimulate your eyes, platinum 950 encasing complements the precious jewels. Transparent and blue toned sapphire crystals along with blue-tinted steel screws give the watch's dial a skeletal look. You don't see a Royal Blue everyday and this sublime piece is nothing less than a collectible art. Royal Blue that you see on the image is constellated with 48 diamonds and 12 royal blue sapphires. If you prefer studding this watch with more jewels then opt for Ref: 799-83. This is just another variety of Royal Blue with jaw-dropping 568 diamonds and 236 royal sapphires.
Price: $230,000
Buy Here: Ulyssenardin.ch
Hublot King Power Carbon Fiber Cathedral watch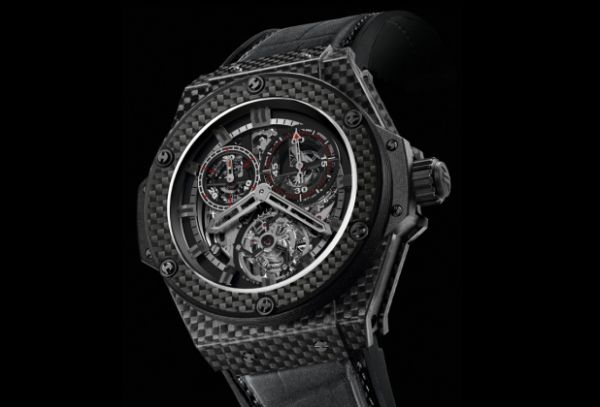 Designer: Hublot
If you love fusion of traditional Swiss watching making with modern day technology, go for this Hublot. This is the world's first carbon fiber encased watch with carbon fiber bridges. It is a minute repeater that sounds hours, quarter hours and minutes with two gongs. You can deactivate the gongs of course. The watch also uses titanium and rubber for different other parts. At 2011 Baselworld, masculine design of King Power drew lot of attentions.
Price: $ 402,000
Buy Here: LuxuryBazar.com
Louis Moinet Magistralis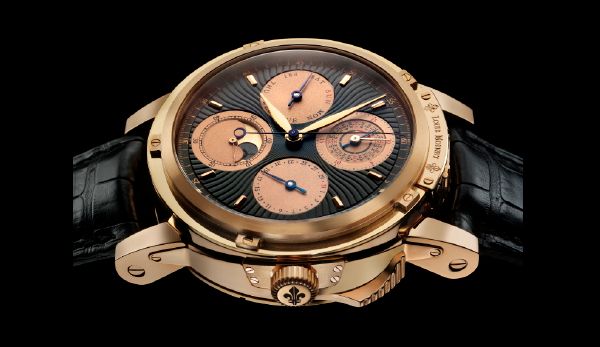 Designer: Louis Moinet
Magistralis is a limited edition Grande Complication and a pure mechanical art. Its moon phase is sprinkled with fragment of Dhofar 459, a lunar meteorite. It makes this watch more rare and expensive. The watch is encased with 18k red gold and 18k yellow gold. This minute repeater's cathedral gongs are complemented with violin-type amplifier to make the sound more distinct. Magistralis bears Poinçon de Genève hallmark for its century old Vallee de joux movement. Don't you love giving a piece of moon to your life partner!
Price: $860,000
Buy Here: Louismoinet.com
Jaeger LeCoultre Grande Complication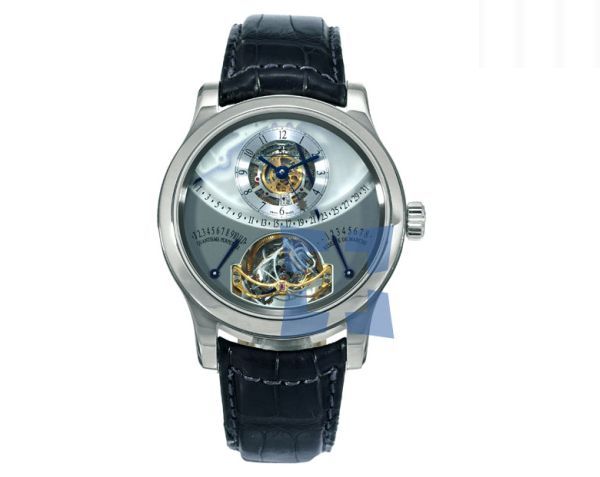 Designer: Jaeger LeCoultre
If you lay your hand on this watch then no doubt you are touching a rare intricacy that men ever built with hands. Gyrotourbillion of this JLC watch makes it a true Grande Complication and a master piece in horological history. This watch features equation of time and perpetual calendar with 4 retrograde hands. Single wind runs the watch for 8 days. Dial is plated with Ruthenium Rhodium. JLC planned to build only 75 of this watch. Gyrotourbillion is a new chapter in the history of watch making.
Price: $350,000
Buy Here: LuxuryBazar.com
IWC Grande Complication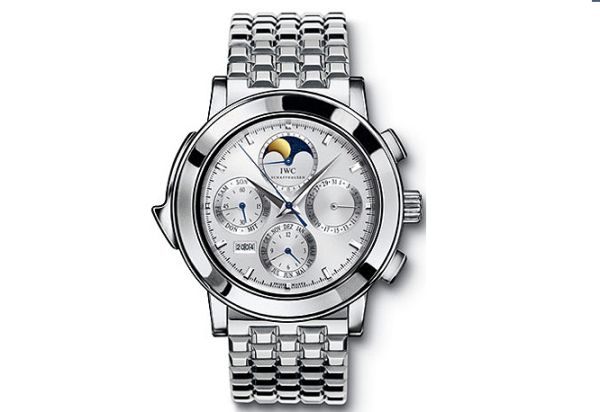 Designer: International Watch Company
This is an self-winding mechanical masterpiece, designed by International Watch Company. IWC fitted this watch with 657 components with features like, perpetual calendar, moon phase, minute repeater and year in 4 digits. The watch offers resistance to water up to 3 bars. Silver dial shows a globe engraving and rear cover features a sextant engraving.
Price: $318,000
Buy Here: 24diamonds.com
Girard Perregaux Opera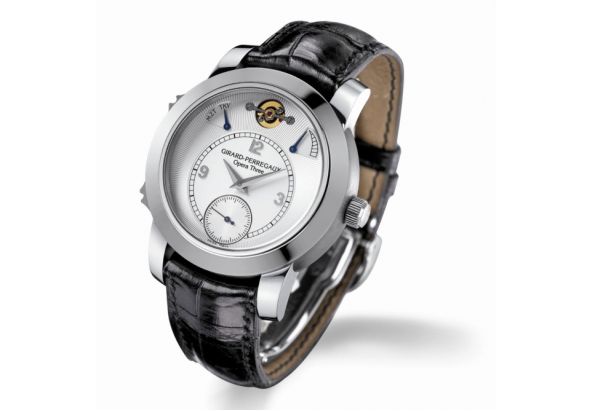 Designer: Girard Perregaux
It is a watch that your ear will love too as it can play Mozart and Tchaikovsky. Fitted with keyboard of 20 metal strips and 150 hand crafted pins, Opera is a musical wrist watch. Music is played either as 'au passage' melody or on demand manipulating a selector. You can also deactivate the music option sliding a simple lever. Manual movement Opera is made of white gold and reserves power for 50 hours. The watch comes with black alligator leather strap and resists water up to 100 ft depth.
Price: $450,000
Buy Here: TheFinestWatches.com
Daniel Roth Ellipsocurvex Tourbillon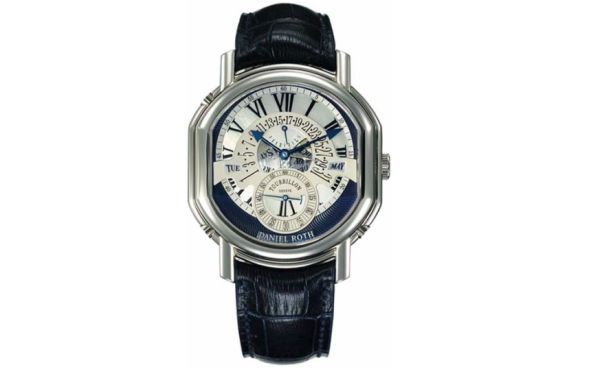 Designer: Daniel Roth
As a new comer, Daniel Roth already impressed watch connoisseurs. Ellipsocurvex is comparatively new model with platinum encasing. This is an automatic winding mechanical watch with power reserve of approximately 64 hours. Dial color is combination of cobalt blue and Mother of Pearl. This watch features perpetual calendar, retrograde date, hour, minute and seconds. Strap is made of alligator leather.
Price: $129,420
Buy Here: Gemnation.com
Daniel Strom's most expensive Bone White skull watch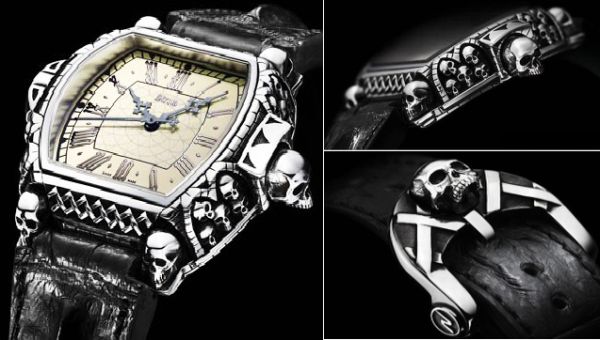 Designer: Daniel Strom
Name of the watch is Memento Mori, Carpe Diem! That means "remember you will die, so seize the day". Do you still feel this as your wedding gift? This watch looks like a perfect Halloween gift. However, no doubt it is real collectible and only 88 pieces have been built. This is an automatic winding mechanical watch with external casing, made of Silver 925. For internal casing watchmaker used stainless steel and curved sapphire crystal. This watch is 50 meter water resistant.
Price: $57,896
Buy Here: Stromwatch.ch
Blancpain Grande complication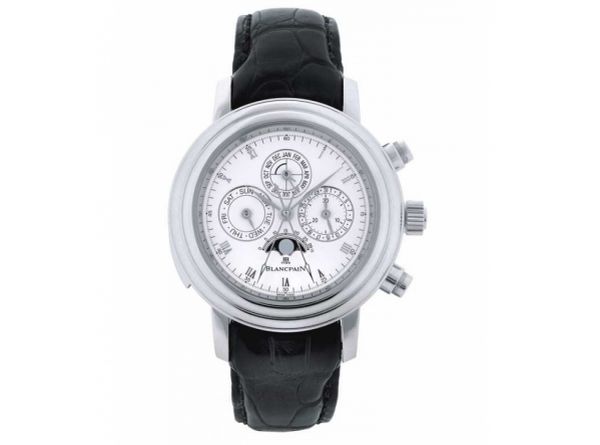 Designer: Blancpain
This masterpiece watch features all the important horlogical complications like, split seconds, minute repeater, chronograph, perpetual calendar and, of course, the tourbillion. The watch is driven by 1735 caliber with self-winding mechanism and 80 hours of power reserve. Near 700 components and 44 jewels are used to build this watch. Bridges and plates are made of 18k gold while winding rotor is made of pure gold. Only single piece of this watch is produced in a year.
Price: $785, 000
Buy Here: Blancpain.com