It may be an age old custom or practice to express your true love to your beloved with pearl or diamond engagement rings. However, many believe that it is still the best and the most effective way to do so. It is every girl's idea of a dream proposal and with that sparkling pearl engagement ring in your hand; you hardly stand any chance of rejection. However you should know your options well before you make any choice. For those who may be thinking of settling with a pearl and diamond engagement ring; here are a few things you can check out.
Why should you go for pearl instead of diamond rings?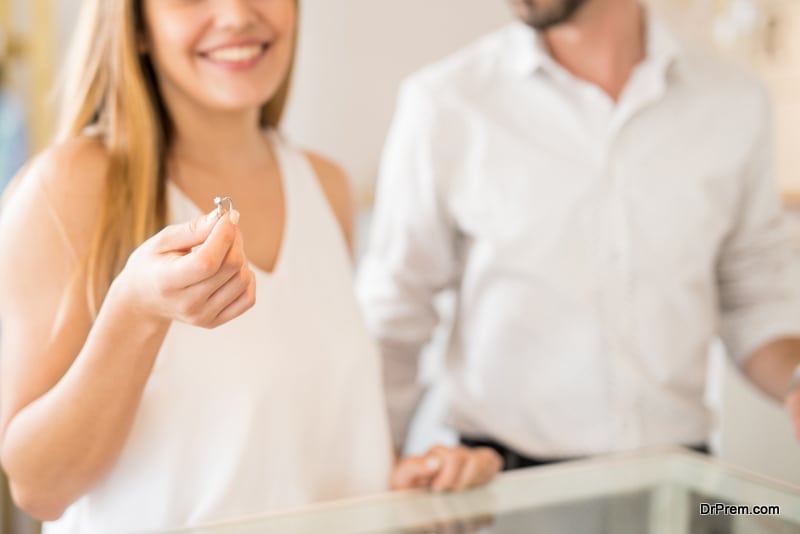 Many may advice you to opt for highly expensive diamond rings as it has a very traditional feel. But if you want to stand out in the crowd and give a unique touch, pearl engagement rings can be a great option. Pearls look classy and offer an elegance that is sober yet sophisticated. No matter what you select it will always have an elegant and classy appeal. It bestows self confidence in the bearer through its positive and elegant projection of beautiful artistic designs. Diamonds are there for long and thus do not hold any unique impression.
Pearls score over them as they look different and can be worn daily teamed with a lot of apparels. You also hold the advantage of wearing a pearl engagement ring in its simplest form or making a mix and match of white or black pearls with platinum studded with diamonds or gold for that matter. Pearls are affordable and do not usually burn a hole in your pocket. There are different ranges of pearl rings depending on your budget. You can afford to get an elegant design in pearl at affordable prices which are almost impossible when it comes to diamonds.
Given below is the list of the best collection of pearl engagement rings which will mark 'trust', 'sincerity', 'truth' and 'love' in your marriage as the pearls themselves signify:
Couture pearl and diamond engagement ring

The Couture rings come from the South Sea pearls and looks very elegant. They possess a very regular naturally polished structure which is because they are mainly found in the salt water regions. There are different sizes and colors available on couture rings. A Couture Rings of 13mm with white cultured pearls and studded with diamonds and platinum may cost you around $48,000.00. The price range may vary according to the quality of the pearl and the designs.
Midnight Glow Pearl and Diamond Ring

As the name indicates the Midnight Glow Pearl and Diamond Rings have a very unique quality of shinning even in dim atmospheres. They leave as lasting impression on the bearer due to its elegance and shinning nature. These pearls rings are generally made of a plain white gold band. The band opens up into 4 diamond studded prongs at the end of which there is a large luxurious white pearl fixed to it. The prices of these rings vary according to sizes. However you can get it within affordable range by opting for a simpler design with less diamonds in it if you want to.
South Sea Cultured pearl and diamond engagement ring

The South Sea Cultured Pearl rings are made out of pearls that are collected from the South Sea. As these are also found in the salt water region the shape of the pearls are regular and they mostly have a very polished structure. There are a variety of color schemes available. However the best ones range from white to creamy. These colors look classy and have exquisite elegance. The South Sea Cultured pearls adorned with diamonds can dazzle you with its sparkling look and finish.
Starfish Ring

Starfish engagement pearl rings are often considered as exquisite and artistic piece of work mainly due to its star shaped structure. The bearer of such rings can love to flaunt them due to their unique design and appearance. It is made from 12mm Black South Sea cultured pearl, and is often studded with diamonds and of sapphires that can go along with it perfectly. A set in 18k white gold of a starfish ring may cost you around $12,000 approx.
Briolette Ring

The Briolette Rings are simple and are made for people who love simple yet artistic designs. The pearls for Briolette Rings are derived from the White South Sea cultured pearl region. They have a great look and feel mainly due to the white glow derived from the white pearls and diamonds adorning it. Though the shapes and designs may vary but these rings generally have the white color. To give you an idea a Briolette Ring with 12mm of diamonds set in 18k white gold can cost you around $16,000 approximately.
Fresh Water pearl and diamond engagement ring

As the name indicates these kind of pearls are generally found in fresh water regions like ponds, lakes and rivers. These pearls often do not have a regular shape and size but after being cut, trimmed and polished they derive the finest glow and appeal that can make anybody fall in love with them. A fresh water pearl of 18Kt white gold can cost you around $18000.00 approximately.
Dandelion Ring

The Dandelion Rings are made from pearls collected from the South Sea. As they have the same salt water background they have a regular and polished structure normally. However unlike the other pearls these are generally Black in color and look extremely elegant and classy. It can go along with any apparel and is fit to be worn to any occasion. A 12mm Black South Sea pearl teamed with diamonds and sapphires of 18k rose gold can cost you around $16,000.00
Sakura Ring II

The Sakura Rings are a kind of pink gold ring made out of a combination of Black South Sea and Akoya cultured pearls. When studded with diamonds it can look breathtakingly gorgeous. A 12mm Sakura Ring II set in 18k pink gold will cost you around $10,500.00
Fresh Water Pearl Ring

This is among the hot favorite of many due to its classic design and smooth finish. The Fresh Water Pearl Ring is generally made out of a single piece of cultured pearl placed between double gold band of diamonds. It looks classy, elegant and has an appeal that is very pleasing to the eyes.
Water Lily Ring – Yellow Gold

This is yet another wonder from the world of pearls. It comes in variety of shapes and designs. It is called Water Lily Ring- Yellow Gold mainly because it looks similar to a water lily and has mostly a yellowish gold color theme. A 12mm Golden South Sea cultured pearl studded with diamonds set in 18k yellow gold can cost you approximately around $13,500.00
Fresh water grey pearl ring

A Fresh water grey pearl ring has an glamorous design with a smooth, radiant, light grey pearl look and feel. The pearls are generally placed in a diamond and gold base. It has a very lady like appeal due to its stylish curves and elegance. It can be a love at first sight thing for anyone as the polishing and diamond sparkles gives it a classic feel.
Water Lily Ring

Water Lily Ring is a simple yet soothing piece of art. It has a stunning quality of radiance as most of it is of sparkling white color. It is simple and is fit to be worn on any occasion. There are a variety of sizes and designs available on this kind of rings. A 12mm White South Sea cultured pearl teamed with diamonds set in 18k white gold can cost you around $23,000.00
Pearl engagement rings may vary from affordable to expensive based on the design, finish, quality of pearl and the quality of materials it is made with. It can be suitable for any occasion and with such variety of colors it can fit to anyone's choice within no time. The best thing that makes a Pearl Ring the best choice is that it symbolize the 'traits of sincerity' thus valuing the relationship and the person who will be the best part of your life. It marks the sincere, innocent and lifelong commitment of love with dire simplicity.