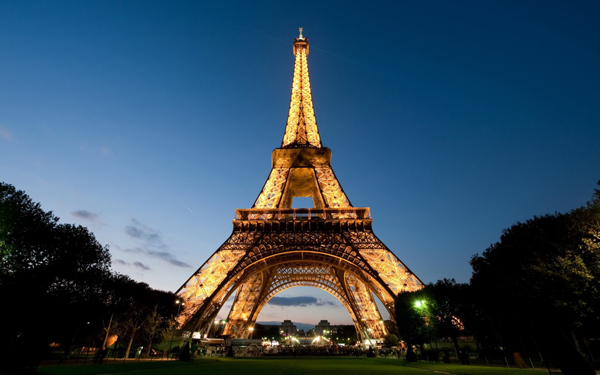 The honeymoon is a vital portion of any wedding. It is the time which connects two souls in ways beyond imagination. And such a beautiful and intense event needs a beautiful and intense locale. The world offers the most amazing and perfect honeymoon locations. We present ten such destinations here. Choose any one based on your tastes and needs!
Paris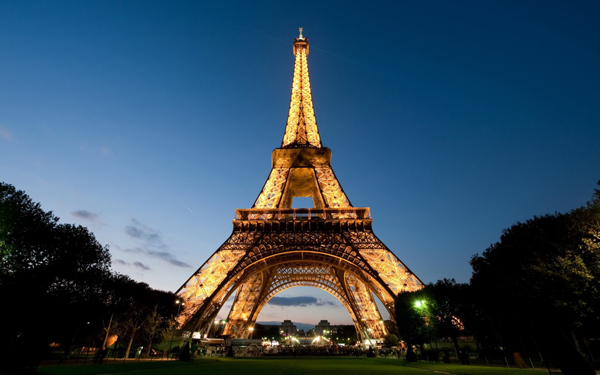 The City of Lights is sure to bring love, light and laughter into your marriage with its beauty, romance and thrill. Paris has so many sights to see that you can spend a honeymoon as long as you want. If you are a couple that loves art, walking and window shopping, Paris is the dream city for your honeymoon. Walk hand-in-hand along the great tree lined avenues as you explore the city along the river Seine. The Eiffel Tower, the Street Cafe and the hundreds of museums would be lovely places to visit. The best time in terms of climate and conditions would be May and June or September and October. This means that from November to February, when it is cold, the accommodation rates turn out to be cheaper.
Switzerland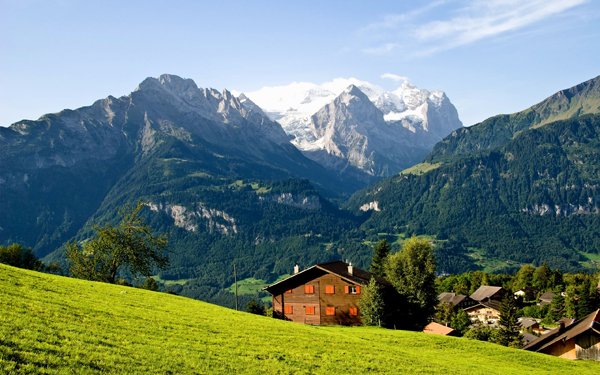 Adam and Eve enjoyed the beauty and grandeur of Paradise where nothing could ever go wrong! If you are a couple seeking such a paradise on earth, Switzerland would be the place of choice. The sweeping and scenic landscapes dotted with snow-capped peaks will take your breath away and ignite a beautiful love and romance. The winters are the best time to honeymoon here and you can really cozy up to your partner. The romantic lakes of Luzern, the ice structures at Jungfraujoch, the retreat at Murren and the moutain peaks everywhere will consume you with joy. Don't forget your umbrella and jackets though!
Venice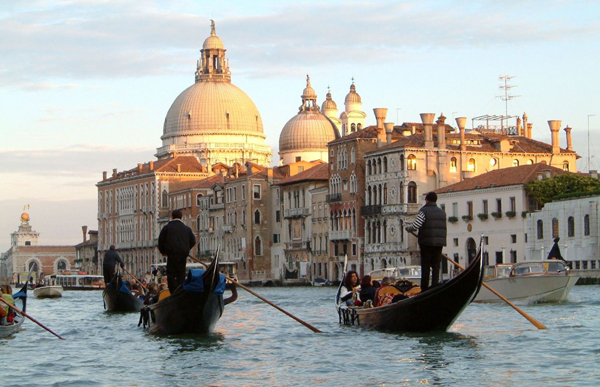 Italy is a place where the emphasis of love is on the physical aspects more than the spiritual despite, or maybe in defiance of, the repressive traditions of the Catholic church! Being one of Italy's most popular destinations, Venice could be an ideal place to host your passionate honeymoon. A compact city, it allows the couple to return to the privacy of the room in no time. The absolute lack of nightlife ensures quality night time for the bride and groom. The rich network of canals make available a large number of romantic and sight-seeing cruises.
Japan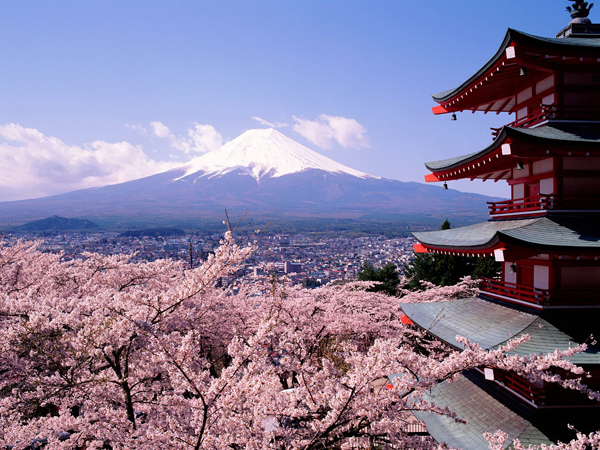 If you are looking for some variety-filled fun during your honeymoon, look no further than Japan. Extensive sandy beaches, exciting city destinations, enticing hot spring resorts and cultural sights make Japan a fantastic exploratory experience. Driving, shopping and dining are all part of the Japanese honeymoon experience. With a well organized public transport system, you can move to the tropical islands, the Nichinan coastline paradise, the Shusen-no-Mori theme park, the Miyazaki shrine and Heiwadai park with consummate ease and comfort. Japan offers its beauties all the year through. The funny thing is that when the weather is at its best, there are not many festivals and cultural extravaganza. They come when the weather is not at its best!
Seychelles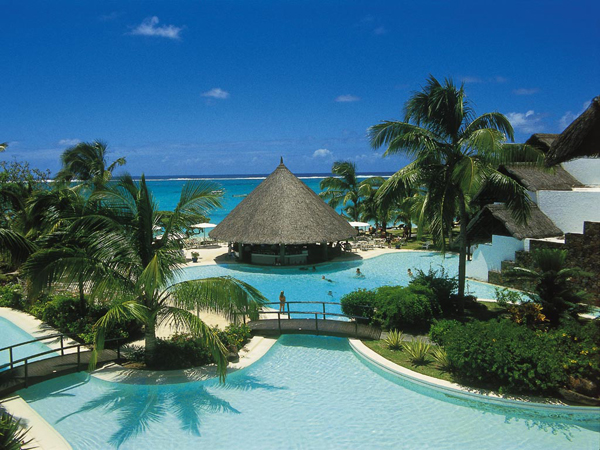 If you are a couple of happy sea shells, Seychelles would be your honeymooning paradise! This beautiful archipelago of tropical isles in the western Indian Ocean would be a most natural, idyllic and serene spot to celebrate love. Catch the stunning scenery and do some scuba diving together at Mahé, snuggle alongside the sandy shoreline amidst exotic fauna and flora at the Le Meridien Fisherman's Cove, enjoy a catamaran cruise to witness some of the rarest birds in the world at pristine Praslin or enjoy the lush and sandy shores at La Digue in complete privacy. May to November would be the perfect choice of timing.
Hawaii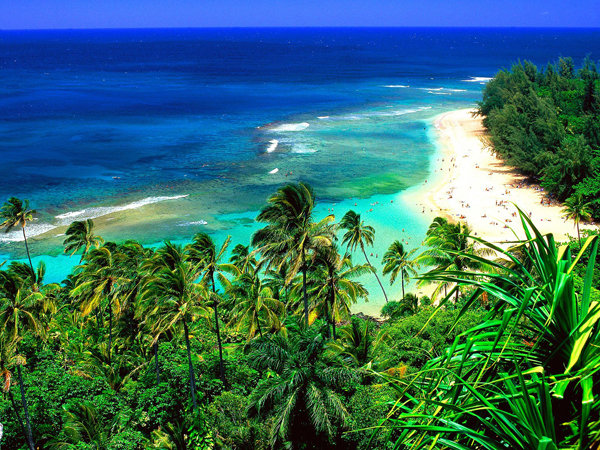 Just picture this – turquoise blue waters, plants and trees with exotic tropical flowers, warming sunshine, immaculate and uncrowded sandy beaches and thick banyan trees pushing their roots to the ground. In the middle of all this, you are one with your soulmate. Ah! The romance is incredible in Hawaii. If you are a seafood fan, you are in for a delightful banquet. Though Hawaii is technically USA, it definitely is some other world! Whether its a romantic beach escape or a peaceful forest holiday, Hawaii fulfills all the needs of a honeymoon. The month of December is prime time for Hawaii visits.
Greece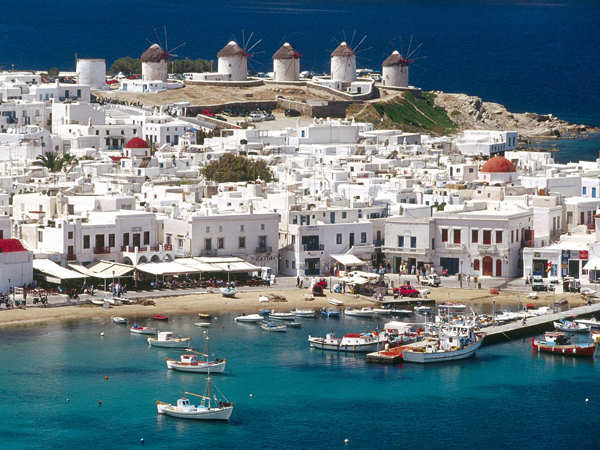 The Aegean sea and the Ionian seas are extremely popular among honeymooners with a host of exciting places to visit – Cyclades, Sporades, Dodecanese, Ionian and Saronic Islands such as Santorini, Rhodes, Paros, Ios, Naxos, Amorgos, Crete, Lefkada and of course, Athens. These come available for different tastes, luxuries and budgets. If you have saved up enough money for the honeymoon, get yourself a gorgeous private Greek villa along the beach and enjoy romance at its best. There are also a large number of resorts awaiting to fulfill you. Early July till the end of August would be best times to visit this cultural and historical paradise.
Tahiti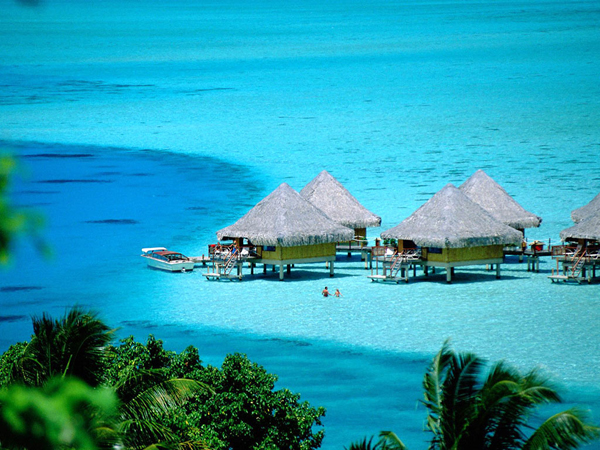 There is no better way you could celebrate the joy of your being together than visiting Tahiti with your partner. Tahiti is made up of several small villages, pristine scenic beaches and houses several intimate resorts that offer world-class amenities and luxury. The resorts offer a choice of sleeping above the turquoise lagoon waters in your thatched-roof hideaway or you could resort to a luxury cruise that is specially customized to your taste. The people here are very warm and welcome you with their music, dance and flowers. You can truly experience rejuvenation and relaxation at one of the Polynesian spas that Tahiti boasts of. Along with the jagged peaks that soar magically out of the ocean and isles that appear as explosions of green velvet which float above its breaking waves, Tahiti offers diving and snorkeling in the lagoons, boating as well as island safaris, hiking and shopping. The best time to visit Tahiti would be spring time as it would be pleasantly warm.
Rome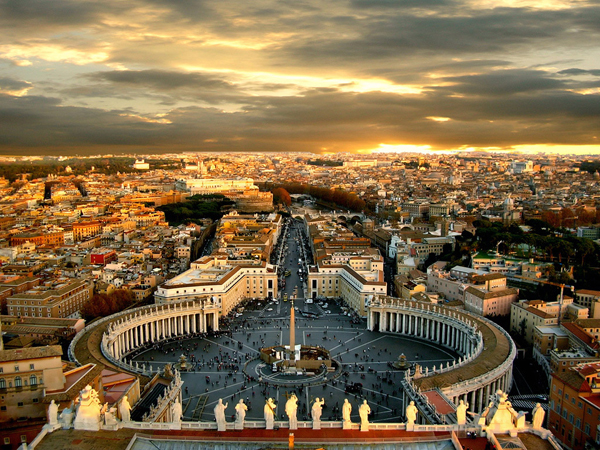 Thousands of couples throng the back-streets of this ancient, romantic,eternally beautiful city of Rome. The hotels themselves are works of art and grandeur -classical buildings and 18th century palaces that display cascading balconies of colorful flowers and immaculate, ornate gardens. You can wander away from the crowd of tourists and explore the backwaters of Rome. Apart from the Piazza-Navona, Campo-de' Fiori, Pantheon and the Coliseum which are very popular, you could indulge yourselves in a modern-romantic couple spa experience, or even shop for everything from designer clothing to chocolates; just make sure you have the space to carry it back home. Summers can be pretty hot in Rome, so its best you plan your honeymoon between late March to May.
Mauritius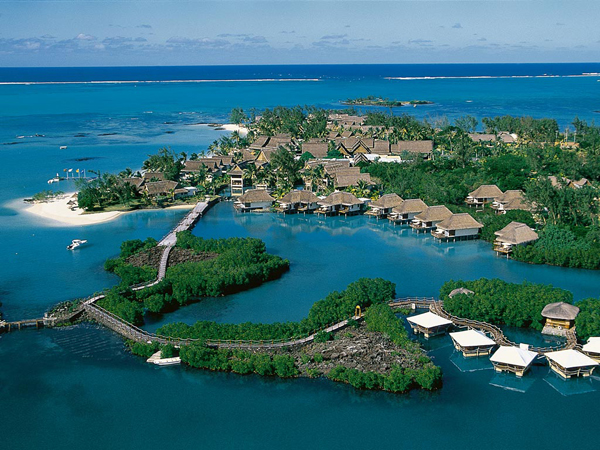 A Honeymoon in mystical and intriguing Mauritius means an endless saga of discovery and beauty. As you explore its endless golden beaches, spectacular mountains, cascading waterfalls, sugarcane plantations and lush rain-forests together,this experience brings you closer and gives you an insight into your partner. With over 330 kilometers of coast-line, Mauritius boasts of the worlds greatest resorts – Grand Baie, St Francois, Trou aux Biches, Trou d' Argent, Mon Choisy and Petit Gravier that beckon you to let down your tresses and celebrate the late night party with your beloved. The romantic get-away also offers a series of water sports such as snorkeling, deep-sea fishing and scuba diving. Since Mauritius has tropical weather, it would be best season to visit here between July-Dec.