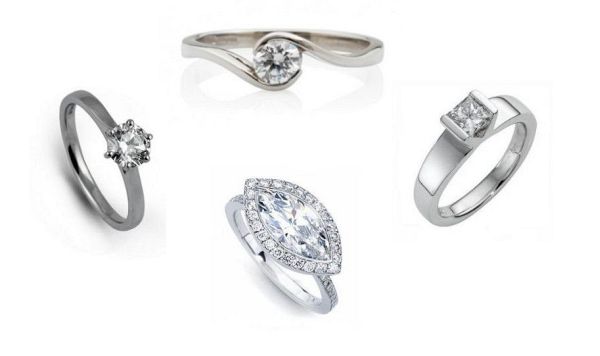 Diamonds always held an enduring attraction and has never gone out of style in terms of an engagement ring. For a bride who loves romance and values tradition there is nothing like a diamond engagement ring to set the ball rolling. There are many jewelers who make lovely rings but you can always check online to see if you can find anything which may suit your style. If you are looking for a more contemporary and traditional engagement ring then you need not look far. Here is a list of some of the most engaging designs which captures the timeless beauty and romance that only a diamond can represent.
Paul Spurgeon Contemporary Engagement ring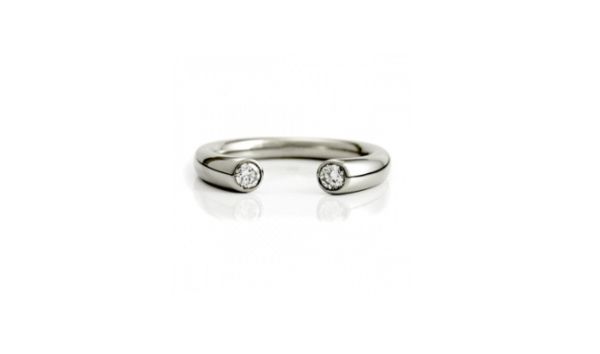 This is from the 'D Flawless' range of diamond rings in 18 ct white gold by Paul Spurgeon. Totaling a 0.18 ct these two round diamonds have high palladium content in a white natural finishing. The diamonds have been set on the edge of both sides of the ring which meets in an unclosed circle. This truly fabulous and unusual looking diamond wedding band set comes with a jewel sparkle cleaning kit. There is an optional choice in 18 ct yellow gold and platinum as well. This ring has a band front measuring 3.7×2.7 mm and 2.5×1.7 mm tapering down to the backside.
Platinum Round Brilliant Crossover Engagement Ring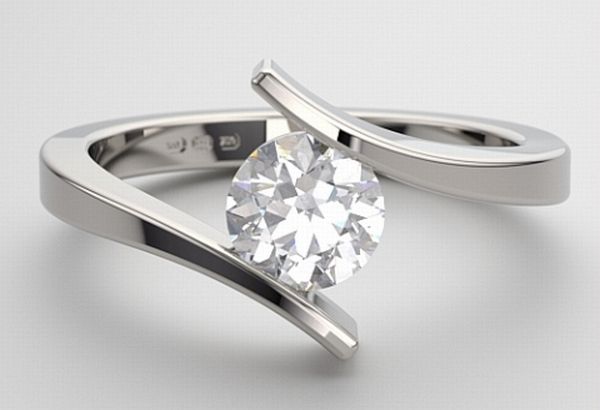 This platinum ring has a brilliant diamond set in a cross over setting and is very contemporary in style. The unique look is enhanced in the way the two edges of the ring crosses over slightly beyond the brilliant round diamond. This ring can hold diamonds weighing a 0.20 and 0.62 cts. The head metal is made of platinum set with a round brilliant diamond on each end.
Brilliant Wrap Solitaire Engagement Ring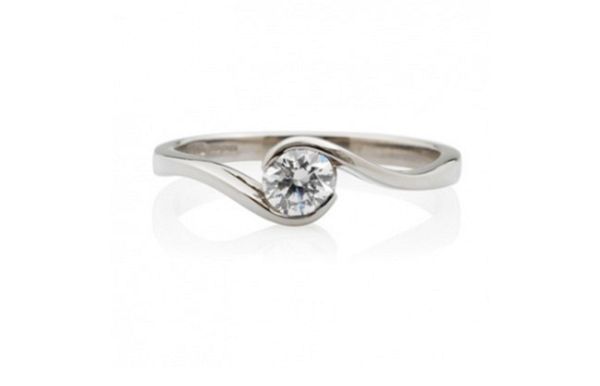 This stylish wrap ring has an inset centerpiece of a brilliantly cut 0.31 ct diamond. This contemporary solitaire has been wrapped with arms that sweep around the stone in an attractive style. This is a simple ring which has been given a lift with the brilliant solitaire setting which stands out most remarkably. The sweeping ends of the band elegantly holds the round diamond in a remarkable style. This has been designed by Annabel Panes.
Modern Diamond Solitaire Ring – 0.7 Carat Princess Cut Diamond, 9 Carat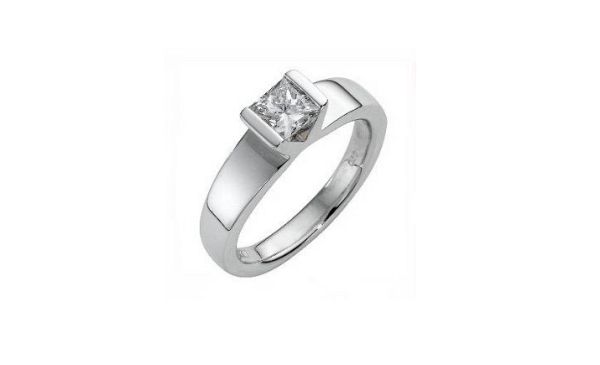 This traditional diamond engagement ring has been beautifully fashioned and the diamond inset in 9 karat white or yellow metal sparkles and glitters as it catches the light. The diamond has been cut in a square shape and held it with a running band of white metal on each edge. The central diamond mount has been executed in a v-shape as it sits on the band. It comes in a beautiful wooden presentation gift case along with a certified appraisal of a diamond professional.
Certified 0.50CT Leah Platinum Engagement Ring H/SI1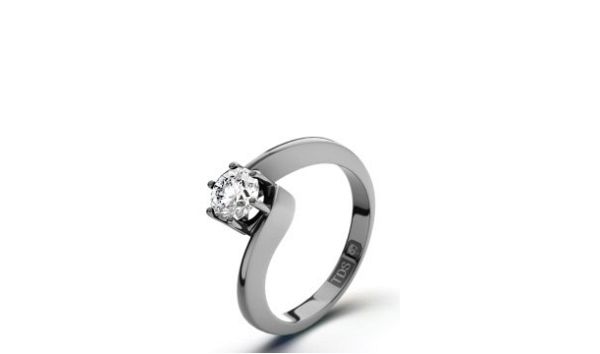 This ring designed by Leah has a brilliant high quality diamond of 0.50 ct which is held within a twisted platinum band measuring 2.2 mm with a 5 mm W. The diamond is uniquely round in shape held by 6 raised platinum claws and provides a modern touch to an otherwise traditional solitaire design. This ring inset stands out in a stunning appeal.
Diamond ring H/SI 0.25 Carat 18K white gold modern twist engagement ring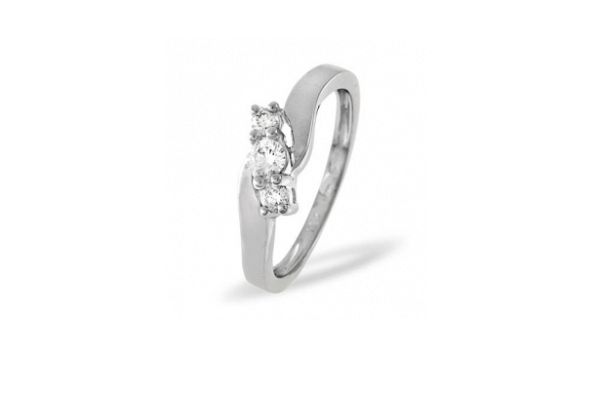 This 4.5 mm Width engagement ring is set in 18k white gold with three diamond insets of 0.25 carat each and brilliantly styled for standing out. The diamonds are held up by 8 white gold claws in a slanting row upon the slightly twist shape band. The diamond has SI clarity and includes a certificate for insurance purposes.
Amanda Wakeley platinum wedding ring 6mm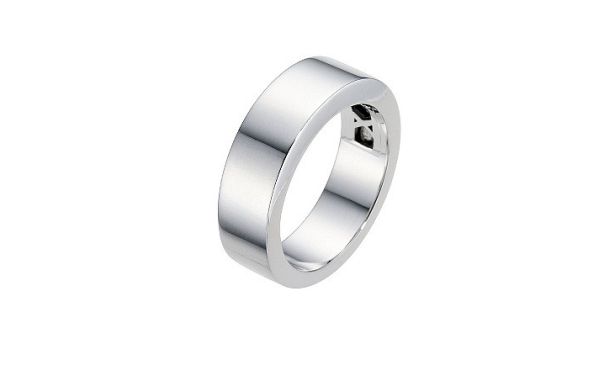 This ring is a style statement which has been elegantly crafted into a contemporary ring for the modern bride. This ring has series of blocks to make up a circle and has been designed by Amanda Wakeley for the discerning bride. Basically this is a very contemporary and unadorned plain ring for a bride who does not want to appear too ostentatious. The ring metal is of platinum and has a 6 mm width.
6 Claws Brilliant Cut Engagement Ring 0.77ct G VS2 GIA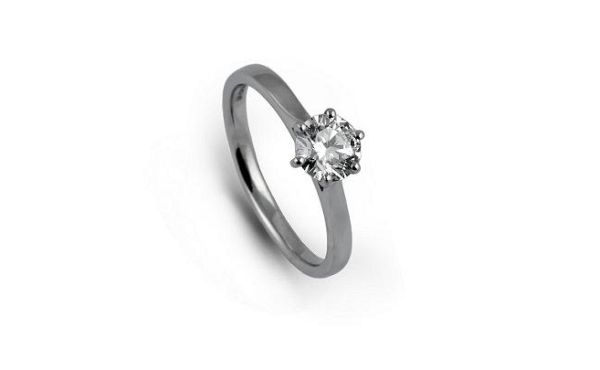 Circled in a simple band, the dazzling round cut diamond solitaire is held by 6 platinum claws mounted on the ring. The brilliant diamond weighs 0.77 ct and is graded by GIA as G VS2. The platinum band is highly polished for a stylish effect and has a measurement of 5.98 – 6.01×3.58 mm.
1.85 ct marquise diamond accent engagement ring 14 k gold pave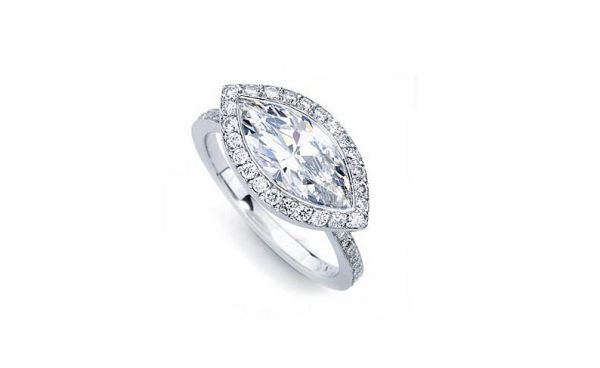 The 1.25 ct straight lined diamond in an almost oval shape marquise cut is pave set with dozens of brilliant diamonds on the edges and around the band. The band is made of solid hall marked gold and the white diamonds are all naturally bright in color and of high clarity. The diamond settings are all in a bezel design and the gold band weighs 6.00 gram of 14 k. The stunning ring comes in a presentation box with a professionally valued appraisal certificate for insurance purposes.
Diamond ring H/SI 0.25 carat 18k white gold modern twist engagement ring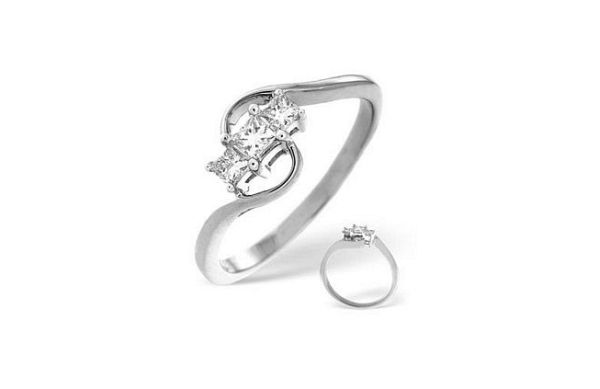 This modern diamond ring comes in an 18 K white gold setting of 4.5 mm width, which has been given an artistic twist in style. The diamonds weigh 0.25 carat each and have SI clarity with an appraisal certificate. The ring has three square cut diamonds inset held up by 8 mounted claws giving it a distinctively royal look in a contemporary style. The edge of the diamond settings has a curve shape which holds the central design in place.