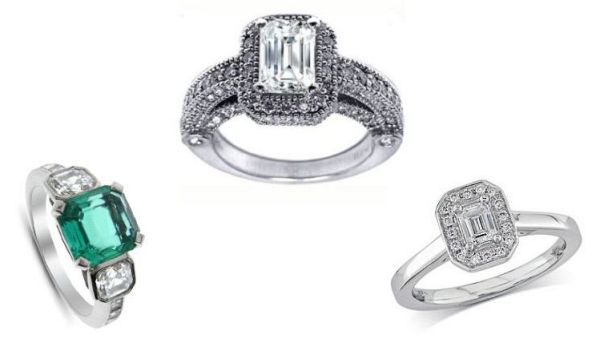 When it comes to buying an engagement ring for that special someone in your life, you must make sure that your choice leaves an everlasting impression. If you are on the hunt for something that's traditional yet striking, the very best option to go for is an emerald cut engagement ring that will surely express your love and commitment in a dazzling way. The emerald cut engagement rings are normally done with side stones, which could be baguettes in diamonds, sapphire or rubies. While an emerald cut diamond ring is not as sparkling as the brilliant cut stone, it makes a distinctive statement with its elegant long lines. Moreover, the emerald cut diamond rings are less expensive than the round shaped or the princess cut diamonds. Check out some of the most beautiful emerald cut diamond engagement rings for the love of your life.
Emerald Cut Diamond Cathedral Solitaire Engagement Ring in 14K White Gold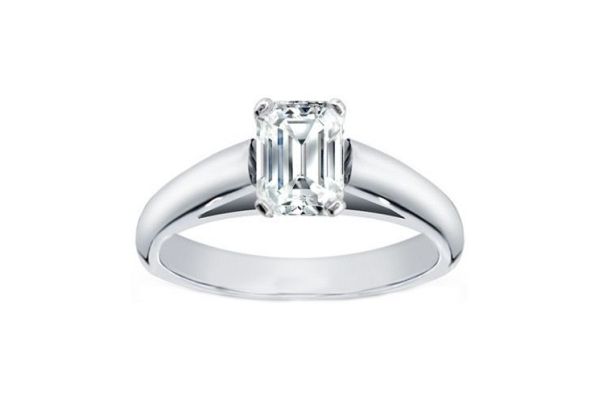 If you are looking to surprise your loved one with a special engagement ring, you might love to consider this beautiful Emerald Cut Diamond Cathedral Solitaire Engagement Ring in 14K White Gold. This sparkling ring can be paired with a round diamond of any size. Other than the one pictured above, you can also go for the ring in yellow, rose/pink gold and platinum.
Emerald Cut Diamond engagement ring style no EC102-DSS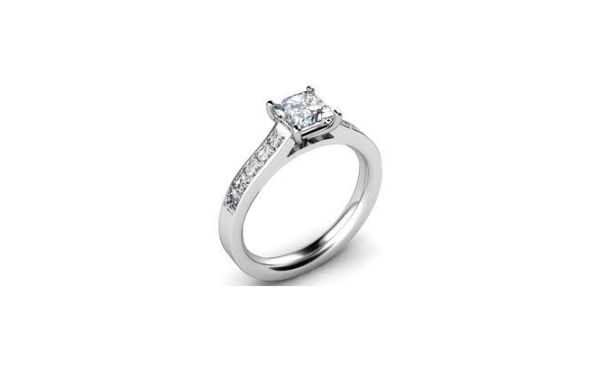 This beautiful and stylish wedding ring is sure to get a sparkle in the eyes of your bride to-be. The brilliant twinkle of the princess cut diamonds at the shoulder enhances the beauty of the Emerald Cut Diamond engagement ring. The centrally placed emerald cut diamond is held in place by four claws. The princess-cut diamonds have channel setting along the sides of the ring, which is made in either platinum, white gold or yellow gold. The diamonds set at the shoulders of the girdle carry a total weight of 0.60 Carats.
Three stone diamond ring, 1.03ct centre – Emerald cut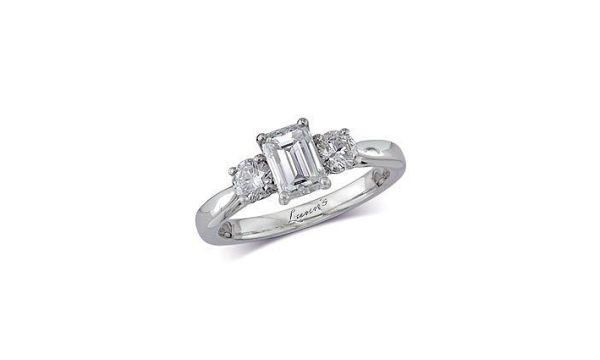 This scintillating three stone diamond engagement ring is designed in a brilliant and clever way as it contributes love and affection to your wedding day celebrations. The ring features an emerald cut diamond in the center, which weighs in at 1.03 Carat. To accentuate the magnificence of the beautiful ring two brilliant cut diamonds are studded on either sides of the emerald cut diamond. Each of the three diamonds is held on a lustrous platinum band by four claws. The carat weight of the brilliant cut diamonds is 0.62 carats.
Emerald Cut Diamond Legacy Style Engagement Ring in 14K white gold 0.95tcw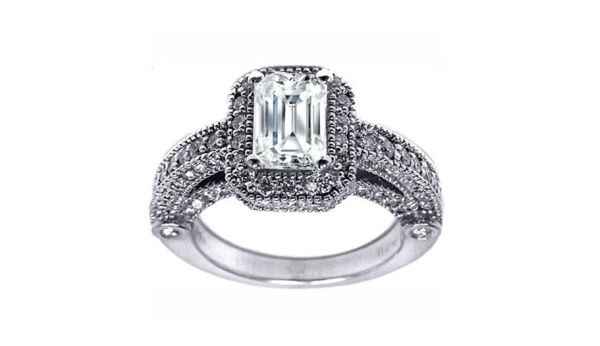 This gorgeous design of diamond wedding ring will certainly surprise the bride to be and the glitter of the diamonds will be captured in her eyes forever. The Emerald Cut Diamond Legacy Style Engagement Ring consists of a central emerald cut diamond. There are 96 round cut diamond surrounding the edges of the center diamond and the entire band. There are other 6 round cut diamonds marking the start, center and end are set in bezel set style on the 14 K white gold. The total carat weight of the sparkling diamonds is almost 1 carat. The ring is also available in rose or pink gold yellow gold and platinum.
3/4 Carat Diamond 14K White Gold Engagement Ring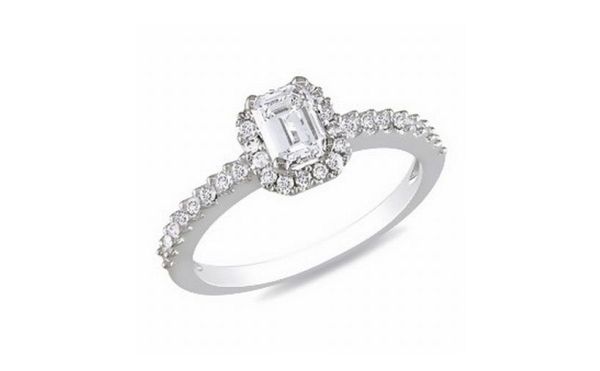 The exquisite glory of this splendid diamond wedding ring would be seen in her eyes clearly as the diamond band will represent your everlasting love for the woman of your life. The lovely Diamond Engagement Ring features 0.5 K emerald cut diamond, the shine of which is enhanced by 16 round cut diamonds studded magnificently on the edges and also on either shoulder of the metal girdle. This metal girdle is made up of 14 K white gold that adds to the lustre. The total carat weight of the 16 round cut diamonds is 0.16 carat.
3/4 Carat Diamond 14K White Gold Engagement Ring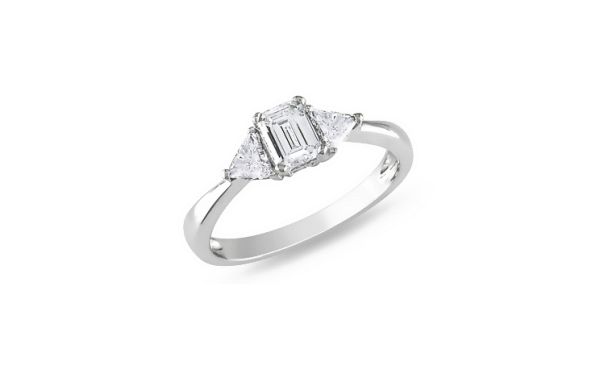 This ravishing beauty is one of its kinds and would be adored by the woman you love. This scintillating Diamond Engagement Ring is characterised by a stunning emerald cut diamond that weighs 0.5 K located at the center. The lustre of this diamond is increased by the two resplendent trillion cut diamonds weighing 0.25 K and engraved on either of the shoulders of the magnificent ring. All of the three diamonds sits atop a 14 K white gold band.
1/3 Carat Diamond 14K White Gold Engagement Ring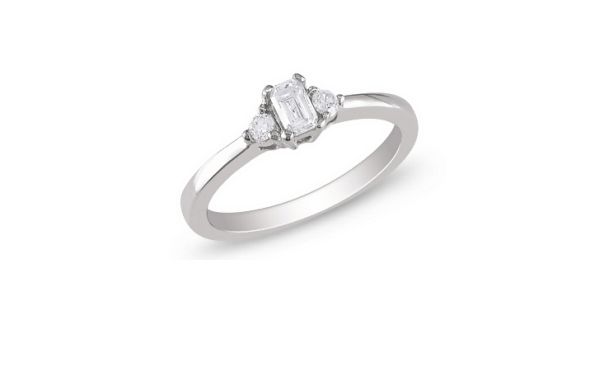 This stunning, mesmerizing wedding band would leave no choice for her but to say 'I do' to you. This sparkling Diamond Engagement Ring crafted on 14 K white gold would certainly take her breath away. It features an emerald cut diamond weighing 0.25 K held in place by four claws. This stunning gemstone lies at the middle of two sparkling round cut diamonds, weighing 0.08 Carats.
3 Stone Emerald & Asscher Cut Ring 1.50ct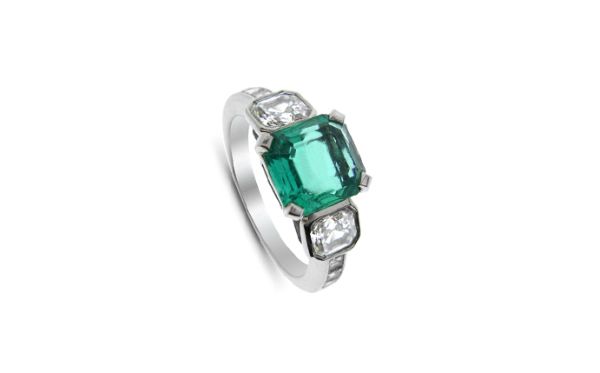 This blazing diamond engagement ring is a remarkable jewelry piece to show your never ending affection to your princess. The 3 Stone Emerald & Asscher Cut Ring features a splendid octagon cut emerald centre stone that carries a carat weight of 1.50 carats. This magnificent gemstone is accented by two charming asscher cut diamonds placed on either side of the center stone. To increase the grandeur of the wedding ring, an exquisitely fine row of carre cut diamonds in a channel setting is studded on each shoulder of the platinum girdle.
Platinum Diamond Engagement Ring Semimount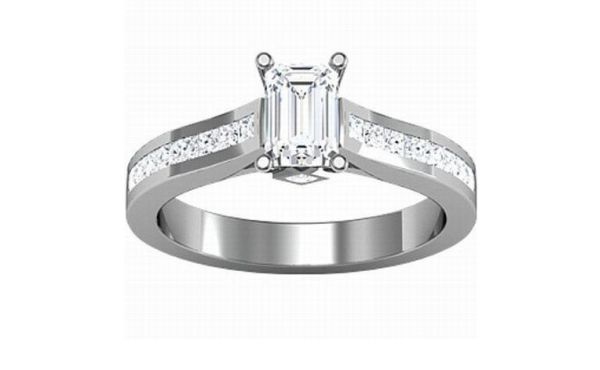 A Platinum Diamond Engagement Ring is a great way to show your love and devotion to not only your spouse but to the entire world. There is nothing more pristine and preciously pure wedding ring crafted in platinum metal. An engagement ring made in platinum and incorporating glittery diamonds is what a woman desires. The ring shown in the picture above exactly matches the grandeur of your wedding day. This platinum ring features 20 princess cut diamonds weighing 0.65 carats in a channel setting. It is a semi-mount ring i.e it does not include the center stone. The picture displays a 0.75 ct emerald cut diamond.
Cluster & coloured diamond ring, 0.33ct centre – Emerald cut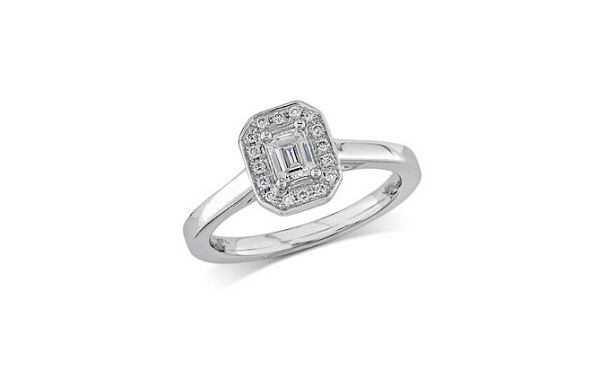 This simple yet splendidly stylish wedding ring will comprehend your heartily feelings to the woman that you love. The gorgeous engagement ring is characterised by an emerald cut diamond as the center stone that weighs 0.33 carats. This central stone is enveloped by the diamond set cluster. This design is set on a lustrous platinum metal band.