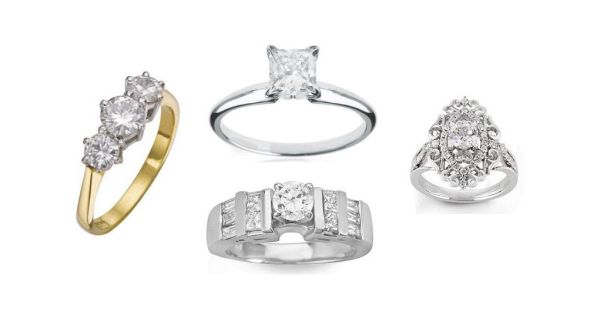 If you are on the hunt for the perfect engagement ring for that special someone in your life, the best option is to opt for a custom-made ring, which will bring your unique vision to life with an exceptional design. Since, the possibilities of designing a custom engagement ring are endless, you can decide on the perfect ring, which would surely surprise and impress the love of your life. While custom ordering a ring worthy of your everlasting love, you must consider some major things like the ring pattern, color selection and the liking of your partner. With a beautiful custom engagement ring, you can effortlessly express your love, passion and emotions. Check out some of the exceptionally beautiful custom engagement rings after the jump.
9ct or 18ct "Forever" Celtic Solitaire Engagement Rings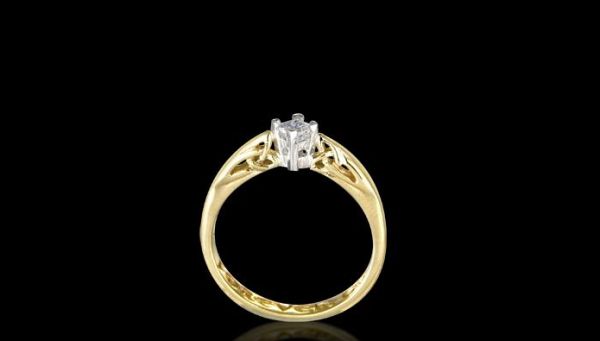 If you are looking for an elegant and sophisticated engagement band for your beloved, then you might love to consider this "Forever" Celtic Solitaire Engagement ring. The charming beauty is available in 9 ct or 18 ct Welsh Gold ornamented with glowing Pure Welsh Gold. To add to the charm the beautiful ring is available with a choice of either a square shaped Princess cut diamond or a rounded Brilliant cut diamond.
Platinum Diamond Wedding Ring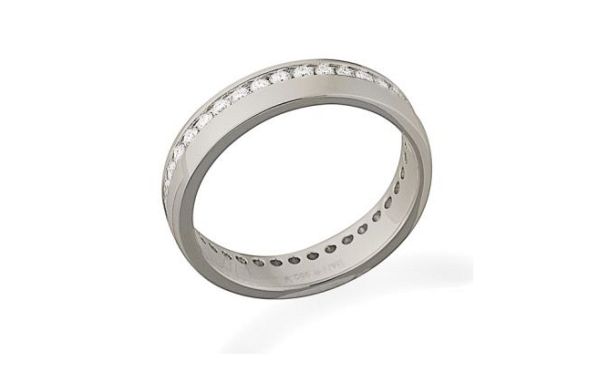 Sparkling diamonds will add to the dazzling beauty of platinum and will leave an everlasting impression on the love of your life. The stunning platinum band in this Ladies Platinum Diamond Wedding Ring is studded with diamonds along one of the edges of the 4mm wide girdle. The scintillating diamonds engraved in the richly polished platinum ring makes the wedding ring more twinkling and gorgeous. The G colored diamonds of VS2 clarity carries a total carat weight of 0.50 Carats.
14k White Gold 1ct TDW Diamond Solitaire Engagement Ring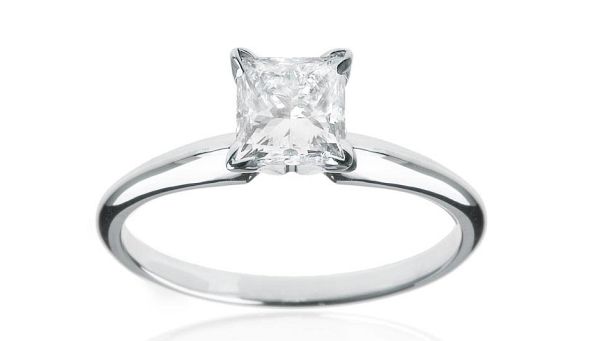 This simple yet elegant engagement ring has sophisticated and classy looks. The 1ct TDW Diamond Solitaire Engagement Ring features a splendid 14 K white gold girdle embellished with 1 carat solitaire as the only gem. The single, sparkling, princess cut diamond is in shape of a square with I1-I2 clarity. Coifed in a prong setting the inverted pyramid structured diamond is magnificently mounted on the 1.6 mm wide white gold ring. The single diamond on the 14-karat white gold is more sparkling and offers more brilliance to this sophisticated jewelry piece.
14k Gold 1 1/4ct TDW Clarity-Enhanced Certified Diamond Engagement Ring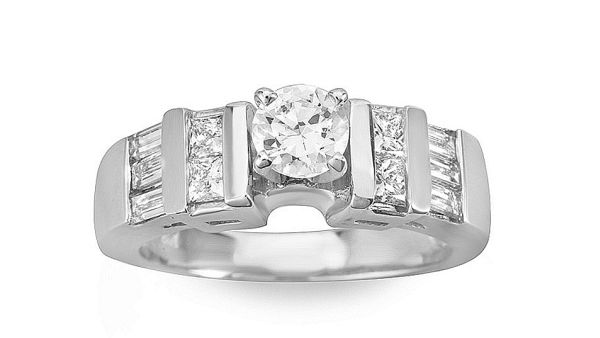 The splendiferous diamond engagement ring pictured here would definitely blow her heart and mind away with its charismatic charm. This glorious wedding band features a central round cut diamond that weighs ½ carats. The sparkle and brilliance of this prong set round diamond is enhanced by 10 princess cut diamonds carrying the weight of ¾ carat. These diamonds are arranged in pave setting, 5 on each side of the center stone. These diamonds are mounted on a 10 mm wide 14k white gold ring that is a substitute for platinum due to the significant cost savings.
18k Yellow Gold 4/5ct TDW Diamond Engagement Ring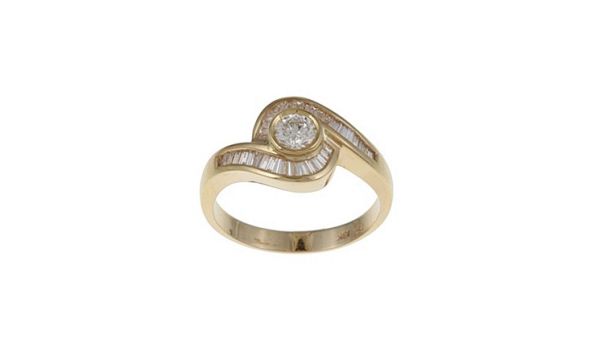 The mesmerising elegance of this exquisite 18 K yellow gold band, offering utmost brilliance and fire with embedded diamonds in a graceful style, makes it an elegant choice for your bride-to-be. The ring has a Bezel setting of round cut diamond in the center that weighs 2/5 carats with a glittering G-H colour. A total of 39 diamonds that have a tapered baguette cut each are distributed around the center stone in a channel setting. These diamonds have a total weight of 2/5 carats and all are H-I colored. All diamond in this side stone styled 3mm wide 18 K yellow gold girdle are premium quality and of SI1-SI2 clarity.
Moissanite 18 Carat Yellow Gold Trilogy Engagement Ring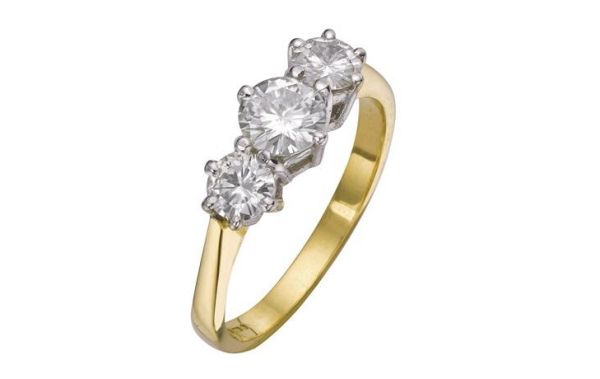 This exquisite 18 K gold ring embellished with three diamonds-like sparkling Moissanite gemstone is just the perfect choice of a marvellous wedding ring for your bride. These dazzling gemstones are sitting atop 18K yellow gold girdle. The studded Moissanite pieces that weigh a total of 1 Carat are secured in smooth prongs. This beautiful band with a triple whammy of flashy gems is sure to impress your woman.
14k White Gold 1ct TDW Round Diamond Engagement Ring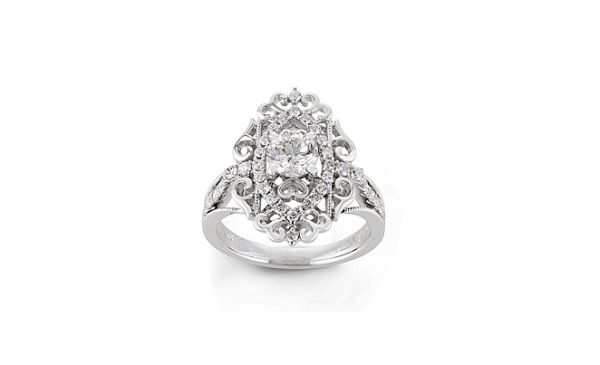 This adorable Round Diamond Engagement ring is the jewelry piece your fiancée will fall in love with. The unique design and craftsmanship of this wedding ring makes it perfect for the occasion. The center stone is a round cut H-I diamond weighing 5/8 carat, fixed in a prong setting mounted on a 14k white gold girdle. This scintillating diamond is adorned by 11 small round cut diamond engulfing the center stone in prong setting. The total weight of the diamonds is ½ carat. The side stone styled metal girdle adds to the glitter with its high polish finish.
GOLDSMITHS Brides Platinum 1.00ct Diamond Wedding Ring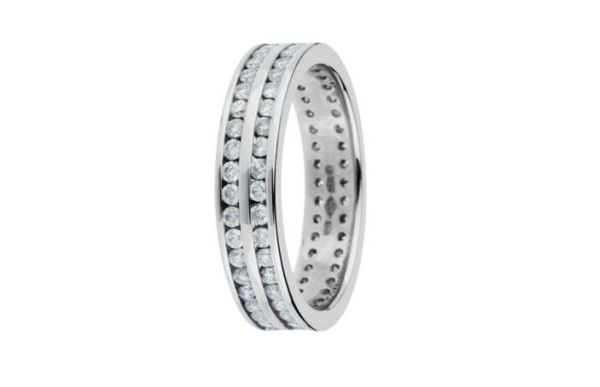 Bedazzle your fiancée with this charming and glamorous diamond wedding ring. Christened as 'Goldsmiths Brides platinum 1.00ct Diamond Wedding Ring', this full eternity engagement band features a double row of several brilliant cut diamonds secured in channel setting in a sleek and modern fashion. The brilliant cut diamonds weighing a total of 1 ct., are lavishly arranged over a blazing platinum girdle. This scintillating wedding band will add a dash of elegance and charm to your style.
One 18 Ct Gold Diamond Engagement Ring by Catherine Marche Jewellery

The contemporary design of this elegant solitaire engagement ring is an adorable present for your bride-to-be. Displayed in the picture is a set of 3 bling rings that can be worn individually or in a playful combination. The three individual rings are made in 18ct Rose gold, 18ct yellow gold and 18ct white gold and each band incorporates a 0.10 ct white diamond of GVS1 quality. Each 1.5 mm wide ring is handmade by Moi and hallmarked by London's Assay Office.
Ladies Classic Curve Polished Wedding Ring – 11.9gr Platinum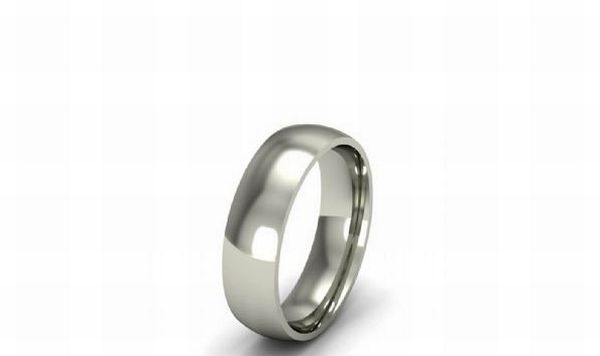 The elegant Ladies Classic Curve Polished Wedding Ring will simply express the tremendous love and affection that you have for your partner. The gorgeous band weighs 11.9 grams and is priced at $4,112. The Hallmarked platinum ring carries a carat weight of 950 carats and is 6mm thick. This Classic Curved styled dazzling platinum engagement ring with a polish finish could make for a great choice worthy of your eternal love.