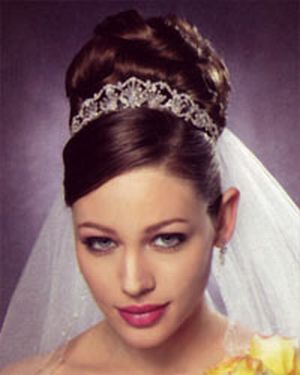 Wedding is your day to shine and don't be ashamed to play with your locks, to achieve that special appearance. It's a day that you have dreamt of your whole life and pay as much attention to the detail of your wedding hair as you have in choosing your gown, your make-up, your jewelry and your invitations. Make sure you take different trails to choose your final hairstyle for the big day. There are basically four popular wedding hairstyles, which are considerable:

Naturally Loose
This is a great way to show your natural hair-self. Long hair, with large waves – parted in the middle or side and supported with tiara. This natural look has become popular these days.
Short Hair
No matter whether your hair are short or long there are never ending hairstyles for all lengths. With short hair, you can get a different look by adding some curls, volume or even spike them up like Victoria Beckham did on her wedding.

Half-Tie
This keeps your hair out of your eyes and lets your hair flow naturally on the back. Gain this hairstyle by either parting on side – straight hair or part in middle – gently pull back and half up-do.

Up-do
Innumerable styles exists to up-do your hair and the category is broad like French twist, chignon, ballet bun or simple knot. One style is to pull back hair from the face or let half-wispy bangs on face and make a chignon. Other is by tightly pulling the hair back from the face – rest piled up with curls. And, can dress up these hair-dos with tiara or veil.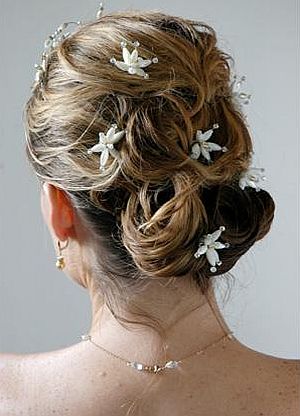 So, hair are ready? Hang-on there is something still missing and that is hair accessories to give you a perfect outlook – hair accessories. People around might be giving you various ideas for hair accessories like tiaras, headbands, barrettes, combs, feathers, pins and flowers to choose from but before taking any final decision keep in mind that these accessories should be balancing your look. Then, consider what type of detail is on your dress coordinate accessory. There are numerous online sites, which features lots of wedding hair accessories like weddingblissaccessories.com and weddingchannel.com.