Making your wedding a memorable moment is not that easy. It requires a lot of planning and proper execution. Every small factor plays a vital role on how well the wedding will go.  The one thing that can leave a good impression is the menu.  Your food bar should not only be mouthwatering, but it should also have a good spread so that your guests can enjoy their meal. While planning your food bar, make sure that you keep into consideration all these necessary factors.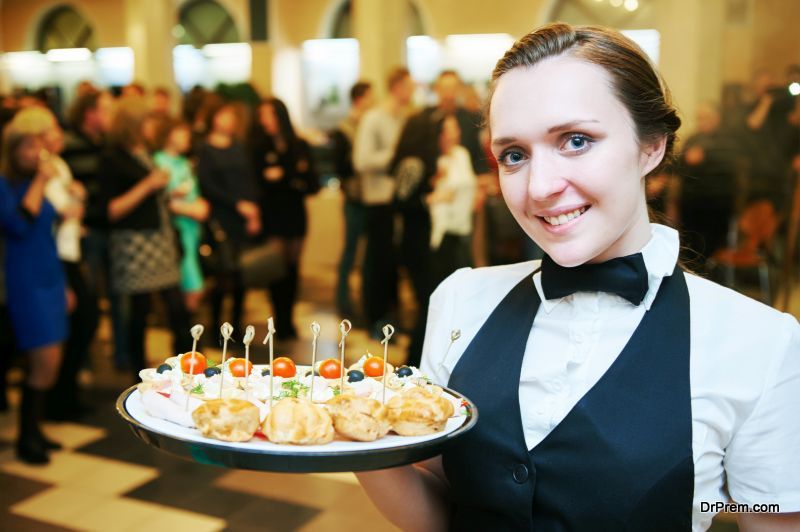 Make sure that there is enough of food to feed everybody without having food running short or being wasted.
Keeping in mind any guest that has a special need such as pressure patients who cannot have too much of salt or a diabetic patient etc.
The type of cuisine you choose should match the theme of your wedding. For example, if you plan to have a Mexican theme, then opt for a Mexican cuisine to go along with it. Similarly, if you have a beach wedding, then a menu with grills and roasted recipes will be ideal.
Taste the menu you set before giving the green signal. This will give you an idea of how the food will taste.
Now that you have a basic idea of the various factors you should keep in mind, here are a few tips or ideas that you can consider for your food bar.
The Appetizer Bar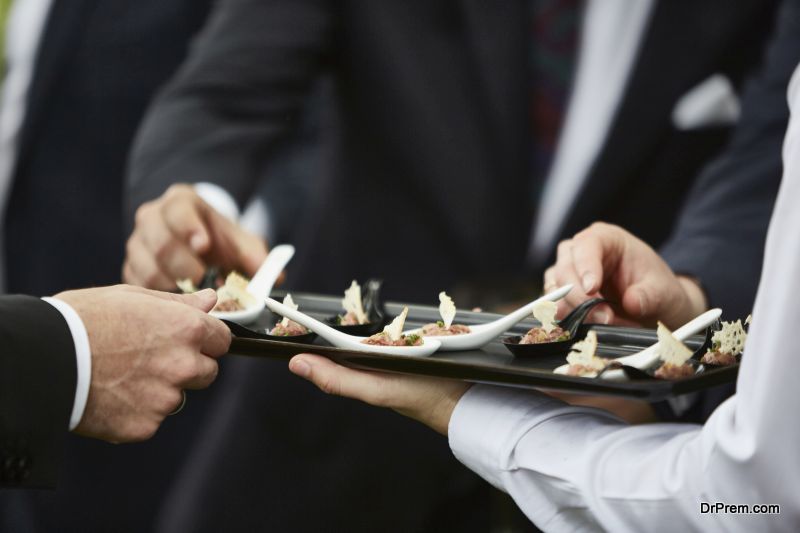 Having a spread of appetizers is a good idea until dinner is finally served. While choosing the Appetizer menu, make sure that it is not very heavy. Your menu can consist of foods like corn on a cub, chicken bites, fish fingers with tartar sauce, boiled veggies with a nice sauce to go with it and various kinds of dressings. You can also opt for a soup in a miniature cup.
The taco bar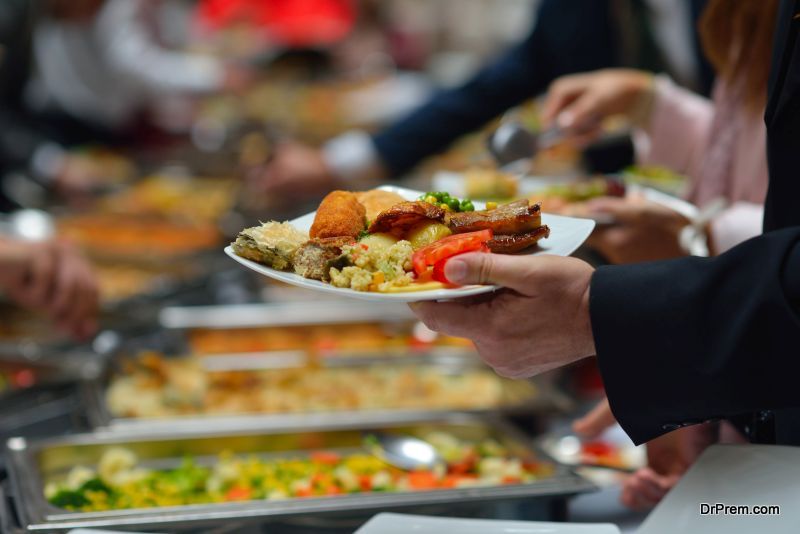 Tacos are another food that many people like. You can have a special counter where the guests can choose the type of ingredients they would want on their taco. Grilled shrimps, boiled/roasted/grilled chicken bits, different kinds of veggies and the refried beans can enhance the flavours of your taco bar.
Charcuterie and Cheese bar
Another good idea for a food bar would be to have a Charcuterie and Cheese bar. In this bar, you can keep various flavors of jam, different kinds of cheese and a selection of bread. Your guests will surely love making their own combinations.
The salad bar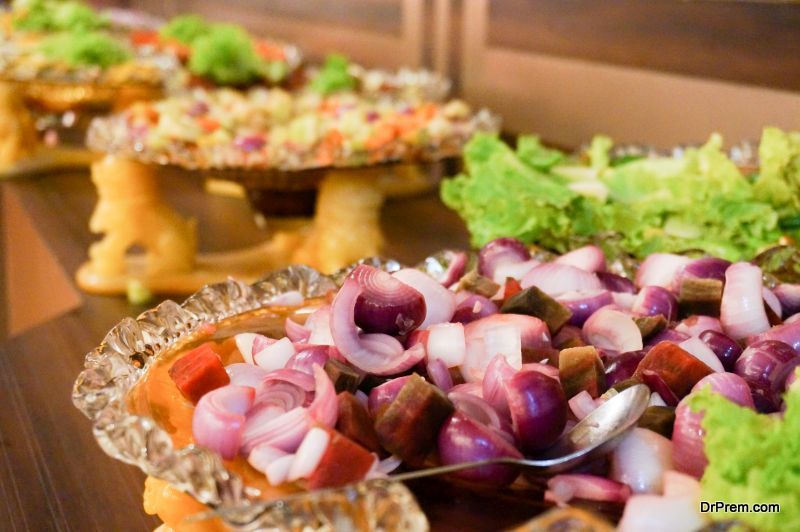 If you plan to keep your food light, then a salad bar would be perfect. You can have a choice of plain veggies with different kinds of dressing. Another good idea would be to have a selection of veg and non-veg salads and even different kinds of fruit salads.
A pasta and pizza bar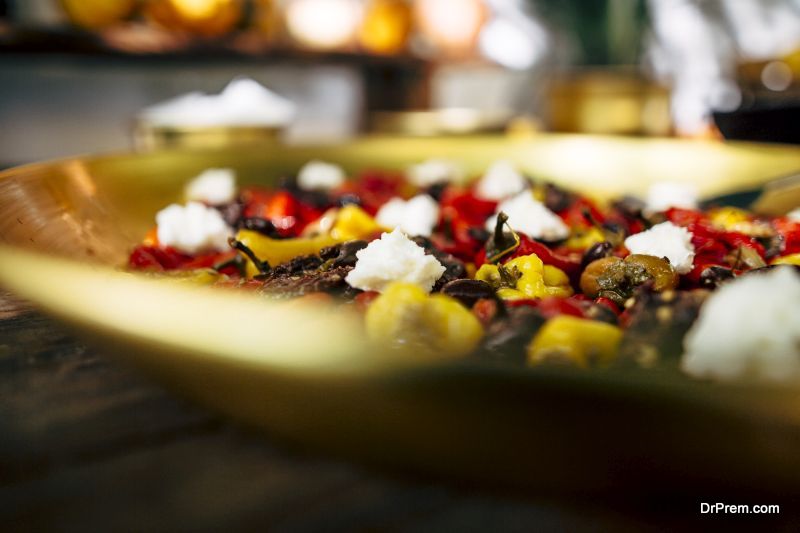 Pastas and pizzas have their fan following, and this is one food bar that will never go wrong. You can have a variation with different kinds of pastas like macaroni, shells, angel hair etc. Along with that, you can keep different types of pasta sauce and a choice of add-ons like olives, parmesan cheese, boiled mushrooms, chicken pieces, shrimps, grilled fish etc. For the pizza menu, you can have the guests make their own pizza by choosing their pizza base, sauce and toppings and have an oven so that they get to enjoy a fresh pizza.
The desert bar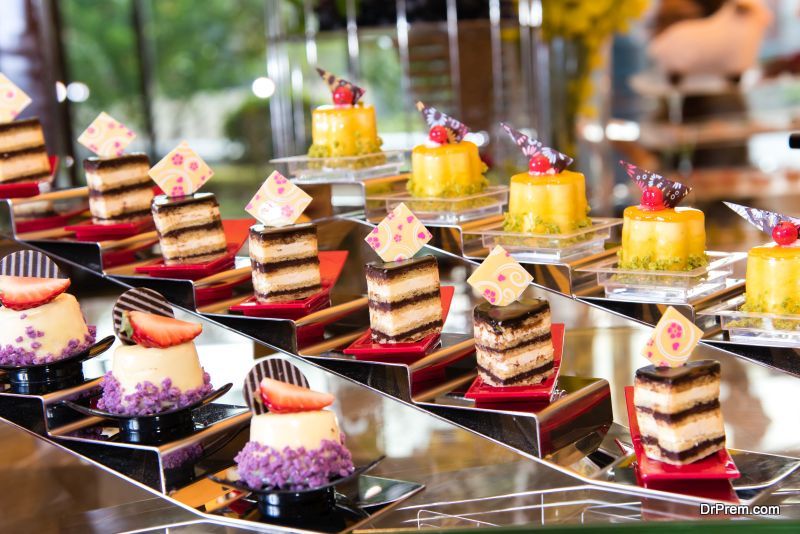 Dessert is something that a lot of people love, and what is better than to have a nice spread of desserts. You can choose from pastries to local delicacies and even brownies and fruits. Without a doubt, this bar will be hit not just for kids but also even for adults.