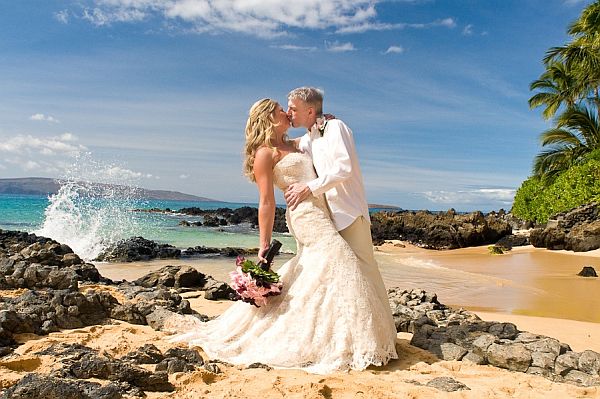 Wedding is one of the most beautiful occasion that is also one of the greatest of the life experiences. If you are planning to get married and want to make your wedding ceremony memorable, then you can easily plan it at one of the beaches of the gorgeous Maui Island. Beach wedding is one of the couple's favorite wedding theme these days. Here, take a sneak-peak at the top ten beaches in Muai that is perfect for organizing a wedding full of love and romance.
Makena Cove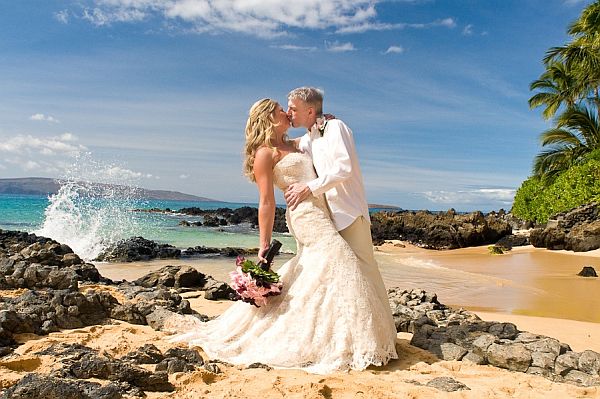 Makena Cove is popularly called the Secret Beach and is a visually appealing beach. It is one of the smallest beaches of Muai but in no way is inferior to all the other beaches of the island. If you are the kind of person who admires warm beaches and the sight of Palm trees, then you are bound to find this beach as a perfect venue for holding your wedding ceremony. The only drawback of this beach is that at a given point in time, as many as three to four weddings are organized on this beach.
Big Beach Makena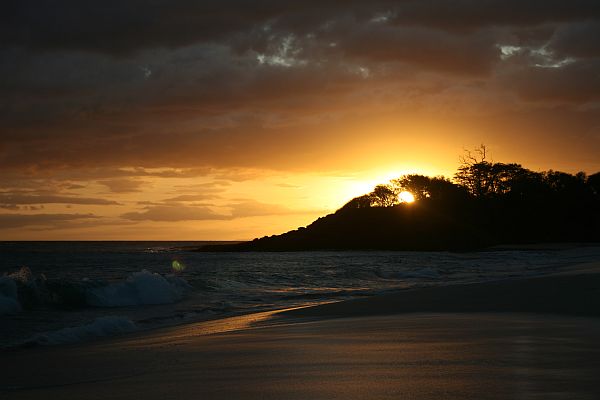 Also known as Oneloa, the Big Beach is basically a wide, beautiful and long beach that offers comfortable parking facility to ease your guests.The beach is full of sand and is slightly undeveloped. It offers perfect views and a very huge shore break. It is more than a half mile long and is less crowded compared to the other beaches at Maui. So, if you wish to hold a small yet elegant wedding ceremony with only a limited number of friends and family members, then nothing can be better than this beach.
Maluaka Beach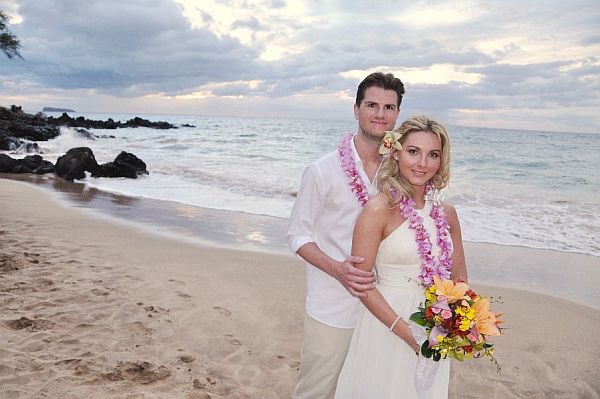 If you are staying in Wailea or Kihei, then you should ideally opt for Maluaka Beach as your wedding location. The mornings at Maluaka beach are bright and full of colors and is the ideal time for holding your wedding ceremony. Usually wedding at Maluaka beach starts at around 8:00-8:30am in the morning. Maluaka beach offers scenic beauties and enticing landscapes that will leave an indelible impression on you and your guests. You can think of unique wedding themes and give yourself and all your guests the perfect opportunity to garner innumerable memories that shall last forever.
Poolenalena Beach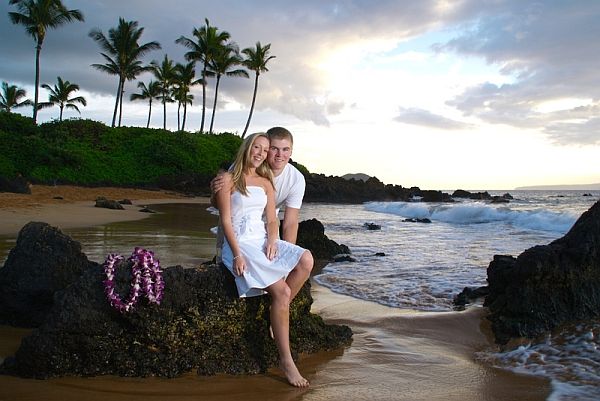 Poolenalena Beach, also known as the Changs Beach, is a dream wedding destination for every bride and bridegroom. The beach offers facilities in the form of huge parking area and rooms, which gives you a whole lot of opportunity to plan beautiful weddings. In addition to this, you also get to witness some of the best sunset views at Poolenalena Beach. The beach is sparsely crowded and is covered with sparkling white sand, palm trees, wooden logs. This beach gives you all the scope to click some of the most stunning photographs. However, you require special permission and will have to pay a permit fee to organize wedding ceremony on this beach.
Paluaea Beach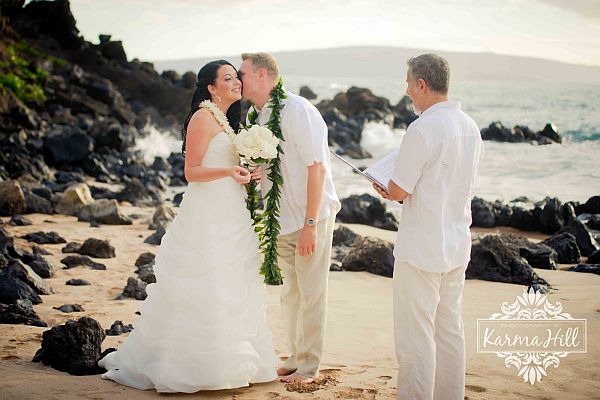 Situated in between Wailea and Makena residential areas, the Palauea Beach comprises mostly of unique formations made of lava rocks. The beach is quite long and its shore isn't always crowded. You can plan your dream wedding ceremony on this beach by simply using any spot on the beach and decorating it with flowers and colors of your choice.
Polo Beach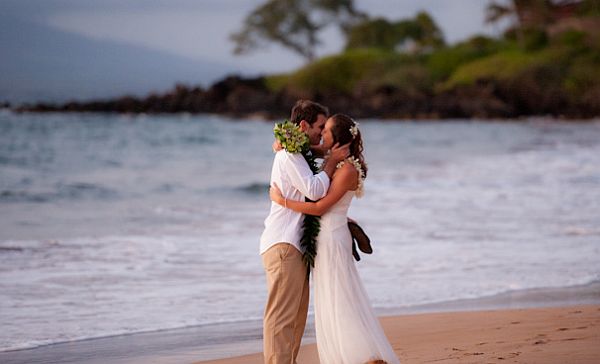 If you want your love and relationship to blossom forever then choosing the Polo Beach, located in the southern part of Maui, as your wedding location wouldn't be a bad idea at all. The beach is wide and long and is full of sand dunes. What makes it one of the most exotic wedding venues is the fact that it has the Kea Lani Resort situated close by and couples can easily accommodate a room here. If you like sandy shorelines and would like to use it as the backdrop for your wedding stage, then the Polo beach is certainly a great choice. This lovely beach is connected to the Wailea Beach by a seven hundred fifty yard long path.
Wailea Beach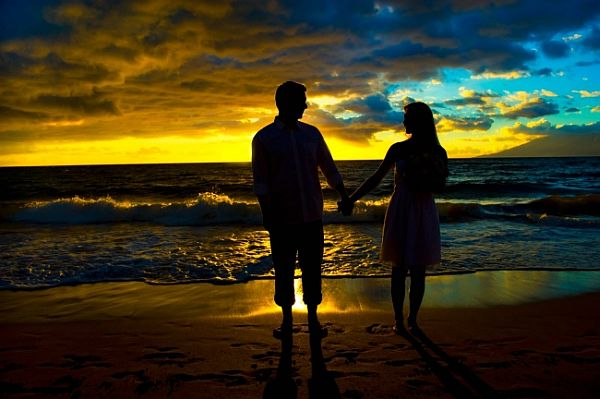 If you like soft and slippery sand, beautiful landscapes and soothing breeze, then your wedding ceremony should be held at no other place but the Wailea Beach. The beach also offers facilities such as Villa accommodations and parking facilities that can be effectively used by all your important guests. This beach is about four hundred and fifty yards long and offers numerous spots where you can have your ceremony organized amidst flowers, vibrant colors and of course with your well wishers. The couples who are getting married can choose to stay at any of the villas and resorts located near to the beach.
Mokapu Beach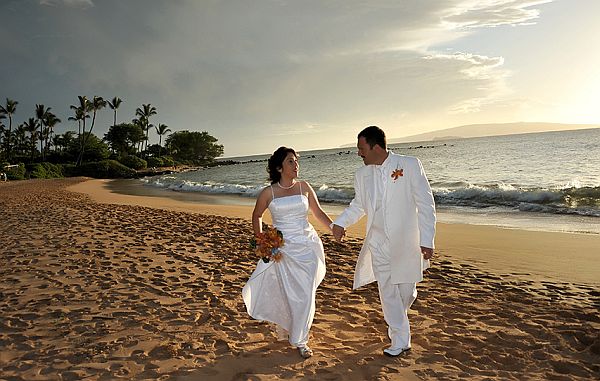 Situated in the Wailea resort complex, the Mokapu beach is basically full of warm sand. You will get plenty of parking area here, which can be conveniently used by your guests. You can organize your wedding ceremony towards the evening just before the sun sets and gather plenty of memories and great photographs with the ocean as the backdrop.
Keawakapu Beach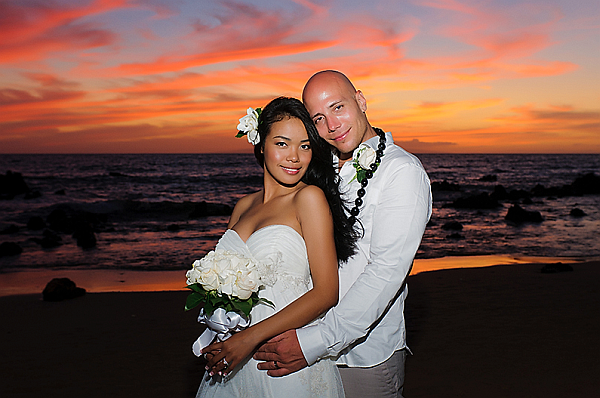 If you feel that a sparkling beautiful beach will serve as the perfect location for your wedding ceremony, then head straight for the Keawakapu Beach. Located towards the end of South Kihei Road the beach is about half a mile in length. This beach is an ideal venue for holding huge wedding ceremonies as you get plenty of space here. Amidst soft and smooth sand and with the ocean in the background, both bride and groom will get an amazing opportunity to express their love for each other and tie knots forever. There is no dearth of parking area or rest room at this beach and you and your guests will have the time of their life here.
Charley Young Beach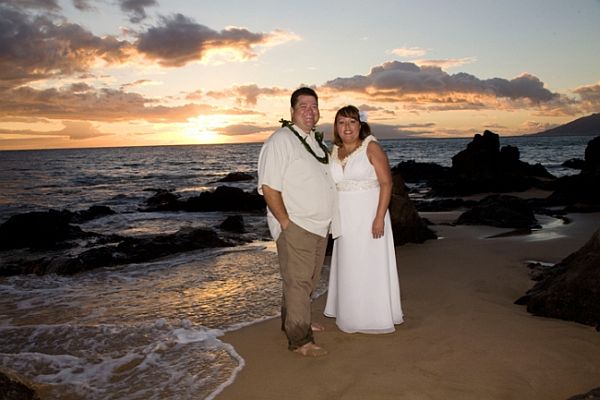 The Charley Young Beach is the best place to get married to your beloved. It is flanked by lava rocks and amazing sunset views. Couples can also select the area, which is full of grass and overlook the fabulous beach to get married to each other. Even though you are not required to pay any fee to organize a wedding ceremony here, you do need a permit for the same.