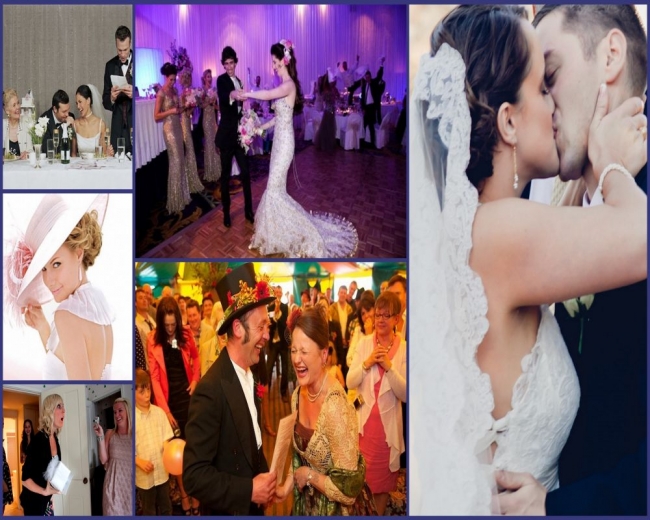 We all know that weddings are one auspicious day that we celebrate with our near and dear ones with full gratification. But generally it ends up being more of a serious affair of exchanging vows and greetings with everybody. So if you want to add that special spunk in your wedding and letting those old traditional ways pass by; all you got to do is to follow some easy fun tips conjoined especially to append a zing to your ceremony. It will not take much out of our taut budget, but will leave your wedding being a tremendously memorable affair:
Twisted welcome for the guests
One of the best ways to add fun to your ceremony is to give it a fun start. You can surely welcome your guests with a surprise and flowers in hand. For instance- you can hide somewhere nearby by the entrance and can jump surprisingly in front of your guests. They will be happily surprised to see your welcome and the flowers would do the rest of the needful things.
Tip:
Remember not to make your guests feel offended in any way. Try and explain them your reason behind the fun and let them enjoy the flow of the ceremony freely.
Let funny vows do the laughing
Try on some funny wedding vows instead of the traditional ones. Usually wedding vows are intended to be a serious and intimate affair for both the parties, especially the elder ones. But being creative and innovative would surely bring a smile on their face too. It will also help touch their hearts. For instance- Any incidence of you and your companion enjoying together; or any pleasant past memory.
Tip:
Be cautious that the funny ways you pick for the vows does not offend any of the feelings and emotions of the elder ones and other people present in the wedding.
Guide your DJ for a fun ride
It not only the couple, that can plan some fun ideas for the wedding ceremony. Their friends and relatives can also take part in it. They can plan a amusing surprise for the couple by planning some things with the DJ. He can play some fun jokes to make the atmosphere a little humorous. He can also add some interesting incidents and can also dedicate a nice fun party song for the couple.
Tip:
Don't forget to train your DJ properly before the actual ceremony. It can make or break the whole situation.
Funny welcome register for guests
One thing that will surely bring a big smile on your guests' face is the idea of a wedding welcome register. The idea is creative and is a sure short success. The guests can be asked to sign the register and write about their views, experiences and wishes for the soon to be couple. In that register, they can also mention or dedicate a special song for the couple. This can look a bit strange to some people but it will catch their attention gradually with the flow.
Tip:
One thing that should be remembered is to keep a watch on all the activities done by the guest; as some people go over the board and does not take it as a fun activity and rather behave mischievously.
Go peppy with the dance numbers
Rather than starting the wedding dance traditionally; opt for an unusual way. Dance to the tune of a peppy number with your soul mate and invite others as well to dance. You can perform this just after exchanging vows and after a bit of a traditional dance. Inviting guests and relatives into the dance will add fun element to your wedding and will definitely make it a fun affair.
Tip:
When you plan to dance on a peppy number, don't forget to oblige your traditional rituals. They are also important and hence should be given equal importance.
First kiss in a funny way
You can always plan your first kiss in a innovative fun way. Make funny arrangements in your wedding and make it an interesting affair. You can leave chits on your guests table and ask them to unfold them one by one. This will gradually bring you two to the dance floor and you can initiate your first kiss in more of a traditional way.
Tip:
don't leave spaces for any loop holes. Plan everything accordingly and place the chits very carefully. One small mistake and you will regret later on for the blunder.
Naughty mischief of the best man
A best man is considered second most sought after male in the wedding. He is the man, groom depends on. A bestman can also play some jokes on the couple or the groom. He can go to the stage and can share some not so proud moments of the groom in a funny way and can tease him there. It will create a fun aura in the ambiance and will leave everybody cheerful.
Tip:
Not to mention, the jokes should not be too cheesy to handle and should remain in the decorum of the wedding ceremony.
Click it in a funny way
When it comes it comes wedding photography, everybody hires a wedding photographer for the sweet smiling poses. But what adds fun to your ceremony is how to try to be creative even in your wedding pictures. You can make some fun poses and can tell the photographer to add more of fun pictures in your wedding album. This will keep your wedding in a rejoice memory of everyone present in the wedding.
Tip:
Remember not to be clicked in awkward positions. This will turn you in a laughter stock after your wedding. Try and give poses which look funny yet poised.
Dressing up amusingly
Unlike every other bride, you can try on some unusual dresses or head gears on your wedding day. This will portray you in an amusing way and at the same time will make you feel more relaxed on your wedding day. You can cover your head with a beautiful head gear and can unleash it when you reach the wedding stage. This will leave everybody smiling and surprised.
Tip:
When you think of dressing up in an unusual way, think wisely in terms of the choices you will made. A bad dress or gear can spoil your look and can result in a show spoiler too.
Go on for untraditional wedding readings
While everybody remains busy in shuffling and fiddling the internet with the best wedding readings. You can opt for some more creative and fun. You can pick some humorous readings or can DIY them too. This will not only bring a wide smile on everybody's faces but will also lighten the intense ambiance. This gesture can prove to be an ice breaker in the ceremony, where the bride or the groom is too shy to have fun.
Tip:
Don't go over the board with the readings because it might hurt the sentiments of the elder people around. Stick to the old traditional ways but modify them in your own style.