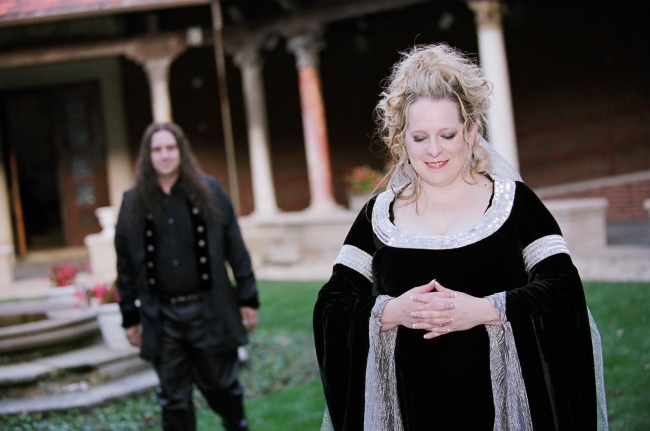 With the spirit of Halloween hanging around in the air, many people love to set Halloween as the theme for their fall wedding. It is true that the idea of Halloween brings to mind some creepy fun and frolic but Halloween weddings may not always be so. A Halloween theme for a fall wedding may be or even ghastly but all depends on the decor and decision taken by the bride and groom. For a crazy Halloween wedding, everything ranging from decor to dishes and dress should match up to the occasion's theme.For those wedding couples desperately seeking some useful ideas to plan out their Halloween wedding, here are some really novel and striking tips for a grand Halloween wedding party.
1. If you wish to turn your Halloween wedding into a real thrilling spectacle, you should make arrangements for your guests like hiring costumes to be worn by the wedding party on the wedding eve. Visiting costume shops that have an extensive collection of Halloween costumes can be a good option. However, costumes should be reserved as early as possible as such events always drag huge crowds.
2. Having witches, black cats or other such eerie stuffs associated with Halloween is also an ideal way to make the wedding strange but attractive. They add a real Halloween look to your wedding.
3. A fall look is completely essential in case of planning for invitations. The best way to get that look is by using pumpkins which are available along with fall leaves. It is recommended that an invitation dealer should be consulted who would be correctly able to provide the required information regarding such stuffs.
4. As pumpkins are considered the staple item in a Halloween party, they along with cornstalks can be used for decoration purposes. Jack-o-lanterns or pumpkins filled with fall flowers can be used as centerpieces.
5. Ways of receiving guests at such occasions should not be gloomy but attractive even if the theme is dark. Dark brown or black tablecloth with an orange napkin or topper placed over it can be used at the reception.
6. Beverages for guests may include hot spiced cider. Candies serve as great reception items and so jars of candy can be kept here and there for the guests to enjoy every now and then.
7. Halloween weddings can be best enjoyed when there's a masquerade ball. This would mean providing feather masks to guests so that they enjoy the evening dance. Moreover, guests love it when they get lots of treats and surprises at such parties. Hence, making arrangements for such a reception is also welcome.
8. The reception area can be decorated with twinkle lights reflecting various creepy colors like green, orange and black. Keeping bouquets made with fall flowers and leaves carrying shades of yellow, rust and orange will equally match the theme.
9. When it comes to weddings, a huge cake with lots of decorations on it is what most guests expect to find. A Halloween wedding is no exception. The wedding cake on this special day should be more unique than a traditional wedding cake. A professional baker can offer unconventional ideas for fall-themed cakes. Red velvet, pumpkin or spice flavors can be some of the best choices for a Halloween wedding cake.
10. A good baker will provide plenty of options regarding the style and decoration of a Halloween wedding cake. Cobwebs and tiny spiders can be used on top of a cake. The wedding cake would look quite different if carved in the shape of a skull, pumpkin or ghost. Dirt cake made of cookie crumbs and chocolate with gummy worms and tombstones on top of it is an exclusive idea. A simpler one may include a white cake with orange or black roses.
11. What can be more exciting than wedding favors at a Halloween wedding! Halloween weddings are almost incomplete without wedding favors which are given to the guests by the couple. Some of them include, little boxes containing roasted pumpkin seeds, maple sugar candy, candy corn, small gourds, spider rings, Day of the Dead sugar skulls, potted plants, candy-filled plastic pumpkins, feather masks, leaf-shaped chocolates, and gag items such as whoopee cushions, vanishing ink and squirting cameras.
12. Last but not the least, playing some good music from albums or movies or even instrumentals that would suit the atmosphere will add a finishing touch to the Halloween wedding party!