A white wedding may be the epitome of a pristine Christian ceremony though it can get a bit too monochromatic and dull for people who generally love color. However, an all-white wedding doesn't necessarily have to be plain looking. Here are a few tips that can help you make your white wedding look vibrant without interfering with your traditional color scheme.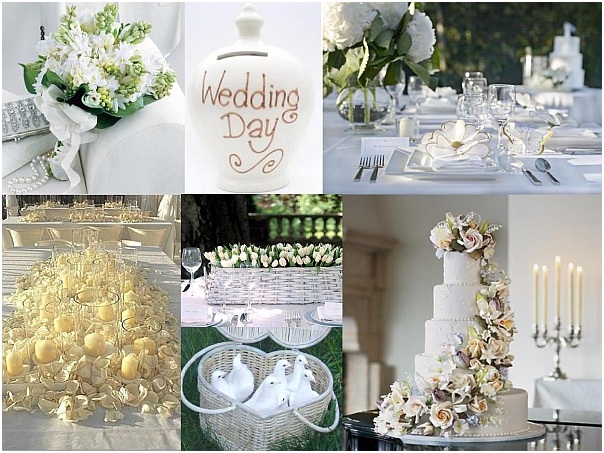 Clever lighting
Even if you don't want to introduce a lot of dark colors into the color scheme of your white wedding, you can still make the ambiance look warm and inviting using clever lighting. Incandescent lamps, spot lighting in warm colors and opening and closing the windows in the church or wedding location to let light in strategically can help you tone down the "whiteness" and make it look warm.
Bright flowers
If you want to stick closely to your white color scheme but don't want to be flooded by a monochrome color scheme, you can choose bright, light colors like canary yellow, marigold and bright green instead of dark brown, violet, beige and scarlet.
Glassware
You can use glassware and glass elements to make your white wedding look spectacularly vibrant. Simple glass or crystal elements in the flower arrangements along the aisle can be complemented to the glassware used for the tables and décor.
Light catching jewelry
If you want to appear vibrant without adding color to your bridal attire, you can wear light catching jewelry like a studded tiara or elaborate choker necklace using imitation diamonds to truly shine on your big day.
Bright colors for bridesmaids
You may be tempted to use a dull color like beige or violet for your bridesmaids' dresses but the fact remains that dressing your bridal party in vibrant colors can make your white wedding look instantly glamorous too. Opt for colors like scarlet, canary yellow, emerald green or even navy to add an instant dash of elegant vibrance to your white wedding.