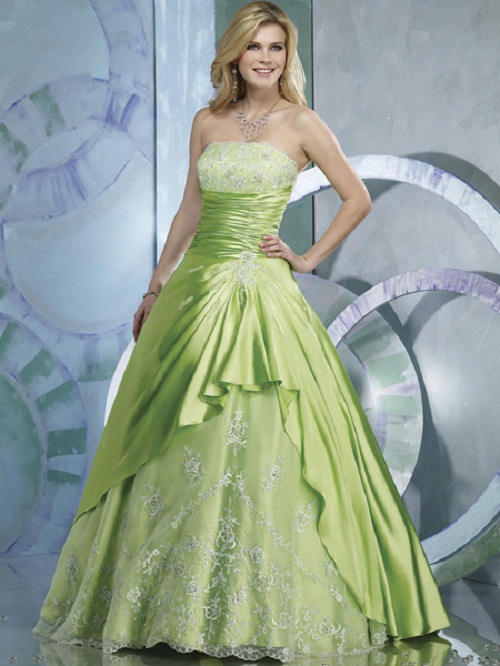 Whenever petite or plus-size brides go for shopping at stores, boutiques or online, they often overlook their figure-type and opt for dresses that are basically meant for slender silhouettes. Whilst some brides relies on a pair of strappy heels to create an impression of taller-slender figure, some tries on umpteenth bridal hairstyles to do the trick. However, the concept of looking taller and thinner at your wedding begins with perfectly defining your silhouette, i.e., showing off your assets and downplaying your body flaws. Therefore, instead of falling for swathes of stylish bridal outfits that are nothing but useless to your shape, look for some effective and exquisite wedding dresses that seamlessly cheat the onlookers. Of course, finding an ideal wedding dress that works for you and heightens your body meticulously can be pretty intimidating. Here are some helpful tips on how to choose a perfect wedding gown for women who want to look thinner and taller on their wedding day.
Use height as your guide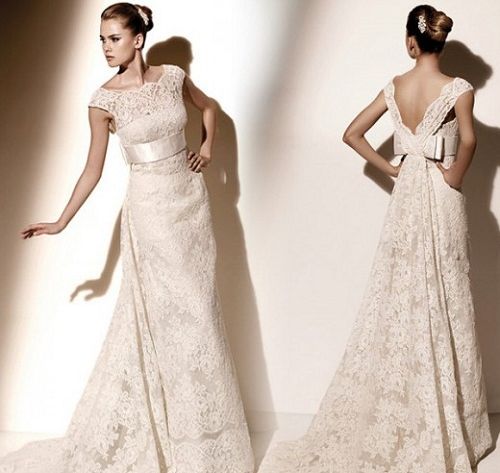 Watch out for your height measurement before heading to the stores for buying wedding dresses. Taller brides should always wear long dresses, which elongate the look and re-create a slender appearance. Likewise, if you are petite or short in height, look no further than dresses that either fall below your knees or slightly above them as donning long wedding dresses can work against your statuesque figure.
Wedding attires that offer patterns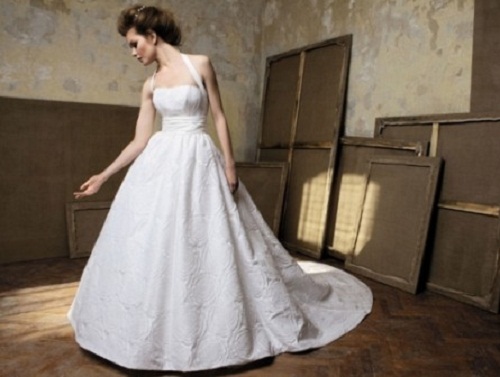 Choose a wedding dress that de-emphasizes your heavier look and offers an optical illusion effect. For instance, dresses that boast simple patterns or are less-embellished detract the eyes. Moreover, avoid horizontal stripes as they can make your hips look wider and superfluously bulky; rather opt for vertical stripes that instantly bring on the effect of slimmer-taller figure.
V-necklines or strapless gowns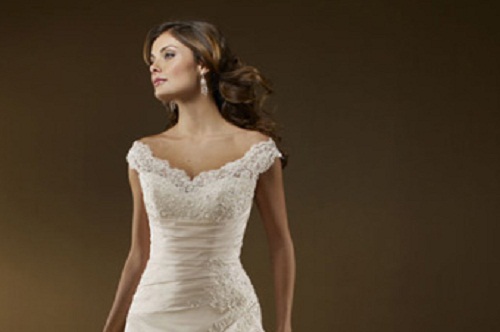 Wedding gowns with either V-neckline or without sleeves i.e strapless allow plus-size brides with fuller bust to flaunt their cleavage. It also helps you take eyes off your middle section or your bulky hips, and engage it to somewhere more exquisite and worth-looking. Strapless gowns look better on plus-size brides who own defined collarbone area. Therefore, browse for wedding outfits with V-neck as it can easily slim down your entire appearance.
Don't wear belts or ties around your waist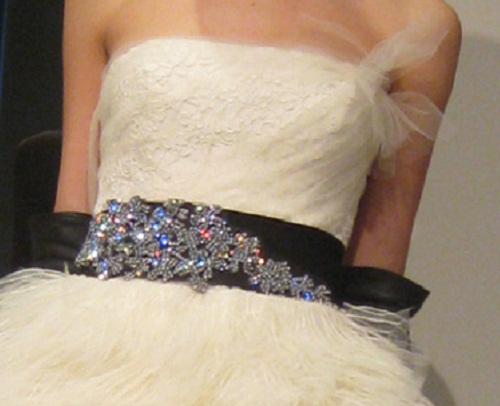 Induce instant slimming effect by ditching wedding attires that don't come with belts, ties, scarves or waistband cinched around the bodice. Embrace dresses that are simple as cinching a belt would immediately make your pounds more visible.
Dresses with long trains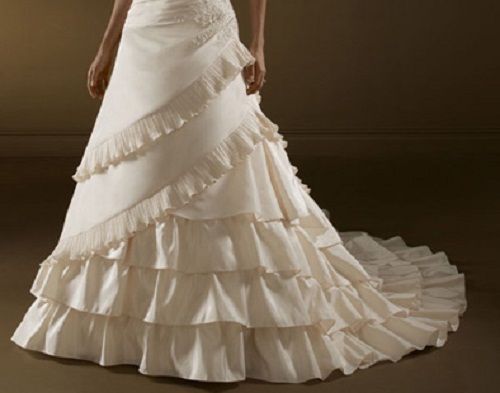 Though wedding dresses with long trains look feminine and stylish, avoid choosing wedding outfits that feature a long, extended train as it might act against your figure-type. Keep the train of your wedding dress limited to few lengths and, that too, without over-doing it layering and embellishments.
Short dress-high heels combo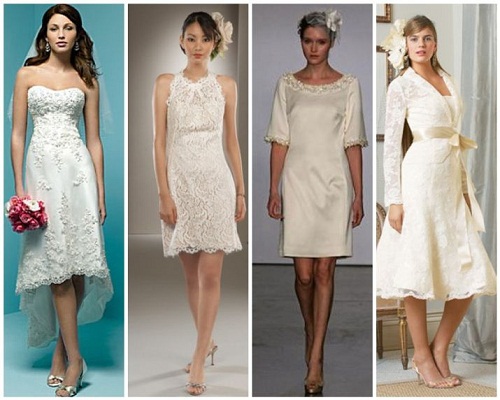 If short wedding outfits come in your alley, make sure to team it up with a stylish pair of high heels that add up to your height and elongate your figure. Also, don't accessorize your short attire with chunky accoutrements like a glitzy bracelet or a chunky necklace. However, you can always wear long earrings that easily spice up your look and also make you look taller.
Darker hues for camflouging your extra pounds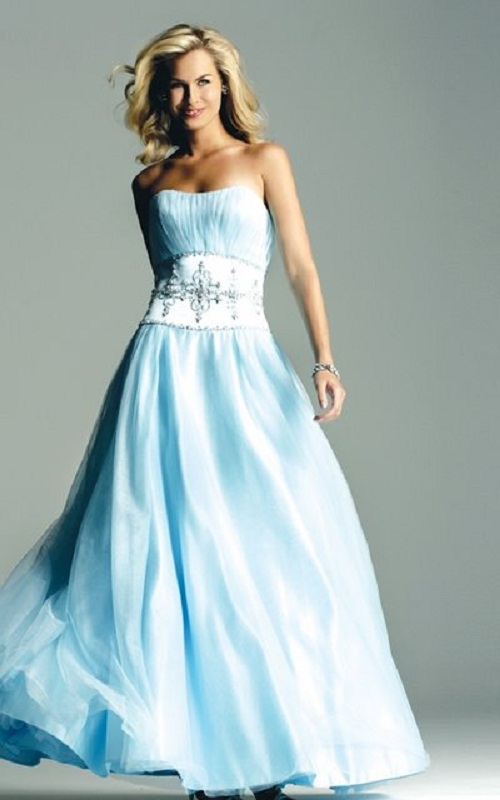 To achieve a slimming effect, darker shades such as black, forest green, chocolate brown, navy blue or maroon would be the perfect options. These colors are voguish, lend you a contemporary silhouette and ultimately minimize your extensive waistline or hip-section.
Traditional vs. contemporary designs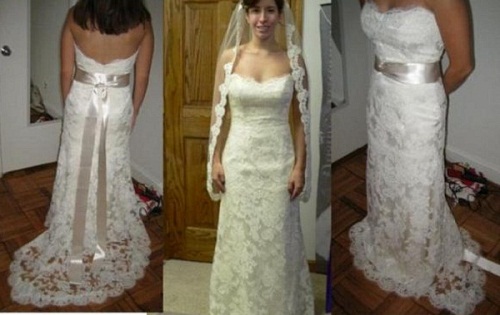 While traditionally designed wedding outfits such as ball gowns or ballerina or princess styled dresses mainly look good on leaner brides with good heights, contemporary designs such as sheath or strapless require alteration to make it appear exquisite on plus-size figures. Nevertheless, whatever design you choose for your wedding dress, be sure that it is well-tailored and don't look heavy.Petite brides can also select between empire waist gowns or sheath dresses as they heighten up the length effortlessly.
Avoid highly textured fabrics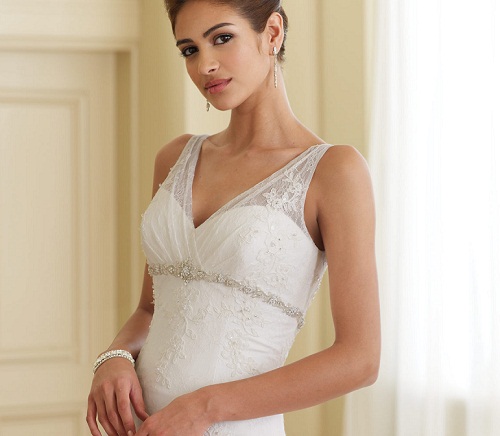 For creating an impression of a slender silhouette, there's no need to completely discard off bulky wedding garments with elaborate establishments or textures. But, ensure that whatever you pick doesn't feature a lot of lofts. Always keep in mind that lot of lofts and heavy textured pieces correspond to bulky appearance.