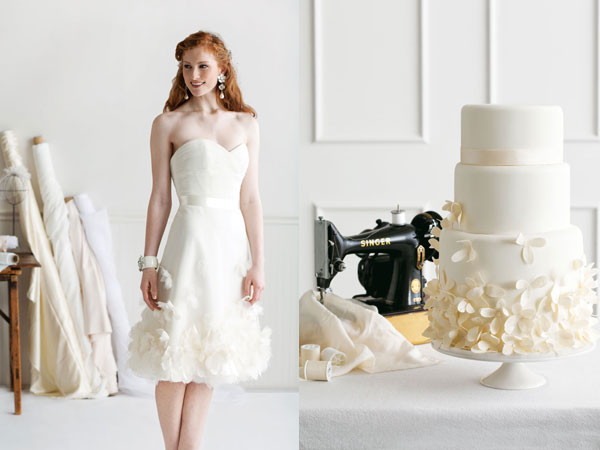 Every fashionista knows that everything about her wedding day has got to be reflection of her personal style. Sadly, even the proudest of all fashion individualists fall prey to wedding traditions and end up ordering wedding cakes from a catalogue which is why wedding cakes inspired from one's own wardrobe can be such a fantastic way to pay an homage to the designers and style icons that have shaped one's fashion sensibilities. Here's our compilation of some of the best fashion inspired wedding cakes that have made a few true fashion forward brides' special day even haute-r!
Liancarlo Dress Cake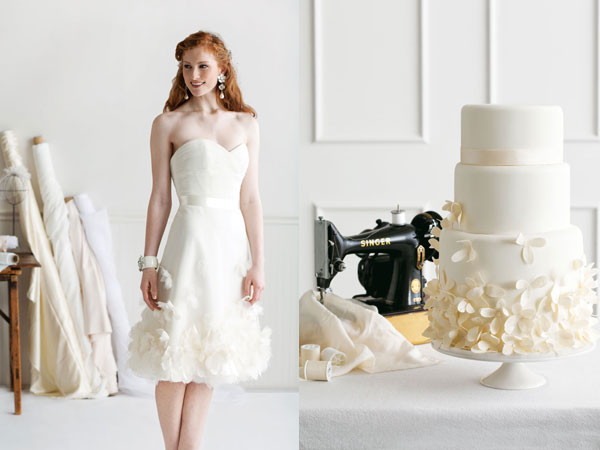 Created by Amanda Oakleaf Cakes, this round cake comes with flower details around the bottom tier and a pearlized bow draping the bottom of the top tier gently is the epitome of simple elegance. The perfect match to a perfectly white wedding, the cake is inspired by a silk-organza gown by Liancarlo worth almost $1,969! The fondant-covered three-tier cake also helps tie the theme of the whole wedding together.
Chanel Spring 2011 collection inspired wedding cake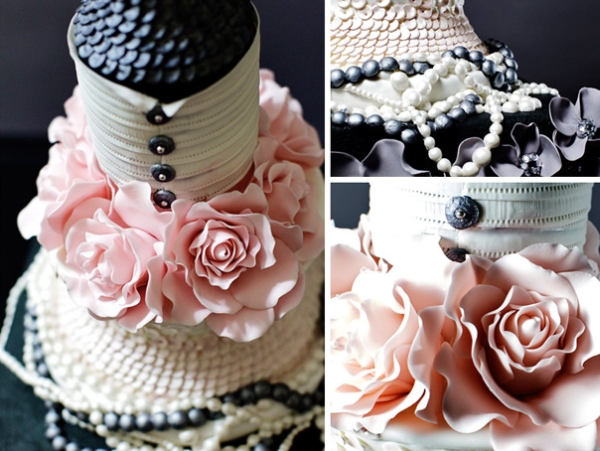 Inspired by Chanel's Spring 2011 collection, this wedding cake is the perfect alternative for brides who don't quite have the resources to buy a classic Chanel wedding dress. With lacy trims and ruffled edges, the cake has an air of contemporariness to it with traditionally Chanel hues like peach and bold black making a grand and defining appearance on the cake as well.
Vera Wang Tissue Organza Dress inspired Cake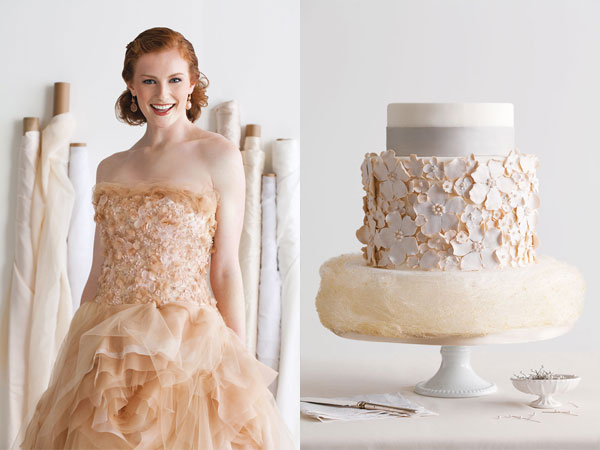 A Vera Wang wedding gown is any bride's fantasy come true and this particular tissue-organza gown with "Flora" tulle is the inspiration behind this fondant-covered three-tier round cake. Created by Cakes to Remember, this wedding cake is decorated with a shimmer fondant ribbon gum-paste flowers colored in pearlescent hues with spun sugar around its base providing the cake with the semblance of being held up by a peachy cloud.
Maggie Austin Cake inspired by Carolina Herrera 2011 Resort Collection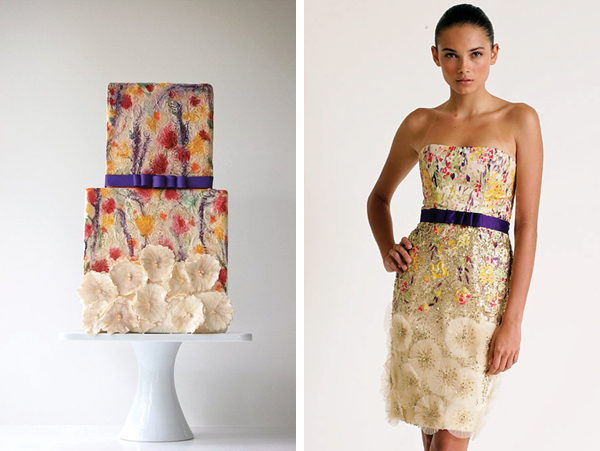 This Maggie Austin Cake is inspired by Carolina Herrera's 2011 Resort Collection and the artistic rendition holds enough "pull" to have an entire wedding centered on this single motif! This divine confection is anything but boring and brings the colors of the fall and the bold style of the runway to the fore like never before. Perhaps one of the most unusual wedding cake designs you'd have ever seen, the cake sets the perfect stage for having a Carrie Bradshaw-style SOTC themed wedding!
Carolina Herrera Black Wedding Gown inspired Cake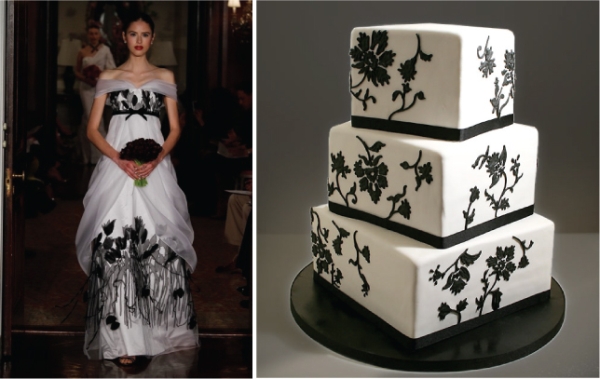 The black and white wedding gown trend is just catching on in the posher circles and must we say that this amazing Carolina Herrera black and white wedding gown-inspired wedding gown is breath-takingly vintage by any standard.
Elie Saab Embroidered Lace Gown inspired Cake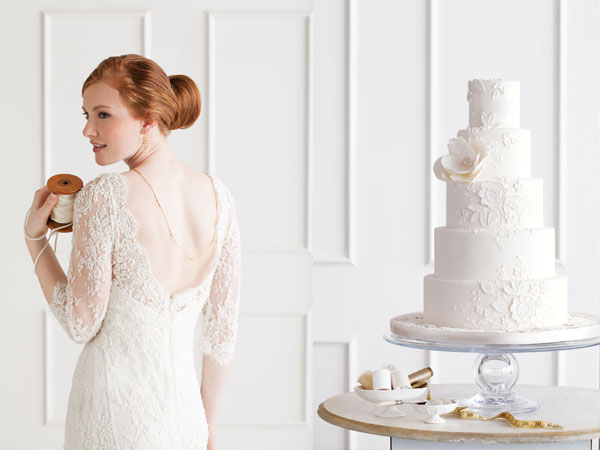 Created by Cakes to Remember, this fondant-covered five-tier round cake is inspired by this embroidered-lace and "Auriga" silk-taffeta gown by Elie Saab. Decorated with sugar flower, royal icing and gum-paste lace appliqués, the cake is a sheer delight that can be the star of an understated white wedding over the summer.
Lilly Pulitzer Gown inspired Cake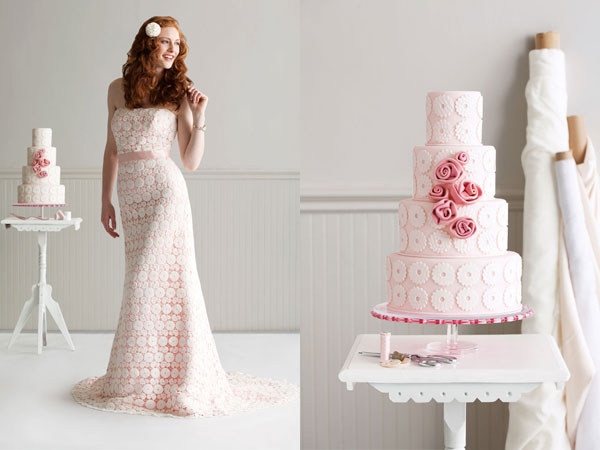 The "Libby" lace-overlay gown by Lilly Pulitzer was the inspiration behind this awesome wedding cake created by Jenny's Wedding Cakes. Decorated with sugar flowers and sugar cutouts, this fondant-covered four-tier round cake is as pretty in pink as it can be!
Alvina Valenta pleated-silk Gown inspired Cake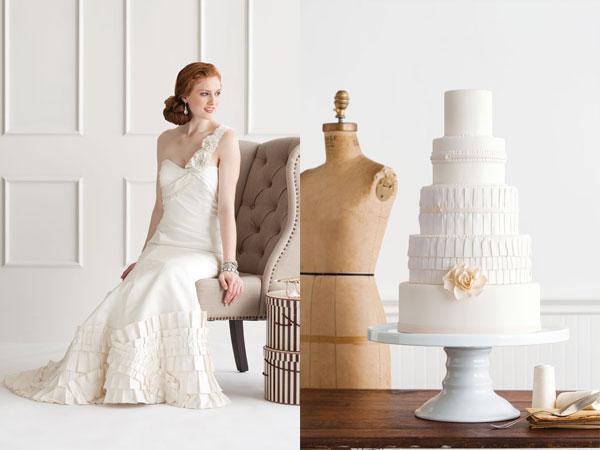 Another original creation by Jenny's Wedding Cakes, this sugar flower, sugar gems, alternating hand-cut pleats and fondant covered Five-tier round cake is inspired by a pleated-silk gown by Alvina Valenta.
Atelier Versace Ombre Gown inspired Cake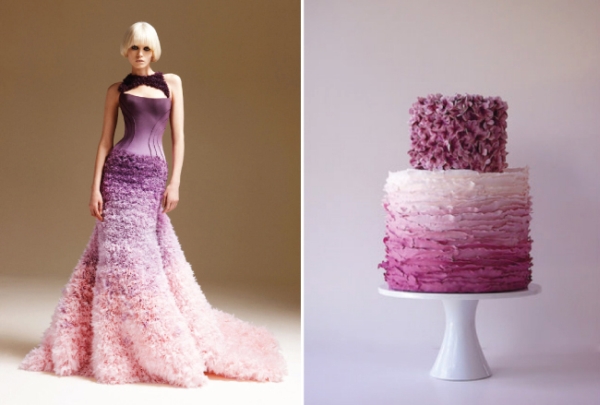 This beautiful wedding cake is created by cake artist Maggie Austin who drew inspiration from this fabulous dress from the Spring/Summer 2011 Collection by Atelier Versace. This piece of Ombre fashion uses the diffusing color used for the fabric of the dress into colors on the cake that graduate from light to dark. The graduation of colors not only makes the dress dramatic, it also makes the cake stand out in a crowd of done-to-death white confections.
Vera Wang "Ghilian" tissue-organza dress inspired Cake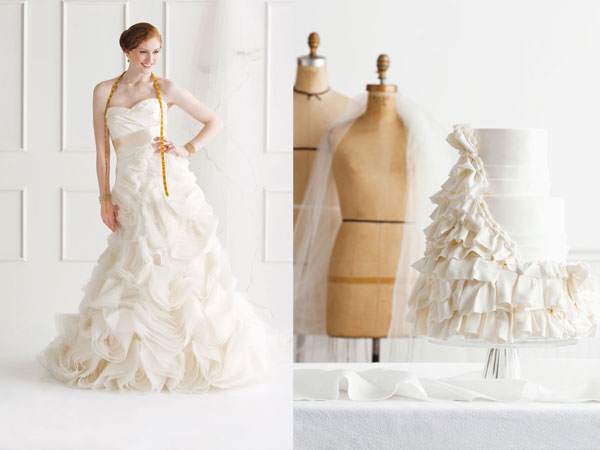 Created by Sweet Alternatives, this wedding cake is inspired by a "Ghilian" tissue-organza dress by Vera Wang. Ribbon ruffles in gum-paste are used as the only bit of decoration on the cake which matches the ruffles on the bride's dress. The fondant-covered three-tier round cake is also every bit as delicious as the dress itself.
Vintage "Truffle" dress inspired Cake by The Caketress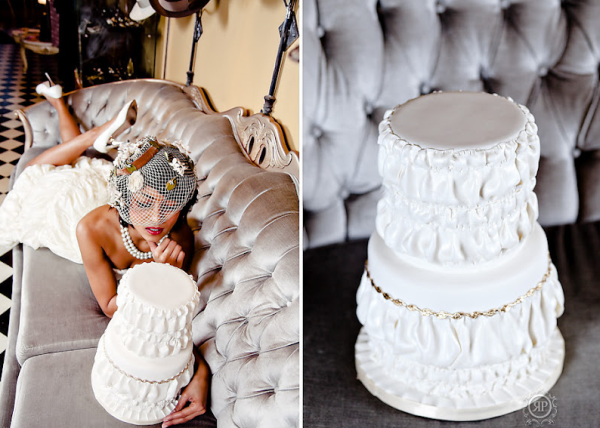 Inspired by one of kind vintage inspired bridal clothing, this "Truffle" dress inspired cake is created by cake couturier that goes by the name of The Caketress. Using the elements of a 1960′s glamour inspired dress with detailed embroidery and pleats, the cake creates an understated yet high fashion glamour statement with its simplicity.
White and Blue Wedding Dress inspired cake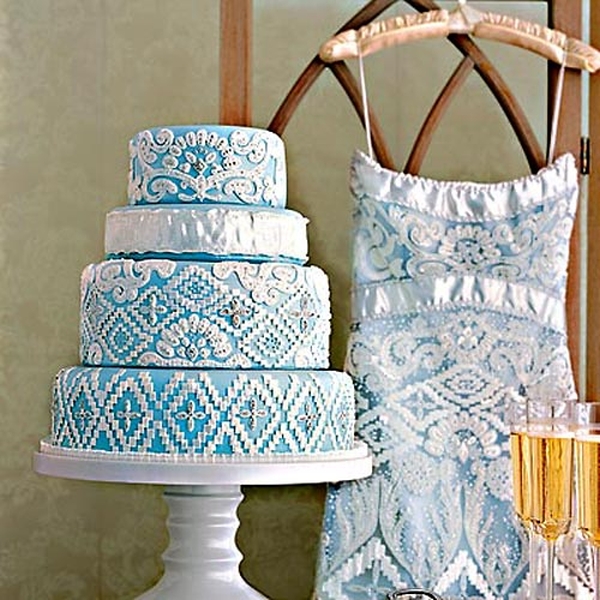 Any bride who decided to wear a white and blue dress for her wedding has got to be a risk taking individualist for sure. Lovin Sullivan Cakes has created this amazing wedding cake precisely for women of such bold tastes. To show the lacy layer of the gown, the four tier cake is ornately decorated with the wedding gown's crystal beading being replicated on the cake's embellishments. The embroidery on the fabric is replicated in white royal icing and in pale blue fondant that covers the cake.
'Frill' Wedding Dress inspired Cake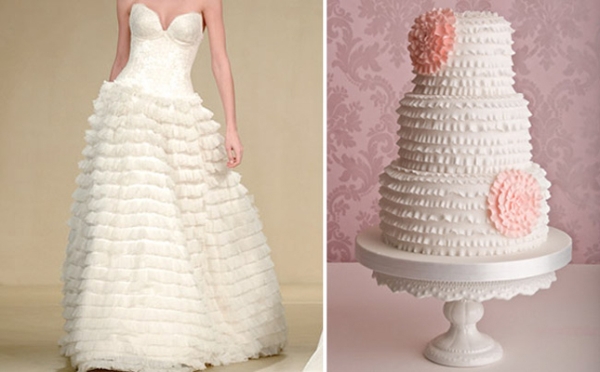 Ok so this cake isn't matched to this gown to the tee, but we much say that the resemble is a bit uncanny! With handmade sugar ruffles Fortnum's violet jelly and vanilla buttercream, this three tier Madagascar vanilla bean cake makes a frill filled wedding even more frilly!
La Sposa Wedding Dress inspired Cake by Maggie Austin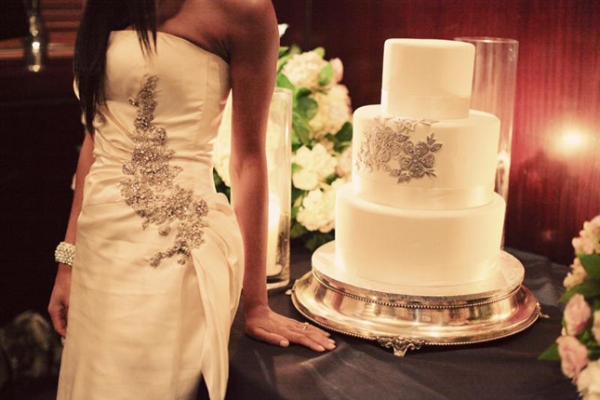 An exquisite wedding gown by premium Spanish bridal wear label La Sposa served as the inspiration for this stunning contemporary cake design. The embellishments on the dress are replicated on this cake by Maggie Austin and add a hint of sparkle to the understated cake.
BridalWave Wedding Dress inspired Cake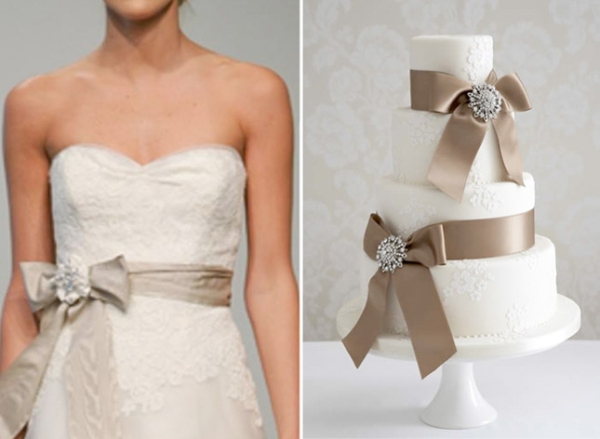 Created by cake designer Maisie Fantaisie, this stunningly chic wedding cake was inspired by a BridalWave Wedding Dress. The cake uses the bow design on the gown as well the pattern of its subtle lacework.