Choosing the right sized veil is essential when you are selecting your wedding gown. There are a variety of designs, styles, materials and types of veils available in the market. The bridal veil not only compliments your entire wedding look, however, it also compliments your gown. While selecting the veil, you need to ensure that you choose the right one, which will be perfect for your gown. Here are a few guidelines that can help you in making the right choice.
3 Things to consider when buying a wedding veil
Wedding is a memorable time for all brides. The bride has looks her best in a wedding gown. While the selection of the wedding gown should be perfect, wedding veil matters as much. A wedding veil enhances the overall look of the wedding gown. It is significant to choose an appropriate wedding veil to complete the bridal look. A secure and comfortable fit is a necessity of a perfect wedding veil. Listed here are 3 elements that must be considered while shopping for wedding veil.
1. Length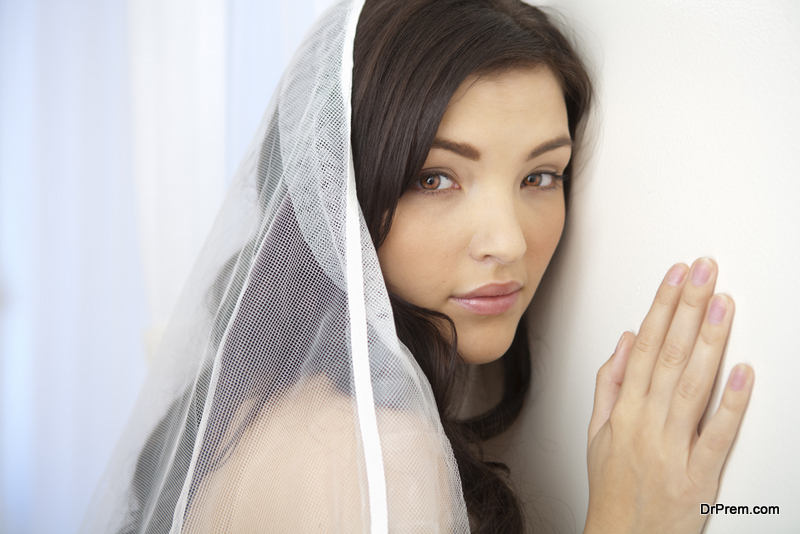 Choosing the perfect length matters a lot and in length too you have a wide variety of options.
a. Elbow length (30″ long)
The most popular length veil and is used with gown which do not have train and hence enhances the details around the waist of the bride. It is generally preferred on a formal and informal type of weddings and can also be paired up with full length skirts.
b. Fingertip length (36″ long)
This veil can be worn with any full length gown and must be avoided with the gowns that have train. It is worn in formal and semi informal weddings. This veil falls right at the finger tips of the bride if her hands are at the side and hence has the name.
c. Cathedral length (floor length)
This veil extends 6 inches more than the train and is used only on formal weddings. It looks best when it is worn with cathedral or semi-cathedral gown.
d. Quick tips
i. Veil should be selected depending on your height. If your height is less than 5'4″ then go for an elbow length veil and if you are taller than 5'7″ then preferably go for finger tip length, and if you are between 5'4″ and 5'7″ you may opt for any of these options.
ii. A cathedral length veil should only be worn with a chapel or cathedral length gown.
iii. Make sure you consider the detailing of your dress.The veil should be proportionate to the detailing of your dress and add to its beauty.
2. Select the tier
The next step would be to select between one or two tier veil
a. One tier veils
One tier veils goes along with dresses that do not have blusher.This gives a minimal, formal and a chick look to the bride and even provides elegance to the looks.
b. Two tier veils
Two tier veils looks good with formal and informal gowns and goes well with dresses that have blusher. It frames the face beautifully and gives a traditional look to the bride.
3. Color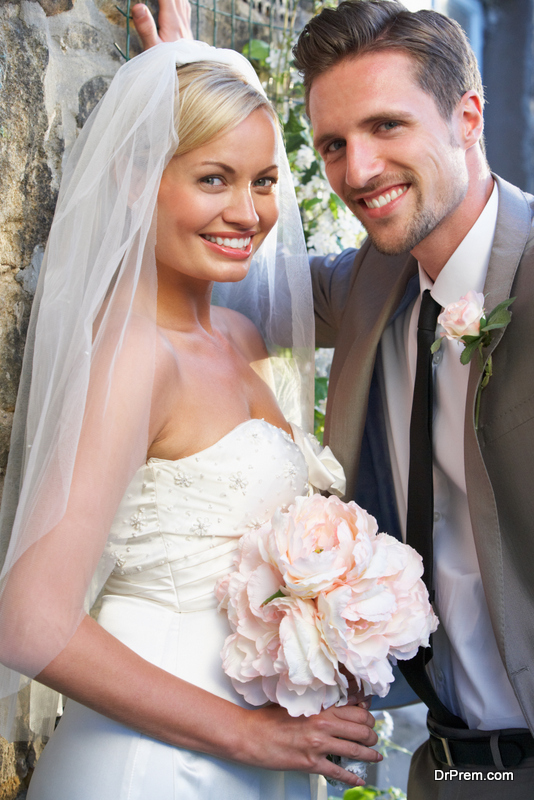 A wide variety of options are available in colors also.These range from white to champagne and selecting the best veil requires the best color complementing the dress.
a. White
If your gown is white then you have no other option other than white. So pair up your dressing gown along with white veil.
b. Diamond white
It is towards a white shade, and the veils of this color are paired with candlelight and antique white gowns.
c. Ivory
It has yellow undertones and is very soft, light shade of ivory. If your gown is ivory then opt for an ivory colored veil
d. Champagne
It is a slight brown overtone to match dark ivory gowns.
Make sure that in case their is a difference between the color of your dress and the veil always buy a veil that is a shade lighter than the color of your dress.
Tips to choose the right veil for your wedding gown
The right length plays a vital role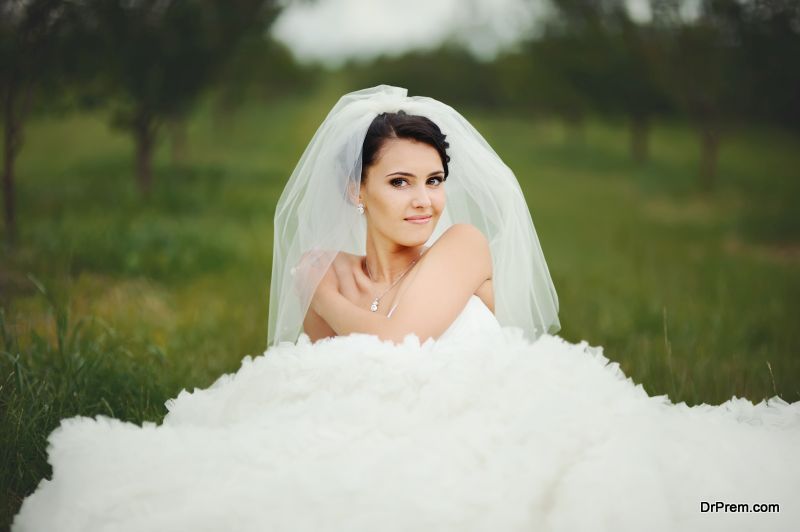 Although you have differently sized veils, choosing the right one is a bit difficult. The first step in getting the perfect veil is selecting the right length. When you go for your fitting, try on various lengths to see which one suits you. Generally, people opt for longer veils as they look more traditional. The shorter length veils will give you a modern look and adds to your personality.
Complementary colors make a good option
Matching the veil with your wedding gown is a good option, but you should aim to choose the one that will blend in well with your gown. You can also opt for colors, which compliment your veil. If you are looking for something in specific, you can also get one customized the way you want. This is also another perfect way to get the right kind of veil for your wedding gown.
The right balance is necessary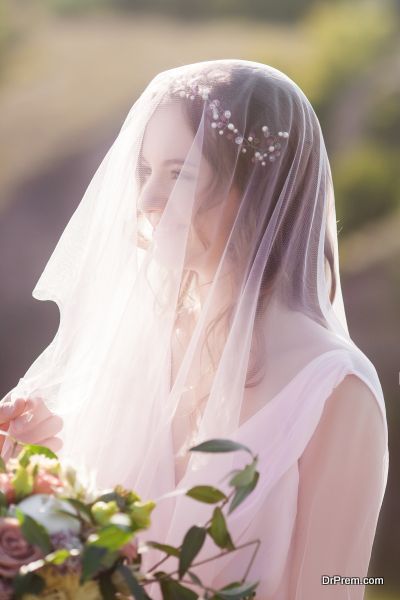 Simple, clean and minimal work on the veil is perfect for a gown that has a lot of work on it. On the other hand, if you have a simple looking wedding gown, you can highlight the look with a heavy veil. The right balance of the veil and gown plays a vital role.
Choosing the right fabric
The right fabric is also essential when you have to choose a veil. Generally satin, silk or lace is used for veils. This is because these materials are easy to drape and give a beautiful look to the design you choose. These materials also give a good shape and finish to the way you will look on your special day.
The type of hairstyle you plan to have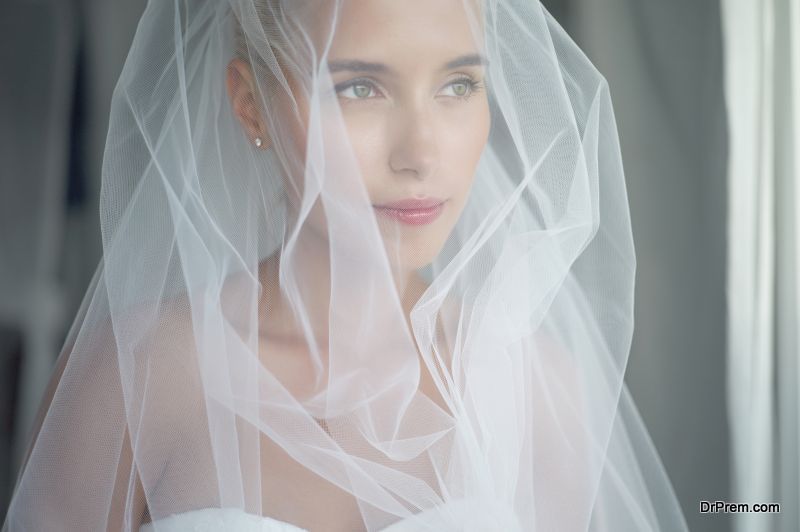 Another factor that you have to keep in mind while choosing your veil is the type of hairstyle you are planning to have.  Make sure that your hairstyle blends perfectly with the fall and size of your veil. Even the accessories you plan to wear should match smoothly with your veil.
Understand the different styles
You get various styled veils in the market. From the Single to the double and even the drop and mantilla styles, you should select the one that suite you. Keep in mind the face of your shape, the design of your gown as well as the length that you will be comfortable with.
The venue of your wedding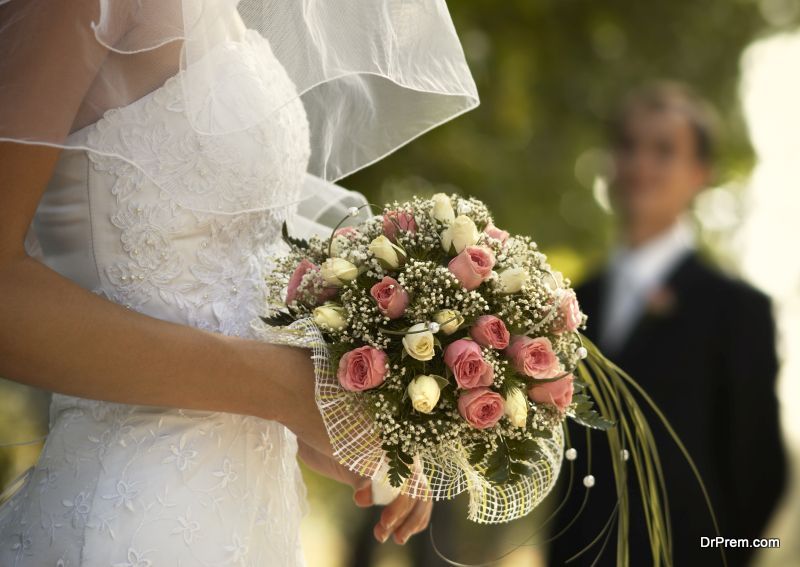 The wedding venue also plays a vital role when you are selecting your veil. Long ones are perfect for indoors. For the outdoors, it is advisable to choose short to calf length veils. Your wedding venue also makes a difference during the selection process of the veil so pay ensure that you keep it in mind.
Check the latest trends
Keeping in touch with the latest trends can really help you in making a good choice. If you want to blend in a modern look with a traditional touch to personalize your veil then you can also do that. The styles, the designs, cuts and even the type of work that is in trend will help you in making the right choice.