If you like elegance, style and femininity, then Jenny Lee's 2012 bridal collection is something you'll hate to miss. It consists of the most beautiful bridal gowns like the organza ruffled and is modified like a line skirt, the famous fit to flare skirt with an obi bow accent, floral applique sheer corset bustier and also with pick up skirt with tulle sash and much much more!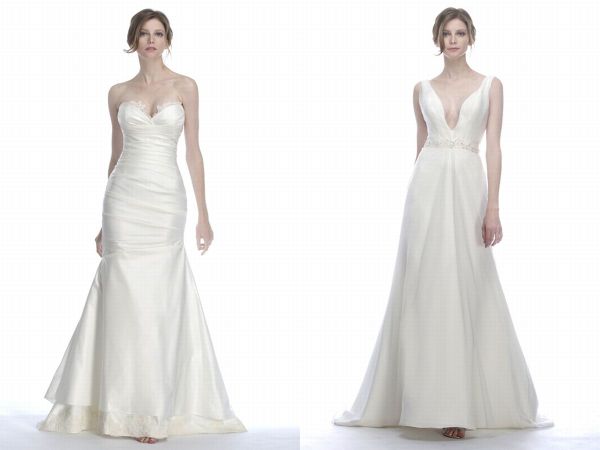 Jenny Lee
Jenny Lee, designer, founder and creative director of Jenny Lee Inc., is known as the hottest new bridal gown designer offering some great and extraordinary yet elegant style. After winning the best designer of the year award, she is looked upon as the newest star in the world of bridal wear and fashion. Not only are her designs creative but also eye catching and fresh. Jenny Lee stands in a league of her own. In fact, she resorts to the use of some of the finest silks and laces imported from Europe and produces some of the most attractive pieces. This woman is also the proud founder of Jenny Lee Inc.
Inspiration
Femininity in it truest form is what inspires Jenny Lee the most. To produce a sublime bridal collection is what she believes in as this matches her personal design ethos the best. As a young girl, Jenny Lee received much encouragement from her mother and her mother's encouragement had a huge impact on her and her career path. Being the daughter of a fashion conscious mom, Jenny Lee started designing her own clothes at a very young age and had a thing for colors and textiles. Jenny Lee took up a career in fashion design at America, a graduate from the infamous Parsons School of design, she managed to open her very first boutique in Beverly Hills in 1995. When she decided to showcase her talent nationally, success kissed her feet. With her first show at Bridal Couture Week in New York, she was flooded with compliments and recognition. Praises about her spread like wildfire. Ever since she has enjoyed a lot of media coverage and currently occupies third position at the department store Bergdorf Goodman.

Jenny Lee's 2012 Bridal Collection
Jenny Lee's 2012 bridal collection is an exclusive one. It is composed of a number of styles, right from – sweetheart neckline ruched bra top, Chantilly lace with sheer bateau neckline with embroidered A line dress, A line rap skirt with flower lace applique, deep V line bodice with trumpet skirt, strapless bias organza band mini skirt with floral appliqued chantilly lace shawl, butterfly neckline ruched bodice with multi tier handkerchief skirt and bead work accent, crescent neckline with draped skirt, strapless ruched bodice with tulle overlay skirt, natural waist ball gown adorned with organza floral applique to a ruffled sweetheart neckline with empire waist and organza overlay skirt. This collection has been appreciated and acknowledged worldwide and oozes elegance and femininity.
Jenny Lee has her gowns available throughout the nation of US and is found in many stores nationwide. The bridal collection is also not available through internet and any order placed except from those under authorized stores is not an original Jenny Lee's creation but mere imitations.
Also, all Jenny Lee dresses use 100 percent silk duchess satin of the finest quality. There is the taffeta and organza which goes into the making of the dresses.All the dresses use the finest of fabrics available that helps to maintain the feel and look of the dress. In fact, for the silk taffeta in the dress, there exists a formulated spray starch. The formulated spray starch prevents creasing and coats the fabric. All Jenny Lee gowns are also perfect fits and which happens by taking into account the exact measurements of the bride so that she ultimately gets a 'couture' experience. Also, as the gowns are lined with silk from the sideways, the bride is sure to get that 'exceptional' look which others will adore.
Reason to buy?
So why should one buy a Jenny Lee gown? The answer is simple. Every gown is unique and classy, from the very first stitch to the last it is handcrafted by one person. High quality fabrics and cutting skills are used for the purpose. Sophisticated and feminine, her collection has celebs such as Whoopi Goldberg's daughter Alex Martin, supermodel Kelly Emburg as well as fiancee of the footballer Jim Brown wearing them. Not only this, Jenny Lee has a fan following in Japan. She designed wedding gowns for singer and actress Iijima Naoka and actor Eisaku Yoshida . Moreover, the magazine " Domani " in Japan also featured her collection. Jenny Lee gowns and dresses are only available in some of the finest stores . They are not available through any internet stores. The average cost of her gowns is between $3750 to $7000 and for those out there who are avid fans of Jenny Lee, the price is definitely not much.