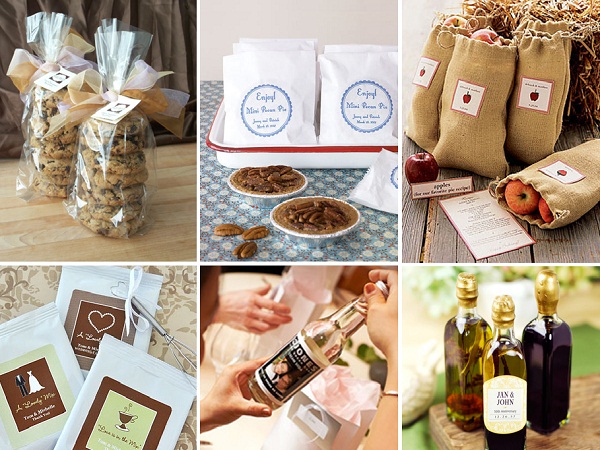 It has always been difficult to find the right wedding favor for your big day. It is never easy to find something which would be liked by all alike. Edible wedding favors can often save you the trouble. The idea of tasty nibble ons suits all. These tasty treats are a great way to show your guests how much they are appreciated for their presence in the event. There are number of ways to present your eatables and places you could buy them from too. Luckily wedding favors which are eatable do not cost much either. We have put together a list of 10 most popular edible wedding favors.
1. Custom fortune cookies
Custom fortune cookies definitely make an excellent wedding favor to give out to your guests. This will make sure that your guests are entertained and are interacting with others in order to share their fortune, besides this, their taste is absolutely delicious. These cookies are custom made, therefore you can even select the design and the color which will be pasted on the cookie. Not only this, you can even add your wedding date and your name along with your partner's name on this delicious treat.
2. Stacked wedding cookie cake
If you are looking for something which is too beautiful to eat, then you must certainly have a look at the stacked wedding cookie cake. This miniature cake is extremely stylish and is made by three different sized cookies which are stacked on the top of each other. The space in between is filled with frosting. You can give it a personalized look by adding the name of bride and groom on the top.
3. Personalized chocolate coins
Chocolate coins are equally popular between the adults and the children. You can personalize this chocolaty treat by incorporating the name of the bride and the groom and not to forget the date and other whereabouts of your wedding on the top of it. To give it a stylish look, you can even place them in small bags before handling these edible favors to your guests.
4. Wedding dress and tuxedo cookies
Cookies are definitely something which is perfect to hand out to your guests despite of the fact whether they are children or adults. Wedding and tuxedo shaped cookies are a perfect fit as your wedding favors. The cookies are especially colored and shaped in order to match the outfit of the couple. To give it a stylish touch, place these cookies in a small pouch with a string on it carrying a wedding tag.
5. Personalized Hershey favors
You can get hold of these personalized Hershey favors at places like Hershey miniatures, small kisses or bars. You can have any specified message from the couple on each piece of candy. These candies are available in a number of colors and designs from stars and stripes to hot pink circles.
6. Fruit wedding favors
Fruits are definitely something which can be given as gifts on almost every occasion so why not try it out as your wedding favor. Not only fruits are delicious but also they are very easily available and you do not have to put any extra effort. If the idea appears too simple to you, then you can show some creativity in their packaging. Brides can choose grapes as their favor, they are just simple, cute and delicious.
7. Jam wedding favors
Try out jams as your wedding favor, they are available in different flavors so you will be having a plenty of options to choose from. If you are blessed with good cooking skills, then try making it by yourself from fresh berries. If you have some ladies in the family, then this could even turn out into an awesome pre-wedding event.
8. Chocolate covered fruit
Consider having chocolate covered fruits as your wedding favors if you are looking for something which is lot more decadent. You can make tasty treats by combining the elements of fruits and chocolate. There is no doubt that your guests will enjoy these chocolate covered cherries, strawberries, bananas and blue berries.
9. Tea, cocoa and gourmet coffee
If you are having your wedding ceremony in the winter months, then nothing could be better than passing out favors like hot cocoa mixes, teas and gourmet coffee. Everyone will certainly enjoy sipping these warm drinks. You can also make them go with your wedding theme by decorating them.
10. Mint tins
If you are looking for some sort of traditional favor for your wedding celebrations, then mint tins are definitely for you. In fact, mints are especially known to enhance the festive moods on your wedding celebrations. Heart shaped mints are available especially for occasions like wedding. You can even package them in groom or bride designed tins in order to give them a personalized look.