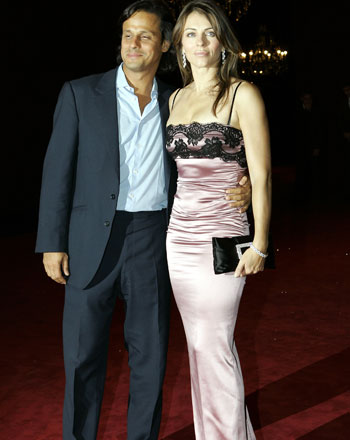 Liz Hurley and entrepreneur Arun Nayar are spending money lavishly to prove their class. It is sardonic to see the way this couple is making preparations for their special day. There is a long extravagant list of activities regarding the twin-nuptial. Okay! I'll discuss it as follows:
The wedding is not a day's show rather it will be extended over a week and not in one continent but overseas (England and India). Guests will be swimming in the pool of champagne for four days in England and then three days India. Can you think how much all this will cost them… around £2 million!
Liz sure is also looking to negotiate with a magazine for full access to her wedding.
Let's talk about the places where the wedding is to be held. They are among the luxurious hotels. In England it is Sudeley Castle in Gloucestershire and in India it is Umaid Bhawan Palace, the 347-room home of Jodhpur's ruling family.
Hey! How can you miss another long list, which includes dozens of dresses (£4,000 pink silk sari from Indian couturier Tarun Tahiliani, prices of other outfits is not known) and jewelry and will be provided by Chopard. The outfits will be in renowned brands and designers' stuffs.
On the wedding loads of celebrities and iconic personalities are gathered to be part of the extravagant show.
When Miss Hurley is doing so much lets see what all is going on Mr. Nayar's part. He will be arriving on white horse, lined by family members on camels and elephants. Hmmm! giving a break to auto show.
Guests will apparently dine on Indian, Mexican, Italian and Continental foods from three Michelin-starred chefs flown over from Britain.
The couple will stay at the private quarters of the maharajah, His Highness Gaj Singh while the guest will sleep in luxurious rooms of hotel, which charges around £2,000 per night.
It was a very sad site to me that on one side, the couple is wasting a huge amount on their wedding and on other side there are so many homeless and dying people in Jakarta, after flood damaged their lifestyle.
Another surprise is that the staff of Umaid Bhawan Palace doesn't even know who they are, when they were asked about the reason behind frantic preparations in the palace, the reply come:

"None of us are being told much but we have heard a famous Hollywood actress is marrying an Indian businessman here," one said.
Imagine the two are spending so much but they are not heroes in everyone's eyes. Then I think both should go registry office and get married. The 'extravagant affair' as explained by one of the friends, for me is mere 'bragger.'
Can anyone tell me why they doing so and how many more such extravagant affairs are to come in future? Being eminent personalities, they should understand their responsibilities. If they have spent, so much next icon will try to spend higher then them in order to make their mark (in never ending rat race). I know wedding is everyone's dream but such ….