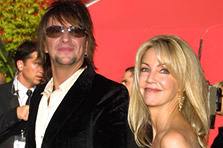 Actress Heather Locklear and Rocker Richie Sambora got hitched in the month of November, in December the actress and this famous Bon Jovi guitarist walked down the aisle and now they are separating. Strange it may seem for us but it is no big deal for this guys.
It is almost 11 years that they are married now, and Heather feels that though they are happily married for such a long time it is boring. This is what she said to New York Daily News.
Married in 1994, they have an 8 year old daughter Ava Elizabeth. It was the second marriage for Locklear and first for the lead guitarist.