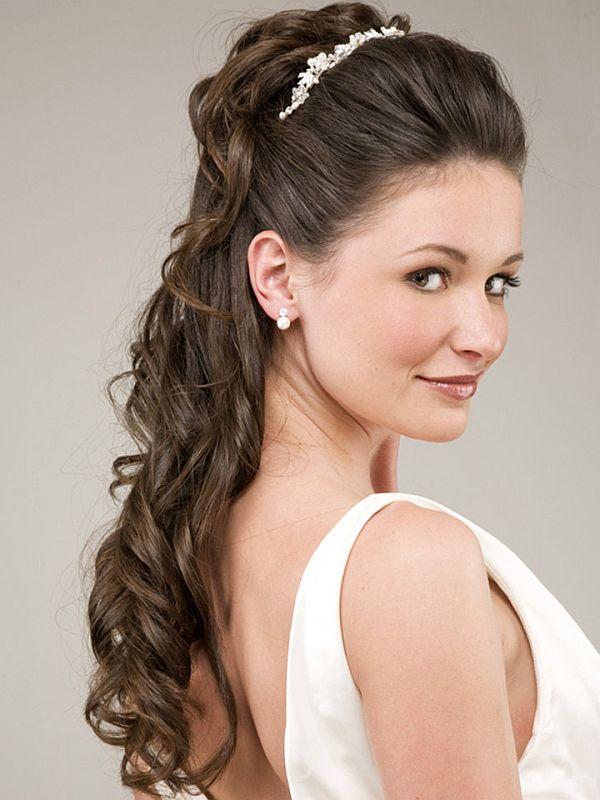 Your wedding day is coming up and handling your hair becomes a problem especially when you have very long hair. You may feel your hair is unmanageable and that is why you have hairstylists. You need to have a hairstyle to suit your overall appearance. Hair is one of the major parts of attraction and beauty. Having a good hair day is not in everybody's luck. Your wedding day has to have the best hairstyle in order to have all eyes gawking at you. Put together is a list of some really great hairstyles for your big day for your long hair.
Half pinned up hairstyle with curls: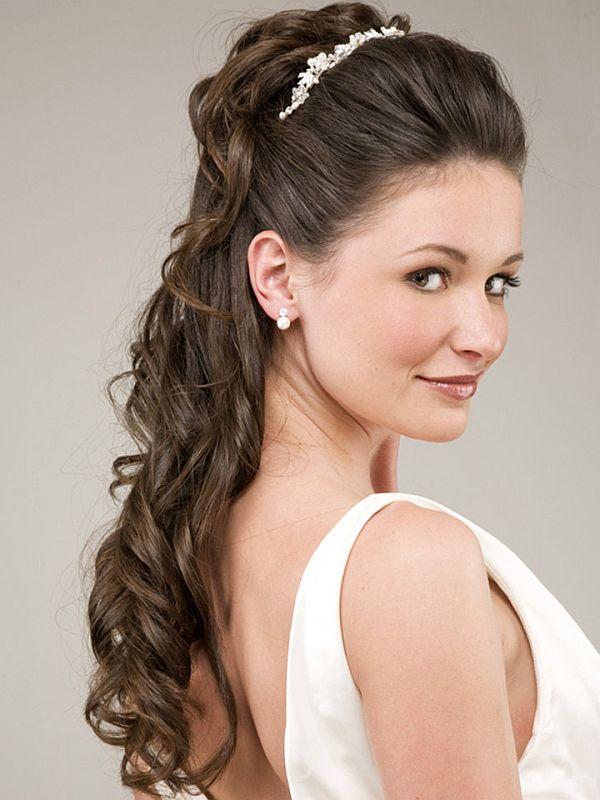 This hairstyle is quiet elegant and neat. A hairstyle like this would be great for a place with little wind. This hairstyle is bound by a hair accessory which will not allow the hair to come in your face. You could attach a tiara with a veil if you like. This half pinned up hair style has the up done hair in a shorter layer than that of the hair which is let down. You would look sophisticated and much with class. Your long hair shall be done up in curls or waves and pulled back with the headpiece.
Let your hair loose in waves: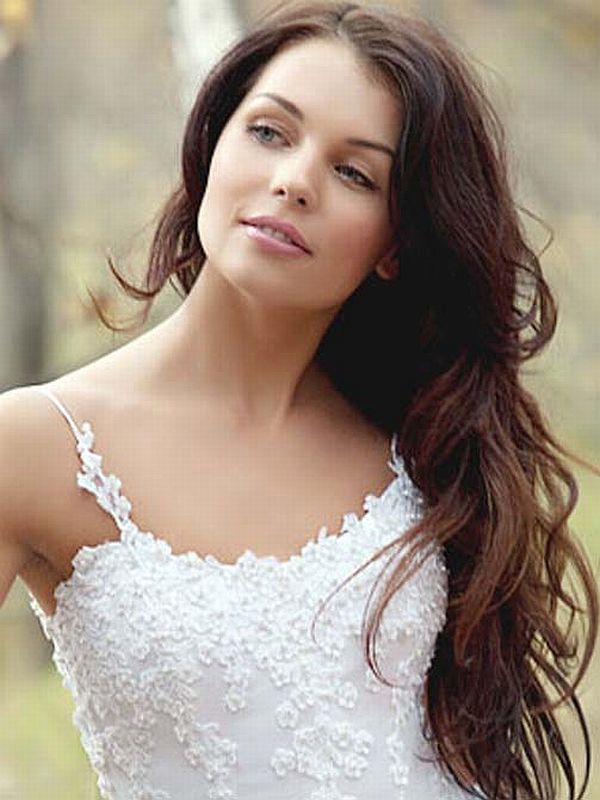 This might seem impossible for you but, frankly this is the loveliest hairstyle you could have on you're the day you get married. This hairstyle is extremely gorgeous if you are getting married in the church and have no worries about your hair falling all over your face. You could pin up the side so it stays back. Just get your hair blow dried naturally into waves. It is pleasant and gives you a peppy and bouncy look. You would look radiant. Get it beautifully cut into layers and you shall look divine on your wedding day.
Hair bump and a side plat: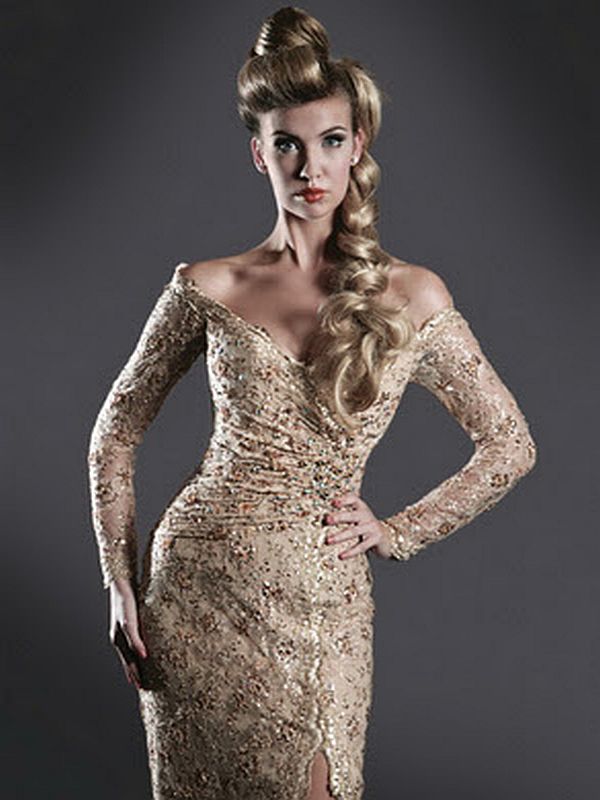 This is a quiet uncommon hairstyle. You would not have to get it made it yourself obviously. IF you are going through hairstylist to get your hair style done up and if you are not planning on wearing any head accessories then do get this hairstyle. It would mean keeping your fringes or your crown hair in a hair bump style or in rollers pulled back. Let your stunning facial features be accentuated with this hairstyle. The rest of the long hair is made into a crissed-crossed plat and brought to the side. It is almost French, and you would get a very appealing look. If you add a tiara to this hairstyle, you are sure to look like a princess on your bug day.
Simple high ponytail: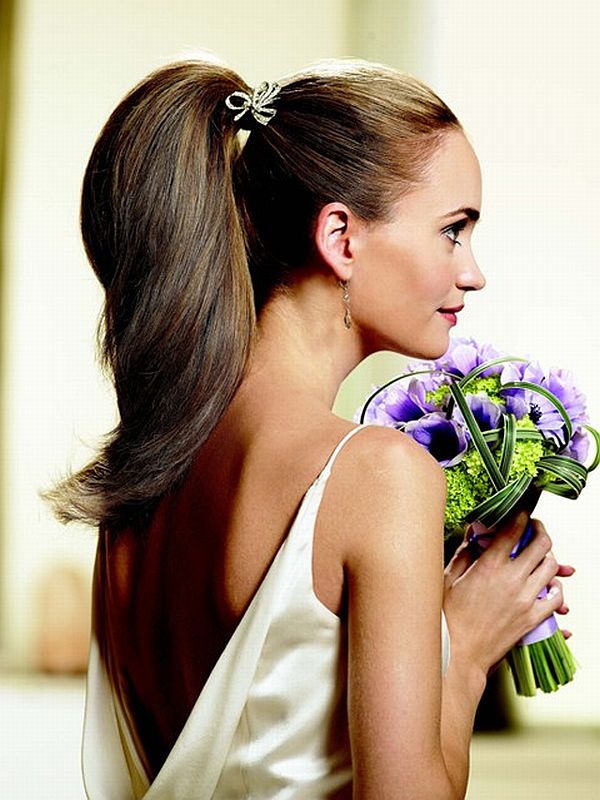 Every thought how the simplest of things can make you look the most beautiful person in the room. This high ponytail has been in fashion a number of times, but you would hardly see the crowd wear such a gorgeous and effortless hairstyle. Just get your hair cut in a U-shape or a simple V and get this lovely high ponytail made for you on your wedding day and see the difference and the astonishment on people's faces. You might not think it is alright, but if you do not wear any head peaces what is the harm of carrying of this hairstyle. Let the hair have a bounce and then be pulled back. You would look absolutely radiant.
Classic bridal chignon: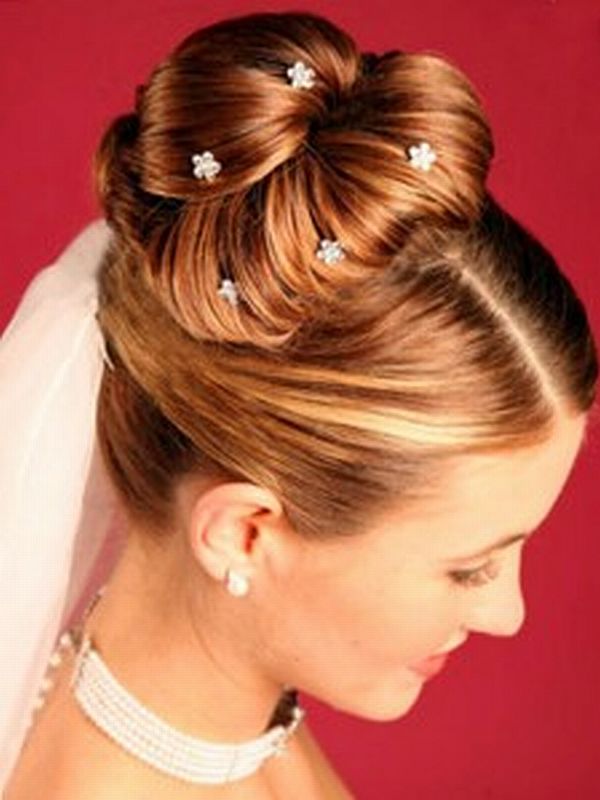 A chignon has been famous for years and is surely not going to go out of fashion just yet. Getting this hairstyle is quite easy when you have extremely long hair and do not want to manage it. You could either go for a low one or a high one. Middle or side parting firstly and the getting it pulled back as an up do hair bun would be chic and you could then pin up a wedding veil. This hairstyle is convenient and quick. You would not have to worry about the hair falling all over when you go for your reception dance too.
Half hair pinned up bump with slight curly waves: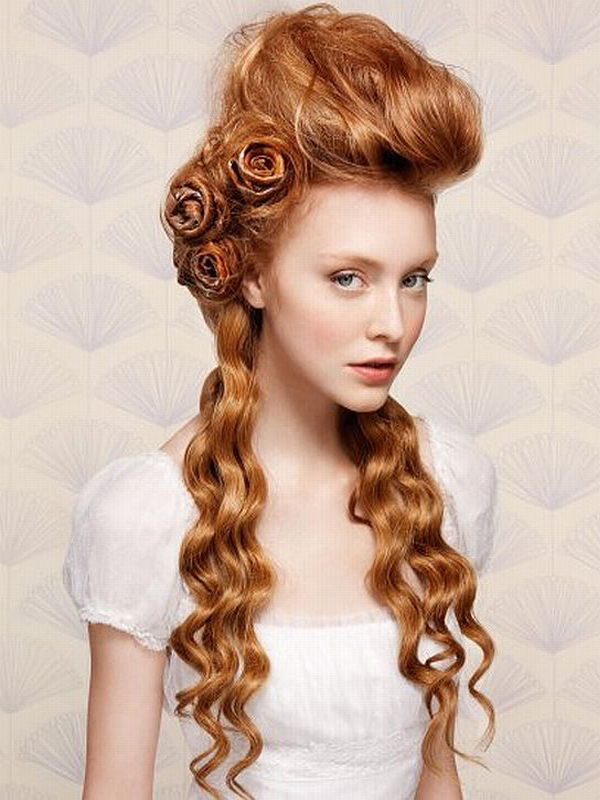 This hair style would do you justice if you are planning on going for the vintage look. You shall tend to look like a delicate darling in this hairstyle. The half hair up do in a bump gives you a very unique and 60's look. The rest of the hair which is let down is in very flimsy slight curly waves. If you are worried about your hair not staying in place with this hairstyle, then don't. It will stay great with a bit of hairspray; you could have this perfect hair do. If you like a bit of the messy look too, you would enjoy this hairstyle. Get very light make up and have this hairstyle if you have long face.
Chignon and a hair bump: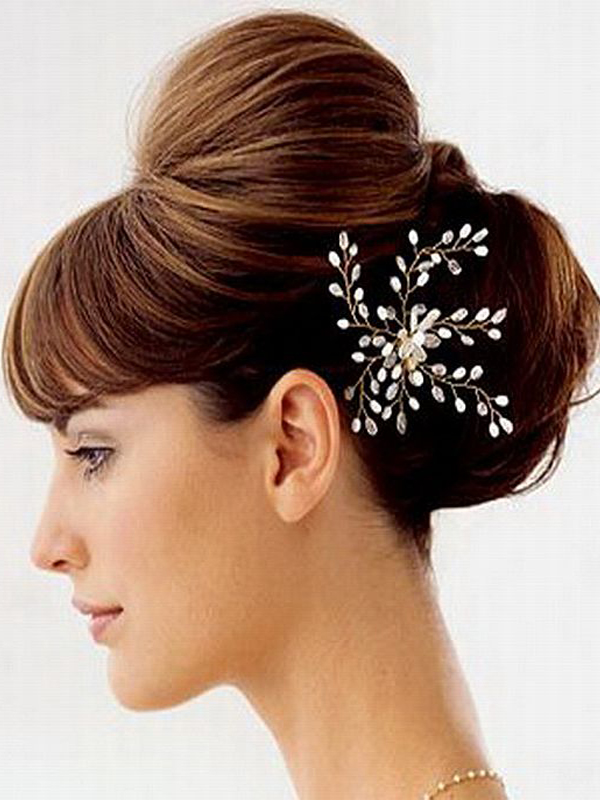 With the amount you would have to do on your wedding day, one less hassle would always be great. Settling for the easiest should be your thing on this big day. Do not go for tricky and tough hairstyles. There are many ways to go for this up do hair bump and pairing it up with a chignon. You could have some fringes along the side in case you want to hide your forehead. This hairstyle is graceful and completely pleasing to the eye. It shall not come in your way and it is not hard to manage until your done with your big day.
Letting your hair loose with a hair bump and hair band: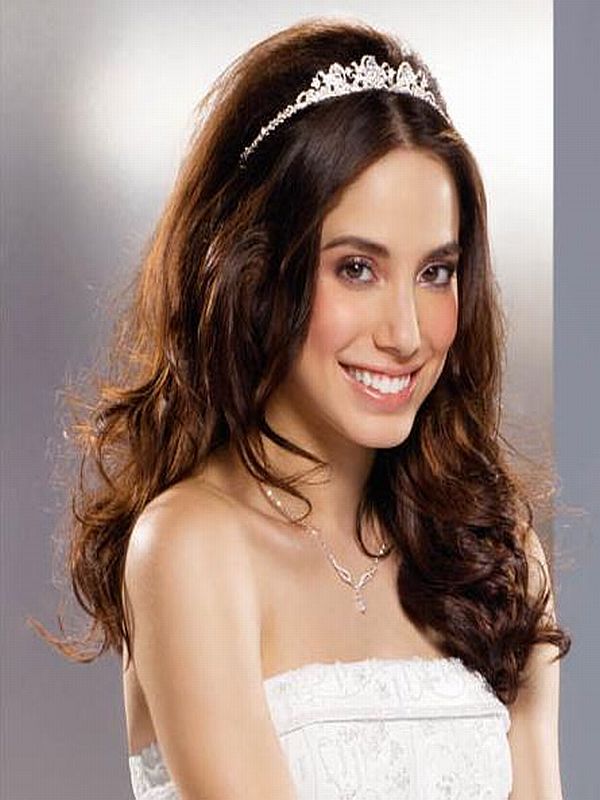 What you might want is all your hair pulled back giving you a splitting headache on the day you are going to walk down the aisle. There are some who do not like their hair all tied up, for them this is the best hairdo. Just letting it loose and have a hair bump so it gives a bit of a bouncy appearance and you look great. You could pair it up with up with head band. It is very simple and there is nothing much to this hairstyle. Just add some hair moose and have stick in place. Allow the curles at the bottom to make it heavy. You could simply just blow dry it with a round brush and allow it to fall freely.
Undone braid with hair bump: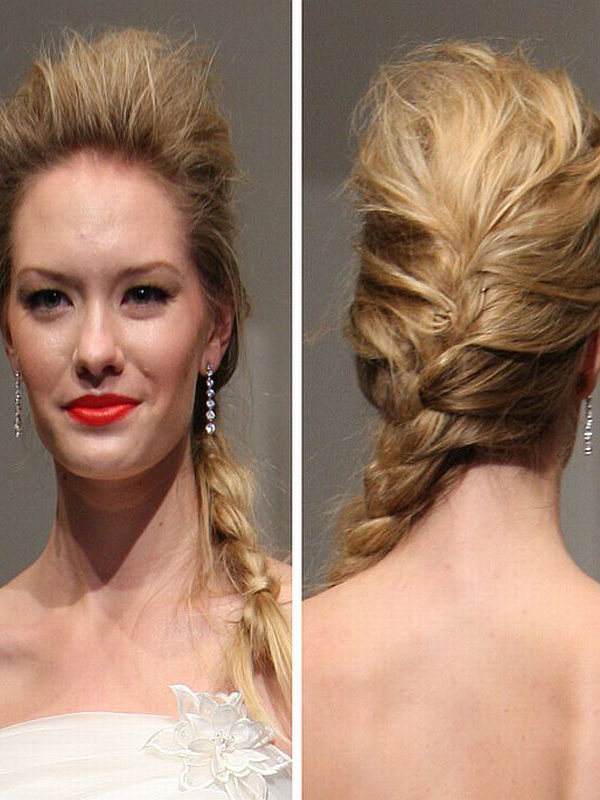 A slightly undone braid seems like a good idea when you do not like an up done hairstyle. You could keep it loose and enjoy this hairstyle without a veil. It might look a bit out of place, but it is simple to make especially if you are in a hurry and you would look stunning. You could have a hair bump at the crown area. You could ether have the French braid, or the regular braiding. It should be prominent. You could make a side braid too or right in the center.
Straightened let half pinned back let down hair: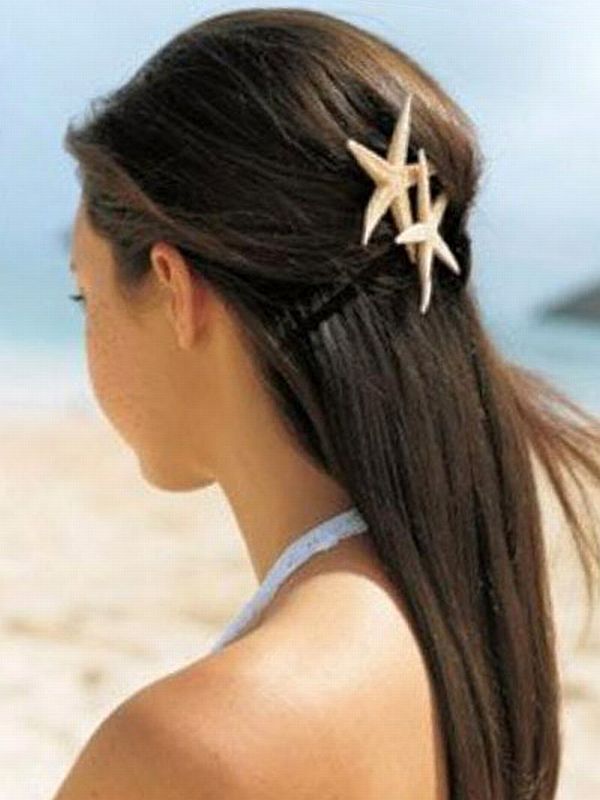 Going for a beach wedding or even a wedding at a church or a cool area, you would want your hair to warm you up. Straightened hair comes and goes out of fashion. You could stick to whatever suits your dress and your facial structure the best. Pin half the hair back slightly loose so it has a bit of a bounce. Let the rest loose and get a nice hair pin just to enhance your look and not look so dull.