Being in perfect shape can give you a healthy life. It's important that both you and your partner together implement a change that can lead to a long healthy life. If you and your partner intend for a long term weight loss then it's necessary to have an overall lifestyle change. As you share everything with your life partner, it's important that you communicate and convince each other for weight loss. Healthy couples have a healthier relationship and a longer life. The motivation and encouragement is more when both of you are in for it together.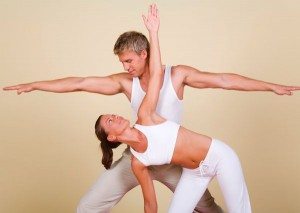 Steps to help you and your partner to Lose Weight:-
The first and most important thing is the commitment. Commit to lose weight together. Plan an outline and goal to losing weight with your partner. If both want the same thing, then its more likely that both of you will stick at it.
Get rid of the junk food both of you eat. Clear up your kitchen and storehouses of all the junk food stacked up in there. If you feel the craving of eating junk food, then its better you get out and eat once in a while rather than storing it in your refrigerator.
Fix up a time in the day and exercise together. In this way, you both can spend more time together and also motivate each other. Opt for exercises that both match both of your fitness levels like for e.g. jogging, cycling, walking etc.
Support and encourage your life partner. Often during fad diets and rigorous exercises one tends to feel discouraged and low. If you notice your life partner losing hope and getting discouraged, motivate him and put him on track. Your positive energy and attitude will motivate your life partner.
Discuss and communicate the difficulties and obstacles b moth of you face and try to overcome them.
Make a weight loss chart for both of you and keep a track on it and follow it religiously. It's always better to maintain and organize a proper schedule for the both of you.
Keep a friendly competition for the both of you. Sometimes it gets very boring to have the same old routine every single day. You can have competitions like the person who loses more weight will get a dinner out tonight or a complete body massage or a pedicure.
By following these simple steps, both you and life partner can have a healthier body and better lifestyle. With your life partner, you can make the impossible possible.