Marking its 10th anniversary of the International Bridal Fashion Exhibition, the Madrid Novias will showcase its tenth edition of the bridal fashionat Feria de Madrid. This exhibition will be going from 3rd May to 6th May, 2012. In this time span about 80 different brands will present their wedding dresses for the viewers delight. The organizers have also planned for a catwalk alongside the exhibition.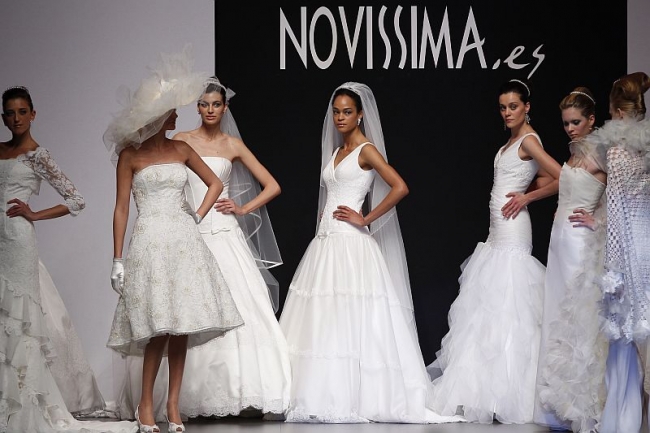 As have been told, on the very first day off the exhibition, designer Miquel Suay will showcase his bridal collection 2013 starting 5 p.m. onwards. The next designer to watch on the same day will be Lucia Botella for Pepe Botella. She will present her collection after 7p.m. Thought the opening of the exhibition will occur with wedding dresses designs by designer Anna Torres at 11 a.m. sharp on 3rd of May.
On 4th May, that will be the second day of the exhibition a double show will be on display starting 12 p.m. and will include some bridal lingerie and underwears from Pol Núñez and Emperatriz. The dresses of the First Communion will be staged along with the bridesmaid and the page attire by several companies and their assigned designers. Those who can make up to be an audience of this elegant exhibition will get to see wedding dress designs enriched with fabrics like organza, silk, muslin, Mikado and wild silk. The colors of the dresses will be varied with natural, traditional and experimental colors. So be ready to see that. And if you are a big fan of the embroidery applications as well as the embellishments then there is many a surprise waiting for you at this exhibition.
Again as we mentioned surprises earlier, there will be bridegrooms collection showcased in this exhibition too! For wedding fashion enthusiasts, Spain will be the best place to be in for the next few days. Who knows you get to meet with some famous wedding fashion designer and get a few good tips from him or her for your future wedding? Go Spain!
Via: fibre2fashion