If you wish to make your wedding memorable then we suggest you to consider St. Lucia. This panoramic tropical island located at the windward side of the Caribbean is the popular choice of the modern couples due to its natural treasure, hot and sunny tropical weather and luxurious comfort. As you land here you will find it a paradise for the wedding couples who wish to get mesmerized in each others charm in the backdrop of nature. Discover the cupid in you and tie the nuptial bond in idyllic St. Lucia.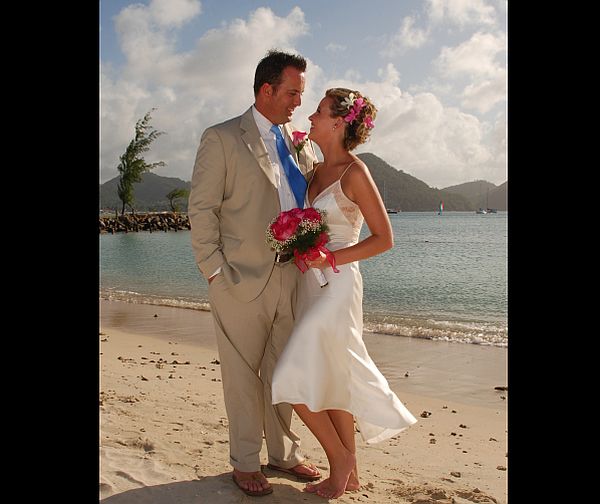 Why there?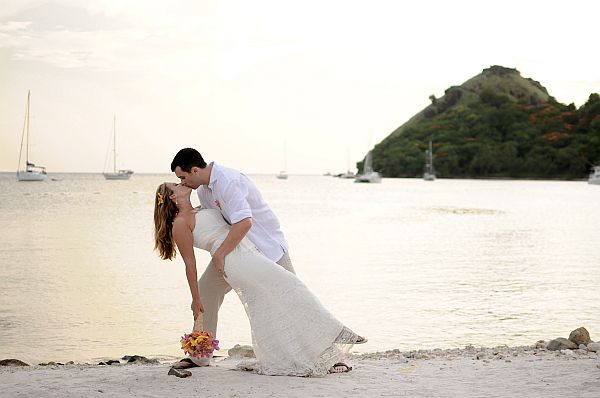 Gurgling sea, sunny climate and tropical weather of St. Lucia unite together to make it a land of pristine beauty. Once you step here you will have a feeling of freedom from the monotonous city life. It seems that the eternal power has blessed this Caribbean Island with mineral rich spontaneous springs, lush forest reserve, fertile valleys, dense mystic evergreen jungles and sandy beaches. You name it and you will have little bit of everything when you intend to wed in St. Lucia. So, from exquisite flora and fauna to tropical wildlife and to adventure sports like mountain biking, horse riding, snorkeling and scuba diving, wedding in this island will be an unforgettable experience to treasure.
How to get there?
You have to board an international flight that connects the two major international airports of St. Lucia, George FL Charles Airport near Castreies and Hewanorra International near Vieux Fort. From there you need to board a private cab that will connect you to the major resorts of the island. Water transportation can also be availed of if you are located in the neighboring islands. You will get cruise ships, boats as well as catamaran for the purpose.
Types of wedding
Broadly speaking, you need not bind yourself with any typecast rules of wedding when you are in St. Lucia. Even the most simplest of wedding in this island can get a highly customized makeover by virtue of the venue, décor and attire that you prefer. Still, two main types of wedding are prevalent in St. Lucia.
Legal wedding
This form of nuptial holds legal significance everywhere in the world. But you need to be very particular about the documents you carry. You are supposed to be more than 18 years of age and carry a proof of that. In case if you have got married earlier a divorce certificate is mandatory. You must also carry a valid passport too.
Catholic wedding
This form of marriage is only reserved for the Christian Catholic couples. The legal documents like birth certificate, passport, divorce certificate, deed change, etc. are all required to be furnished when asked upon. So, be mentally prepared. You also need to carry your local parish priest with you in order to correspond with the native priest there and carry on with the proceedings.
Venues of wedding
While the hot sun, sandy beaches and the lush valley form the natural backdrop of your nuptial the luxury, comfort and all the necessary arrangements of your wedding in St. Lucia are taken care of by the lavish hotels located in this tropical island.
1. Morgan Bay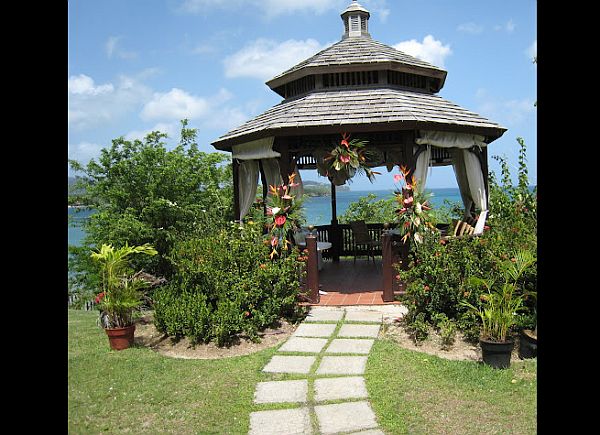 Located at Castries this exquisite venue has all the amenities that will make your nuptial in St. Lucia a grand success. The most important thing that you will like about this resort is that the beach has been kept natural and rustic while the hotel gives all the comfort of modern life. The four bars and restaurants meet the demands of your taste buds as well and give you the pleasure to greet your guests with unique dishes. You can also indulge yourself in the invigorating experience at the jacuzzi and spa. If you are adventure freak then you can tap the one you like from the numerous sporting opportunities like golfing, tennis, water skiing and banana boat rides.
2. Almond Smugglers Cove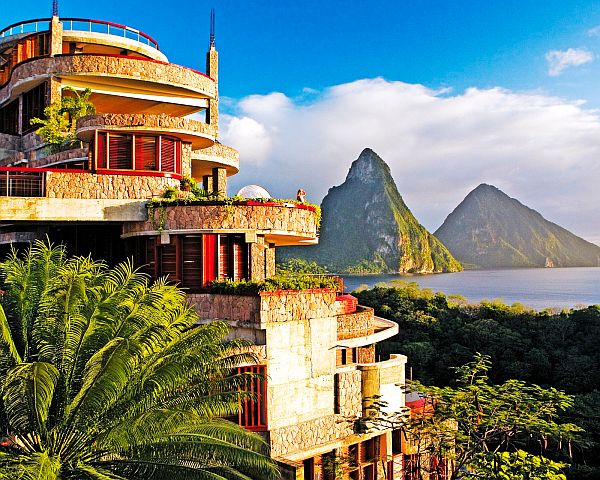 If you wish to have a taste of the Caribbean pastoral life while you tie the wedlock in St. Lucia then this resort is your ideal choice. Positioned on 60 acres of land overlooking the sandy beach and the Caribbean waters Almond Smugglers Cove is a holiday retreat for the wedding couples. It offers an all inclusive wedding package for the intending couples with a complementary bottle of Champagne.
3. Anse Chastanet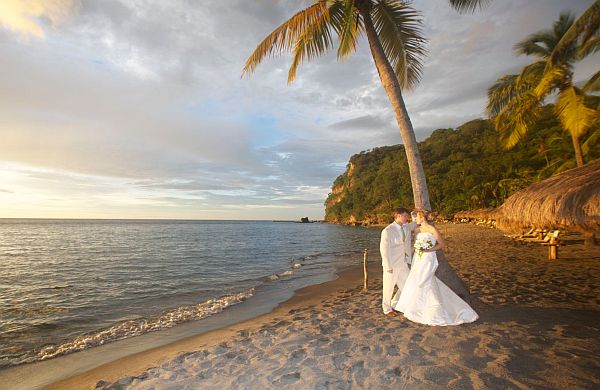 This resort, built upon 600 acres of plot, is ideal for the adventure loving couples who wish to enjoy fun sports as they tie the wed lock. Thus, you will have a unique vacation out here with ample of funny amusements like scuba diving, hiking and snorkeling. The excellent catering service and hospitality of the hotel staffs will be bonus treat.
4. Coconut Bay Beach Resort and Spa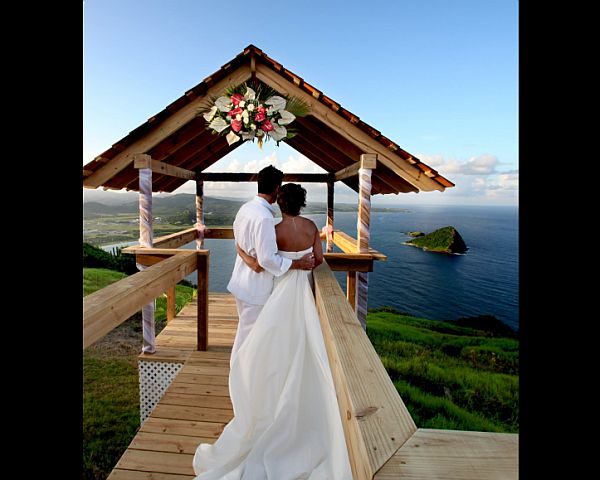 As the name suggests you will perhaps get the greatest opportunity to enjoy the enigmatic beauty of the sandy sea shore that is dotted with coconut trees and the soft tropical breeze when you promise to be with each other forever. Although this resort is meant for family as well as wedding couples but you will love to know that one side of it is reserved for adult fun. So, you can mesmerize yourself in sensuous adult fun by taking sunbath in the private beach cabanas and taking sips of intoxicating hammock together. You can further enjoy couple spa and cruising during the sunset as part of the wedding package offered here.
5. Windjammer Landing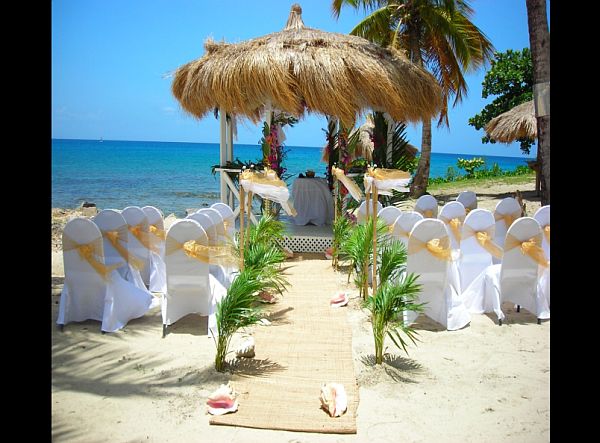 You will have yet another experience of the rural life of St. Lucia when you choose this resort as your wedding venue. This hillside villa has all the treasures of nature in the form of beautiful gardens, natural waterfalls, lush landscape and private pools that overlook the beach. This resort renders the most sought after privacy to the would-be married couples by virtue of the natural barriers of trees and floral bushes that seclude each of the villas of this resort from the other. You can indulge in scuba diving and the exuberant night entertainment too that is offered in this resort.