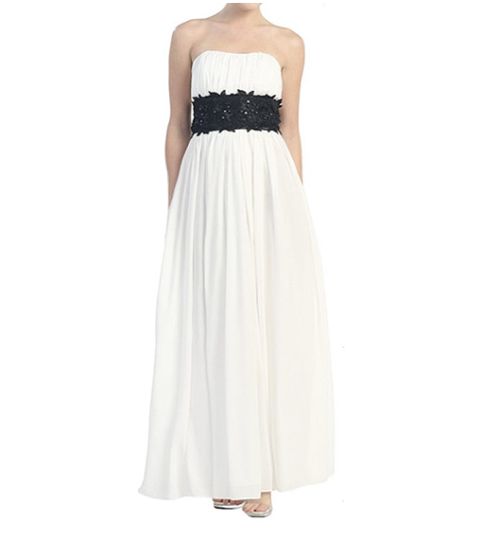 Bridesmaids stand next to the bride and support her in getting over her anxiety and troubles. They help her in making all sorts of arrangements and by supporting her morally too. What if a bride wants some of her expectant friend to be her bridesmaid? Finding appropriate dress that doesn't make her look fat and awkward would be the first thing on bridesmaid's mind. Significance of bridesmaid's dress cannot be overlooked. Therefore designers have designed plenty of stylish dresses keeping in mind comfort of would-be mothers. Given below is a list of ten such gorgeous maternity bridesmaid gowns for you to choose from.

1. Abigail Maternity Gown
BRAND : Abigail Dresses
PRICE : USD 209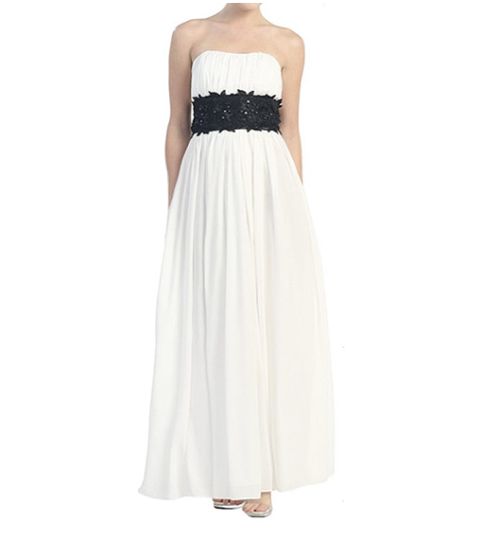 It's a beautiful white dress designed in a very elegant and stylish way. This dress has been specifically designed for women in maternity phase. It's a strapless gown full of romance and style. The bodice of the dress has slight elastic around the top to give a tight and reliable fit. There is a shiny belt attached at the waist to give it a feminine fit. This contrast color belt is the most attractive part of this dress. It's a full length gown with free flowing skirt.
USP
White strapless gown with beautiful black sparkle belt makes it look extremely attractive.
PROS
The dress features flared skirt for free movement and easy dancing.
Complete dress has been designed with two layered flyaway silhouette and elastic has been provided at the top for nice feminine shape.
It also has a back hidden zip for easy wearing and taking off.
2. JLM Couture Maternity Bridesmaid Gowns by Jim Hjelm Occasions – Style 521m
BRAND : Jim-Hjelm
PRICE : USD 263.7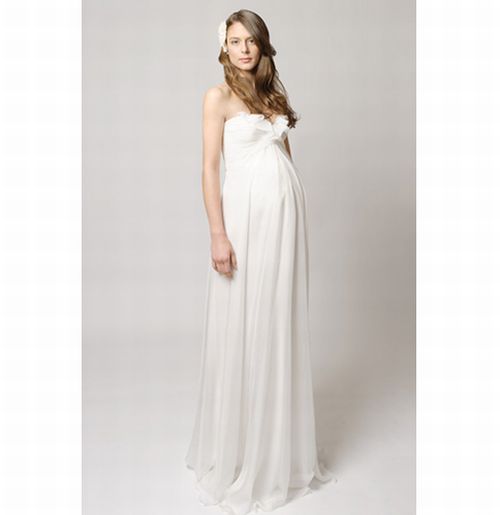 If you are looking for something sober and stylish then this dress won't disappoint you. It's a nice dress with simple silhouette and eye pleasing color. It is the dress that any pregnant women would to love wear. It is a nice A-line gown with thin shoulder strips. It is sleeveless and has been crafted in beautiful ice blue shade. It features empire bodice that gives it a nice bust fit and does not make it look loose. Front has been beautified using ruched designing. Thin lining has been provided.
USP
This gorgeous gown features shirred front with empire waist crafted in chiffon.
PROS
It has got a tie bow at the back that helps in tightening it according to preference and comfort.
3. Maternity wedding dress from Tina Mak
BRAND : Tina Mak
PRICE : USD 1300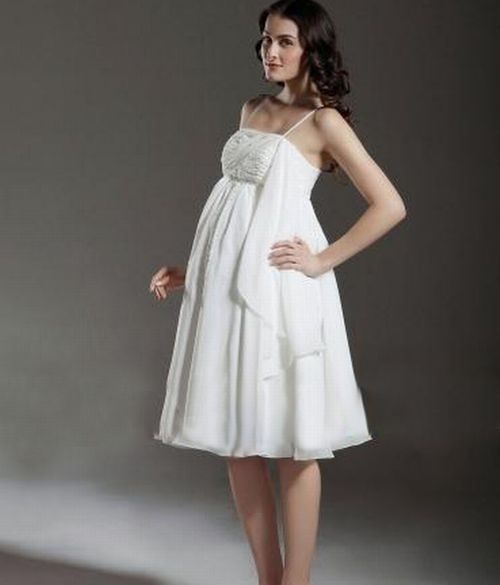 This dress has been designed by well known designer Tina Mak specialized in designing elegant maternity wedding dresses. This beautiful dress has been designed in ivory. It's a nice combination of simplicity and style. Nothing in this dress has been made using heavy fabric or bulky lines. It's a full length strapless gown full of style and comfort. Hem of the dress also looks beautiful. It's a nice dress suitable for evening parties as well. You can put beautiful hair flower and chandelier earrings to complement this dress.
USP
The most striking part of the dress is its frilled sweetheart neckline with ruched bodice.
PROS
Each and every part of this dress is soft and flowery.
It has been designed in a way that gives plenty space to tummy area for would be mother's comfort.
4. Chiffon-Empire-Column-2011-Pregnant-wedding-dress-9327
BRAND : San Patrick
PRICE : USD 229.5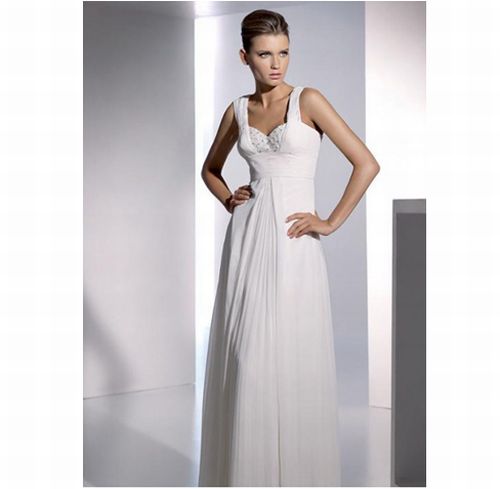 This dress has been beautifully crafted using chiffon. It features attractive sweetheart neckline. It has empire bodice decorated using beads. Skirt is quite simple and elegant. Ivory color looks extremely stunning on fair body. It features slight chapel train that makes it a perfect bridesmaid dress. It is sleeveless and has nice thick shoulder straps to hold the dress. Front part of the skirt is very pretty with ruched chiffon style. Its column shape fits quite close to the body giving it a nice womanly shape.
USP
Handmade beading at bodice is the most remarkable feature of this beautiful chiffon ivory dress.
PROS
It supports back zip for proper fit and convenience.
It's an elegant dress suitable for special occasions as well.
It has been crafted using high quality fabric for comfortable fit.
5. 2012 Soft Chiffon Chapel Train Maternity Wedding Dress 9373
BRAND : Pronovias
PRICE : USD 238.5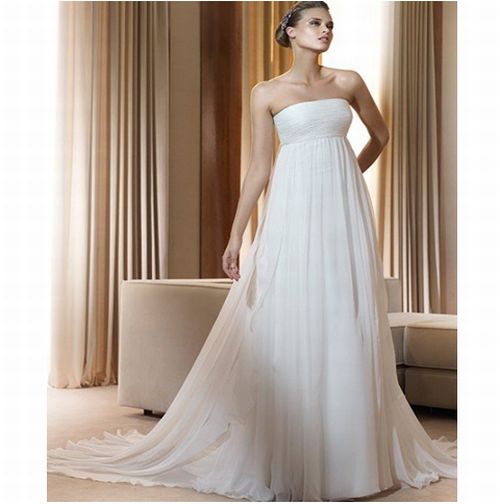 This one is the most gorgeous and elegant Maternity Wedding Dresses. It has been crafted in beautiful off white that perfectly complements your fair skin. It's a sleeveless gown with no straps. It features empire waistline to distinguish between bodice and the skirt. Skirt is gathered and has been crafted using lots of fabric to give it a loose comfortable fit. The skirt is elongated to form a chapel train that looks extremely graceful.
USP
Most attractive part of the dress is its soft chiffon chapel train that makes you looks like a Barbie doll.
PROS
Its loose fit makes it best for pregnant ladies or large size ladies.
6. Maternity Bridesmaid Skirt Style No. BR84
BRAND : Jordan Fashions
PRICE : USD 110.4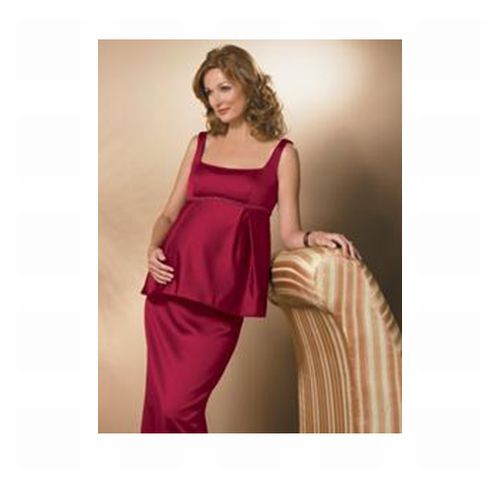 This pretty dress has been crafted in Crystal satin. It features A-line maternity panel which doesn't make you look fat and awkward. It's a two piece dress and is available in many beautiful colors. It features a stylish tank style maternity top. The top features nice sleek strips over shoulders and nice bust fit. It has empire waist top with loose fit below bodice to make it comfortable for pregnant women. The entire dress including its skirt has been crafted in cranberry which makes it look extremely eye catchy. The top has been designed in a way that doesn't make you look fat but provide enough room for your maternity phase.
USP
Maternity top beautified with beaded trims makes this outfit a perfect bridesmaid dress.
PROS
It is made up of fine quality fabric which makes it look stunning for every wedding party.
7. Alfred Angelo 7016sma
BRAND : Alfred Angelo
PRICE : USD 159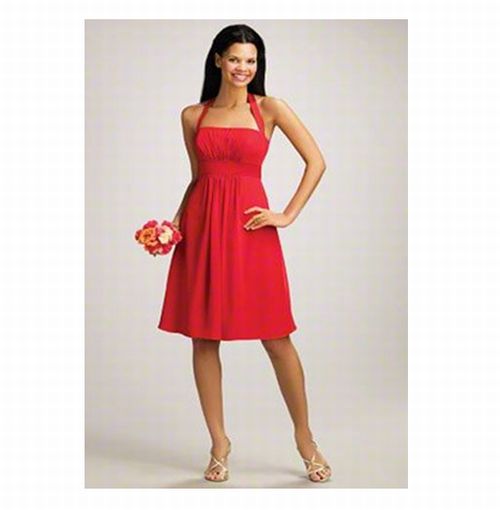 This is a stylish dress for fashionable women in maternity stage. It has been crafted using smooth satin in red. The red color in itself makes it look striking and dominating. This dress features halter neckline that gives it a very nice shape. It feature A-line silhouette with empire bodice with broad belt. Bodice above the belt at the front is somewhat ruched which looks very attractive. Skirt is neither too flared nor too tight. It is just right to give you a nice comfortable fit. The length of the dress is till knees. It looks extremely pretty with high heels and sparkling earrings.
USP
It's a gorgeous A-line dress crafted in chiffon that makes you look graceful and pretty.
PROS
It's a party wearing dress best suited for occasions like summer weddings, spring parties and chapel weddings.
8. Alfred Sung M415 Maternity Bridesmaid Dress
BRAND : Dessy
PRICE : USD 95.22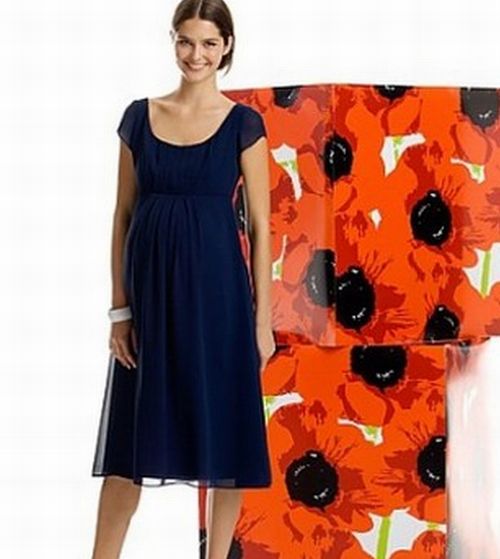 It's a gorgeous Tea-length Nu-Georgette maternity dress. It's a simple and elegant dress with comfortable fit. The dress features a broad round neck with cap sleeves. They are available in various beautiful colors like black, pink, banana, violet, cherry, merlot, ginger, oasis, clover, midnight and many more, but this black color has something extremely attractive and eye pleasing in it. They are perfectly designed for women with bust size 32 inches. It's a nice dress available at a very reasonable price.
USP
Lush black color of this magnificent dress makes it look more tempting and alluring.
PROS
It's a nice blend of simplicity and comfort.
Easy to wash and maintain because of its make in Nu-Georgette fabric.
It is fully lined for comfortable fit.
9. Bill Levkoff 91012 Maternity Bridesmaid Dress
PRICE : USD 151.8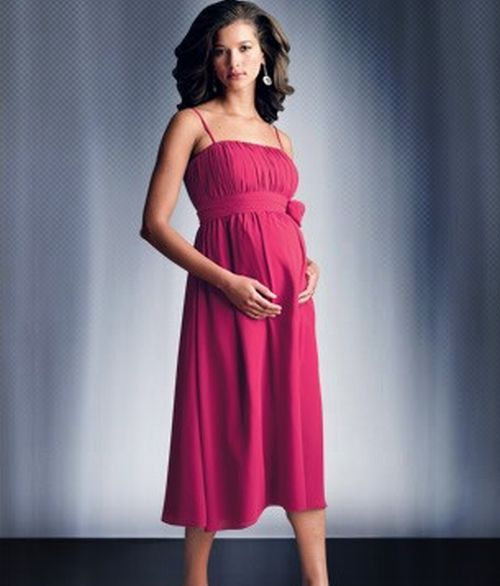 It's a charming dress to make you look gorgeous and stylish even in your maternity phase. It has been crafted in maroon chiffon and has been accented using off center ruched band. This dress features empire waist and the length of the dress reaches below knees. The bodice of the dress has been made with vertical pleats. The dress features side attached sash that is to be tied at the back. They have got thin shoulder strips to hold the bodice in shape. Each and every part of the dress has been crafted keeping in mind the would be mother. No compromises have been made with the comfort as well as style of the dress.
USP
Ruched belt with pleated bodice crafted is chiffon is the most attractive part of this dress.
PROS
It features extra gathered empire-waist to provide flattering fit for would-be mothers.
This dress is extremely comfortable to wear for women of all figure types.
10. Eden Bridals Maternity Bridesmaid Dress Style MB7099
BRAND : Eden Bridals
PRICE : USD 150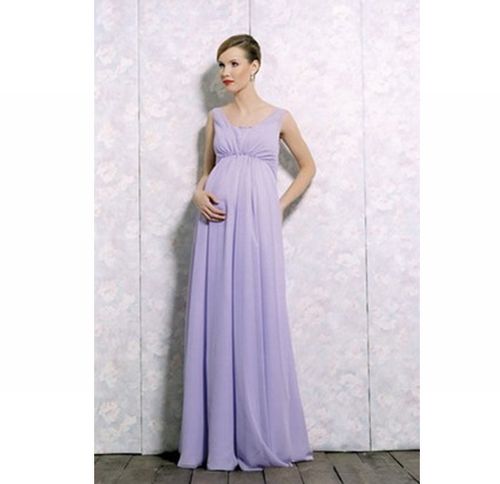 It's a nice maternity dress from Eden Bridals. It has been decorated using beaded bodice. Embroidery accents and sequins are also provided to add spark to this beautiful dress. It has been crafted in chiffon. It features spaghetti straps decorated using beading. It is a full length dress with empire waist. Skirt of this dress is quite flared to hide you tummy in a very stylish manner. The color of the dress is equally pleasing. It has been crafted in soothing mauve color that pleases eyes with its grace.
USP
Full length maternity bridesmaid dress with empire waist and ruched bodice makes you look splendid.
PROS
Zip has been provided at the back of the dress for proper fit and easy wearing and taking off.