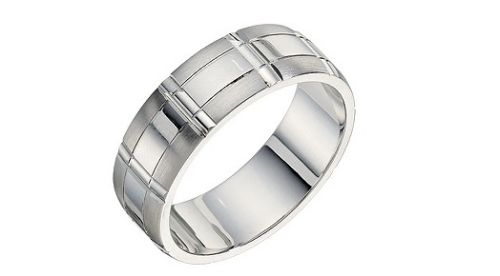 Gone are the days when rings were worn as a piece of jewelry only by the women folk to enhance and adorn their articulate and beautiful fingers particularly at the time of their wedding. With the changing fashion trends and growing consciousness among the younger generations, even the men folk have now started showing equal excitement and charm while choosing a wedding ring for their D-Day. However, a wide variety of beautiful mesmerizing designs differentiated on the basis of elegance, class, price tag and material are available online and at all leading stores, thereby giving you an option to select from a vast selection of unique, classic and contemporary finger rings without putting in much effort. Let's take a look at some of the best male wedding rings which have been shortlisted here-under for your easy reference.
9ct white gold patterned wedding ring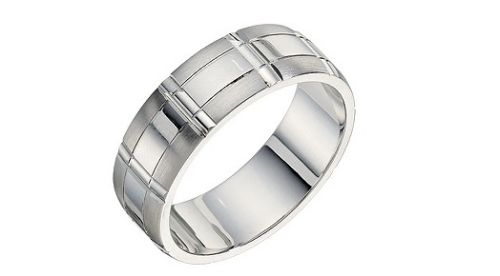 This beautiful and elegant 9 carat gold patterned wedding ring breaks through the classic design constraints, imparting a trendy and contemporary look and style in white gold with matt finish. The detailing has been done by creating many grooves on its surface at regular intervals. This creation has been incorporated and showcased exclusively to Earnest Jones men's wedding ring collection for their latest range of 'love and life.' This ring measures 7 mm in diameter and is available in many sizes ranging from P to Z. However, it can be ordered online on their website link at www.ernestjones.co.uk against a payment of 350 pounds.
18ct two-colour gold wedding ring

This unique male wedding ring has been hand crafted by world's leading diamond cutter Leo Schachter in 2-color 18 carat gold setting with a 15 point Leo diamond which reflects light like no other diamond due to its outstanding cut. The diamond solitaire piece used in this ring is round in shape and has a clarity of SI2 and an I class diamond color.The shank has been engraved from inside which has a width of 4 mm. This ring can be purchased at a price of 1500 pounds and it comes along with an international diamond certification.
18ct white & yellow gold men's wedding ring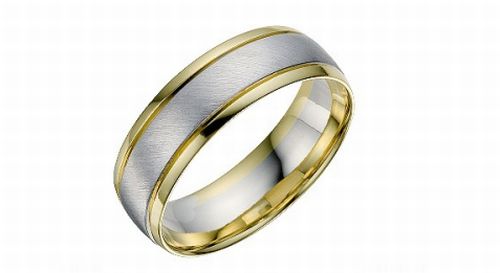 This ring is a perfect mix of classic design and contemporary elegance. Made in 18 carat white gold with a matt finish, this beautiful band has been edged with a yellow gold lining which makes it class apart. Its width measures 6mm and is available in a wide range of sized from M to Z. Designed exclusively for Earnest Jones collection of wedding rings, this masterpiece can be acquired online at a price tag of 699 pounds.
Tioro Men's Diamond Engagement Ring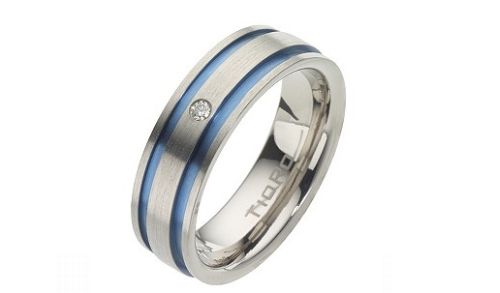 One of the best engagement rings for men, this one's a perfect choice to propose to your man. An exclusive design by Tioro, this ring has been created by using titanium and a round solitaire diamond piece in the most modern and stylish manner in a contemporary format. The bluish tinge running along the two sides makes it extremely adorable and enticing. The diameter of this ring is 7 mm and it has been rated at 129 pounds.
Men's platinum wedding ring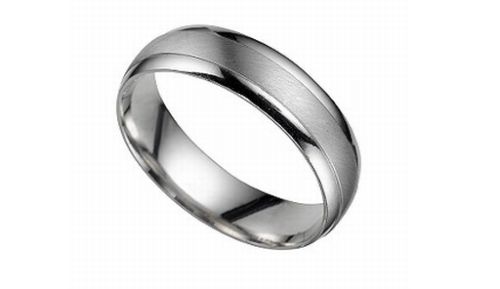 This elegant-looking men's wedding ring is sure to make your special day last till eternity. It has been designed most luxuriously in platinum with a matt finish and polished edges. The width of this ring measure 5 mm and is available in sizes ranging from P to Z. However, to grab this one, you can order it online at the Earnest Jones' website against a price of 1050 pounds.
Sterling Silver Mens 6mm D Shape Wedding Ring, S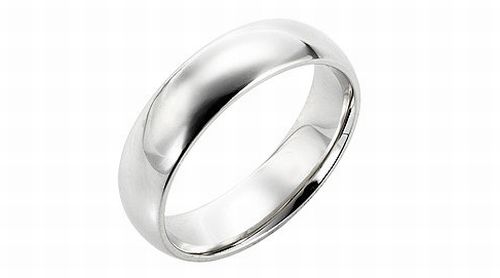 This men's wedding ring in sterling silver has a D shape design and the width of its band measures 6mm. 5.9 grams of gold has been used to create this beautiful men's ring in R size. Falling in the category of quite an affordable range of wedding ring collection, this band is priced at as low as 32 pounds only and caters to the requirement of a large segment of people.
Men's Centre Groove Polished Wedding Ring – 16gr Platinum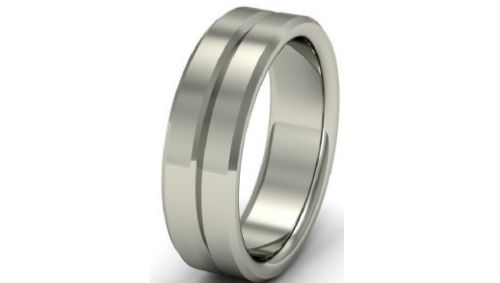 A product from the 'Rocks Round the World,' a worldwide established brand that specializes in providing high quality gold jewelry at the most competitive rates, this wedding ring offers you a high quality wedding ring with an elegant design feature for the one that you love. Made out of 950carat hallmarked platinum,its center has been grooved to impart a stylish and flat court to its profile. The thickness of this band is 5mm and it weighs around 16 gm.This beautiful and attractive wedding ring appears both elegant and stylish when worn and comes packed in a beautiful wooden jewelry presentation gift box. The price of this ring is 1,532 pounds and is available in sizes ranging from R-Z.
Men's platinum polished and matt wedding ring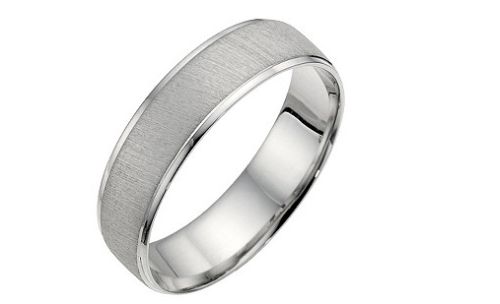 This modern men's wedding ring comes in a contemporary design with a mix of both matt and polished effect. Made in pure platinum metal, its width accounts to 6 mm and is available in almost all sizes from F to Z. Part of Earnest Jones wedding ring collection, the price of this band is 1,350 pounds.
Groom's 9ct White Gold Wedding Ring

This beautiful ring makes the perfect choice for that special wedding occasion, and also to adorn your man's fingers forever as it reflects a perfect blend of modern style alongside an elegance par excellence. Two sparkling diamonds have been set along with stunning 9ct white gold to create this enchanting wedding band. Available in a wide choice of sizes, you can even add a personal touch to it by getting a maximum of 25 characters message engraved on it for an additional cost of 21 pounds. However, the standard price of this band is 399 pounds.
18ct Yellow And White Gold Wedding Ring 6mm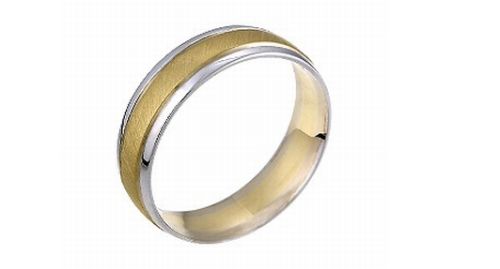 This stylish wedding ring most appropriately symbolizes your unity, love and affection. Measuring 6 mm in width, this beautiful men's wedding band reflects a stunning combination of 18ct white and yellow gold which imparts an extraordinary appeal to it when worn. The sizes available are from F to Z, at a cost of 650 pounds.
This mesmerizing collection of men's wedding rings showcase a perfect blend of classic and modern designs with contemporary surface ornamentation so as to meet the varied requirements and preferences of people from all walks of life.