Embracing your body while you walk down the aisle, your wedding gown is not just a piece of some expensive fabric draping your body. It is more than that. It tells a story of a beautiful woman who is an epitome of love, sensuality, commitment, and sacrifices. In short a bride! Your gown will say a lot about how you value these elements of a married woman. It will exhibit your attitude, your style, and how you carry yourself. So, when you go out to buy one, do not just go by its popularity or price. Inspect well, ensure, and only then buy. Make sure whether it has all that, which you think are necessary for a wedding gown to radiate.
There are many brands, which claim to craft the best wedding gowns. While most of them are very near to the 'claimed fact', few live up to the expectations. Monique Lhuillier is one amongst them. The brand is known for its gorgeous and extravagant gowns. The rich and famous can most often be seen boasting of a Lhuillier. The name does not need any intro. It speaks for itself.
In 1996, when Monique launched her first bridal collection, little did everyone know that it will rise up to become one of the best in the business. With her husband Tom Bugbee she stepped into the bridal market scene and took it by storm. Primarily inspired by her mother's extensive travels and glamorous style, she started designing stunningly classical and romantic gowns. However, price was always an issue. Not all can afford the cost meant for the riches. For those hopeless fans of Monique, a good news has just sunk in. Lhuillier is all set to launch a new and streamlined audience friendly collection. The gowns for brides, their maids, and evening purposes now will be well within a middle class aspirant's reach.
To help you out in your quest for a perfect wedding gown, here we have picked 10 Lhuillier dresses for you.

1. Monique Lhuillier Glory with asymmetrical drape
BRAND : Monique Lhuillier
PRICE : USD 3500
A look at this wedding dress and you will know what sophistication looks like in its visual form. Glamorous yet stylish, this ball gown styled wedding dress emits radiance. It has been named 'Glory' and lives up to its name. This floor length gown is available in ivory, white, champagne, and beige colors.
USP
This honey princepessa gown in satin flaunts a luxurious look – as if you just stepped out of a horse driven chariot. The bow detail on the side works well to make you look like a princess.
PROS
The asymmetrical drape is giving a unique look to the gown. It also gives a slimming effect to those who have a heavy lower body.
A line silhouette disguises heavy legs, hips, and buttocks. It is universally flattering for all body types.
2. Monique Lhuillier Wisteria with one shoulder
BRAND : Monique Lhuillier
PRICE : USD 3500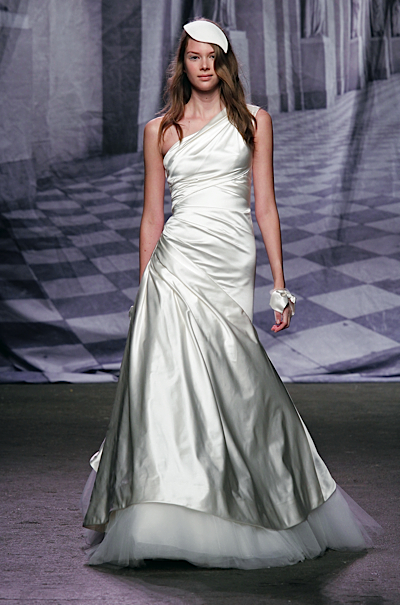 A beautiful butterfly fluttering through the swarm of admirers who are looking up to her, holding their breaths in awe of her ever so elegant appearance. This is what this gown will do to you if you walk your aisle wearing this. The asymmetrically ruched skirt plays with the simple classic look of the gown.
USP
The hem line is of a distinct peek a boo style, exuding a look that is experimental yet gorgeous.
PROS
Caricata silk satin is known for the sober shine it emits.
One shoulder gives a flirtatious look to its classic style.
3. Monique Lhuillier Augustine with satin ruched belt
BRAND : Monique Lhuillier
PRICE : USD 7001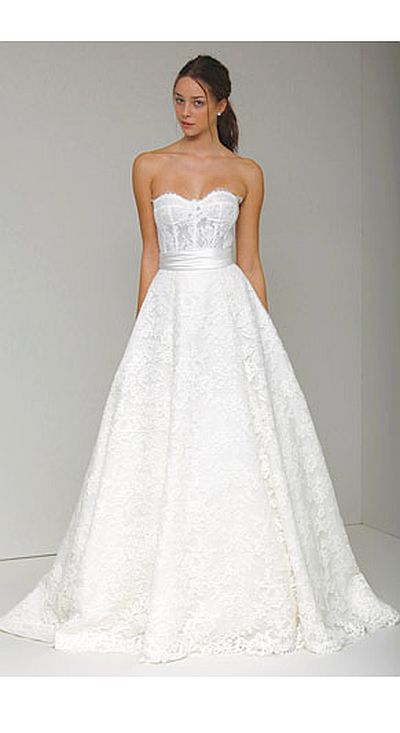 This strapless gown is a 'good girl's' choice. An ideal piece of wedding clothing for an ideal bride! The gown flares out from the waist. Donning this, you will look like a princess who is soft, tender, and pure. The lacquered re-embroidered lace in the corset area looks different and lovely.
USP
The gown looks very well crafted because of the style that has been followed in the bodice and the skirt area. The satin ruched belt completes the whole look by breaking the monotony of a single pattern.
PROS
A line silhouette is universally accepted for all body types.
If you have a heavy lower body (hips and legs), this A line gown is a blessing in disguise.
4. Monique Lhuillier Dasha with floral embroidery
BRAND : Monique Lhuillier
PRICE : USD 7001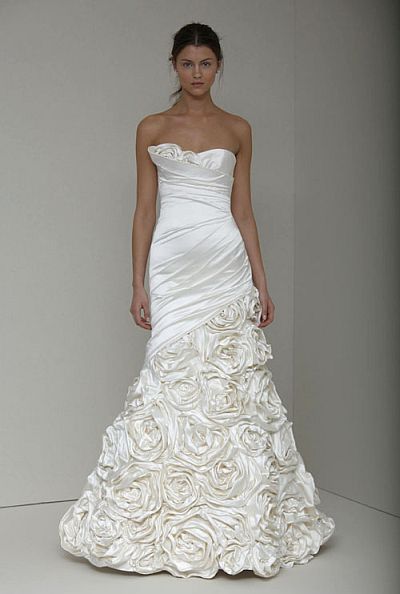 With a dash of floral embroidery in the skirt, this gown speaks the eternal language of exquisiteness that defines womanhood. The silk caricata satin gown looks graceful and appealing to eyes. The bodice is asymmetrically draped and looks unique.
USP
Floral embroidery in the skirt and bust area gives a dramatic appeal to the gown. A tint of vintage appeal is added to the whole look.
PROS
The rose embroidered skirt instantly draws your attention to it. So, if you have a bulging tummy or if you are narrow on top, this dress will very cleverly hide all these imperfections.
An elongated bodice is best suited for short brides. It gives the illusion of height.
5. Monique Lhuillier Phoebe with bella tulle
BRAND : Monique Lhuillier
PRICE : USD 5001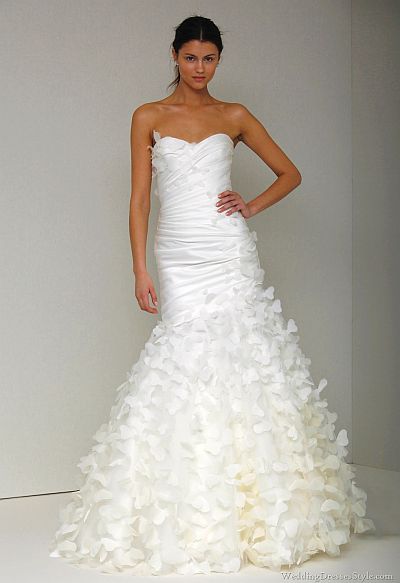 Simple, sober, and striking, this plain gown evokes the charm of morning elegance. The 'dew drop fresh' look is meant for a bride wishing to become the chaste goddess. Featured in ivory color, this gown has a bella tulle giving you a feminine look.
USP
The best part with this gown is that while fulfilling all its qualities of a beautiful wedding gown, it ensures that the accessories worn with it get proper emphasis. If you plan to wear a tiara or a veil or any heavy piece of jewelry with it, they will get full attention. This is because the plain whiteness of the gown will complement anything worn with it.
PROS
Gazar jewel neckline is perfect to flaunt any jewelry with it.
This trumpet gown is perfect for slim bodies.
The asymmetrical drape gives a twist to this plain gown in terms of styling. It is a perfect option for those who are ready to experiment yet in a classic way.
6. Monique Lhuillier Bellflower with tufted skirt
PRICE : USD 5001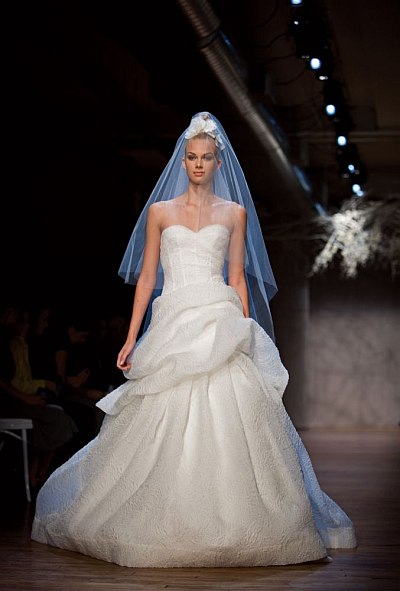 First look at this gown and you will see all the traditional conventional styles of a wedding gown being broken. Ivory colored, this gown dares to look different and bold. When you walk wearing this gown, eyebrows are sure to be arched. So, if you are born to command attention, 'bellflower' is the gown to go for.
USP
The unique gown has a full hand tufted skirt, which looks unusually beautiful. This gown is for the bold and beautiful.
PROS
Silk organza is considered to be one of the best materials for wedding gowns.
The strapless cross over draped bodice is another element, which adds a sense of remarkable style.
7. Monique Lhuillier Inspiration with embroidered skirt
BRAND : Monique Lhuillier
PRICE : USD 7000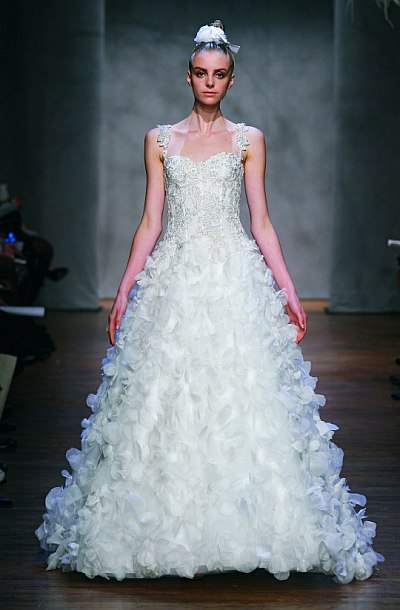 We chose this dress because it looks like one designed for a funky bride who loves the fall splendor. The bodice has a beautifully embellished design and glitters to steal away the show. Colored in ivory, 'Inspiration' is a dress made for those who had always admired Chantilly lace.
USP
If your notion of a bride walking down the aisle is that of a show stopper or rather a stunner, pick up this dress and stun everyone.
PROS
An embellished corset with floral straps gives it a full look, which is all that you need to set across a fairytale story.
A drop waist and fully floral embroidered skirt complement the fairytale theme.
8. Monique Lhuillier Florence with lace work
BRAND : Monique Lhuillier
PRICE : USD 7001
This dress in ivory features an embroidered lace corset, which is strapless. The skirt also has a stunning lace work that is hand appliquéd. Florence is crafted to give you a confident look that comes with elegance. Pair it with a chapel veil and off you go to steal the show.
USP
The body hugging sheath that flares at the knees gives an imperial appeal to the whole gown. An elegant bride can never ignore this gown.
PROS
This trumpet gown is perfect for tall slim builds. You can wear selective undergarments, which provide extra curves to flaunt a shapely body.
Busty brides can also don this dress to accentuate their curves.
9. Monique Lhuillier Taylor with sweetheart neckline
BRAND : Monique Lhuillier
PRICE : USD 3500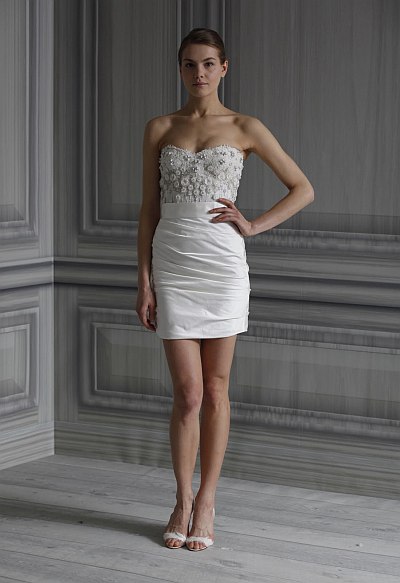 You look like a sex goddess! You have chiseled legs, shoulders, and arms and the last thing you would want to do on your wedding day is hide your assets. If this story fits your situation, then pick up your cards and cash and spend 'em at this sensual piece called 'Taylor' at Lhuillier. This figure hugging dress will embrace your body like no other and will bring out your hottest avatar.
USP
For busty bodies, the tight fitted waist gives an hourglass figure.
PROS
The satin belt in the middle divides the dress into bodice and skirt, each having a unique style of its own.
A floral embellished corset looks chic and rich.
The mini drape skirt in ivory features asymmetrical drapes and follows the body lines.
10. Monique Lhuillier Pippa with re embroidered lace lingerie bodice
BRAND : Monique Lhuillier
PRICE : USD 3500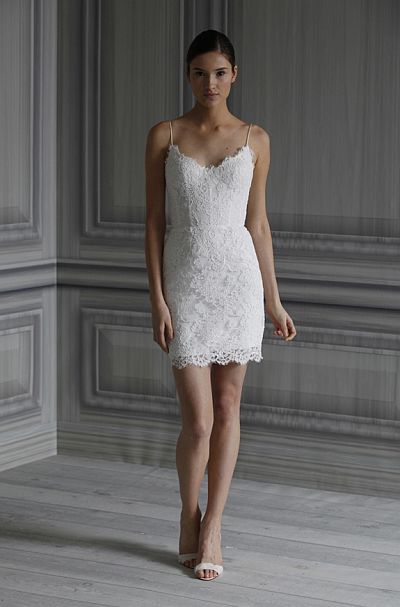 This last dress made its way to our list owing to the uber bold look it exhibits. The white dress in silk, features a re-embroidered lace lingerie bodice. Since it is a sheath dress, it is ideal for petite women. The natural waist line looks very feminine.
USP
You got hot legs? Wear it and flaunt them. The biggest USP of this dress is that it allows the world to see how hot you are.
PROS
It follows the body's curves from top to your thighs.
This dress is best suited for casual or beach themed weddings.