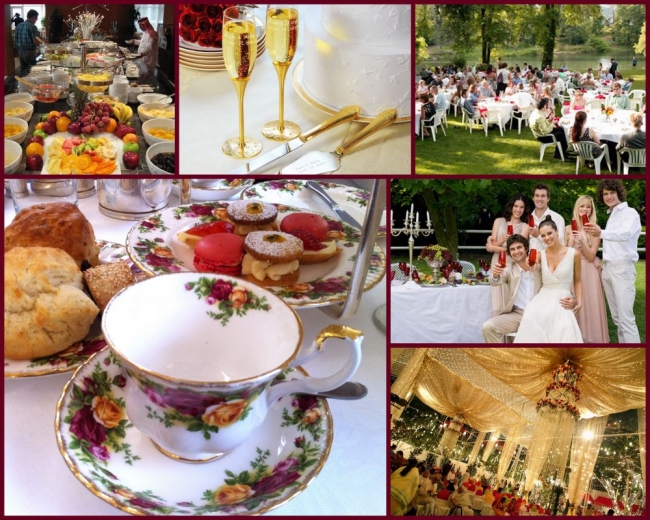 Your wedding party is a special occasion. It has to be planned in such a way that all the people participating in it feel very convenient about the time, date and place. So research well on all these aspects and choose a suitable time. Some of them may favor an early morning party, while there are many people who like to party into to the night. Some of them keep it very simple and finish the business by tea time. What kind of party do you prefer? Let us look at some of the different kinds of wedding receptions so that it will help you to choose the best. Given below are six wedding reception types.
1. Brunch or breakfast reception
If you have planned for a sunrise wedding, then you may want to have a brunch or breakfast reception. Such parties often have traditional breakfast menus that include classic items like frittata, quiche, eggs benedict etc. Sometimes guests can even get to order foods like French toast and omelets. For adding a touch of sophistication you can include items like caviar, smoked salmon, roast beef or turkey. To spice up things you can include Bloody Mary's, Mimosas and Bellinis with coffee. The best thing about this kind of reception is that it is less expensive as people will drink less alcohol. If you are planning for a honeymoon, you can start the same day. The only difficulty is that people who have to travel for about two hours may have to get ready too early to reach the location. You can add a new twist to this type by turning it into a cocktail brunch.
2. Lunch reception
If the wedding is taking place in the morning, you may need some time to get ready for the reception. Consider a lunch reception. You can have your favorite dishes served for inexpensive prices. If you are getting ready for a honeymoon, you have enough time to go on the same day. In case you are planning to go on the next day, then you need to plan for other activities for the rest of the day. For a change, convert the reception in to a picnic reception. Have packaged meals and find a good location for the party. Or else, take the guests to your favorite restaurant.
3. Afternoon tea
High tea is an old-fashioned way of entertaining the guests. You may not have enough opportunities to indulge in such events. For more fun-filled type of parties, try to organize an afternoon tea party. You can serve a wide variety of dishes such as cute desserts and tea sandwiches in the afternoon. Other things to include are your wedding cake, petit fours, tartlets, finger sandwiches, champagne and hot teas. This type of party is much cheaper than a dinner party. And, it's a perfect occasion for adding a vintage touch to the party. Though the event may look a little girly, it can make your male guests feel out of place. Make a few changes by adding iced teas and some tea offerings.
4. Champagne and cake reception
This is one of the least expensive wedding receptions. Most of the weddings had this type of reception earlier. The guests will gather around immediately after the ceremony and have the cake and toasts. The guests can be asked to stay back for the reception in the same room or in the garden. For better understanding, add the line ' cake and champagne to follow' in the card. This is one of the best ways to party when you have a small gathering. Though some guests may expect some more, you can keep the reception short and sweet.
5. Cocktail wedding reception
Cocktail reception is stylish and elegant because it lets all your guests to meet and greet others. They can be more relaxed and enjoy a sit-down meal. People will really like the feel of the party. Small venues are best suited for the cocktail reception because they make it feel as if there are many guests at the party. You can easily go around and meet everyone. This kind of party may not be as cheap as you think because the guests may drink more. Most of the guests may also be standing which makes it difficult for seeing the first dance.
6. Dinner wedding reception
This is the most formal and classic style of wedding reception. The buffet dinner or the sit-down style allows you to enjoy the whole occasion greatly. You can meet all your guests and invite them to the dance floor as well. The party begins with the cocktail hour, followed by dinner, dancing, cutting the cake and tossing the bouquet etc. All your guests will feel very special and enjoy the party greatly. This is the most expensive type of wedding reception and you may have to wait for long for your wedding night to begin. To make your reception more exciting, you can add an element of surprise by serving a surprise midnight treat or early breakfast.
Via: Aboutwedding