From cocktail length dresses to gowns with Southern belle, Oscar de la Renta, the veteran fashion designer, showcased an array of fashionable bridal trends for his Spring 2012 Bridal Collection. While his collection introduced some off-the track bridal trends, it was the simpler designs that appealed to the audiences at the highest degree. In terms of wearability and femininity, his exceptional bridal collection offers designs any frugal fashionista would love to don. To know more about his collection, have a look at some of the brightest and, of course, the not-so shining moments that were featured in the runway.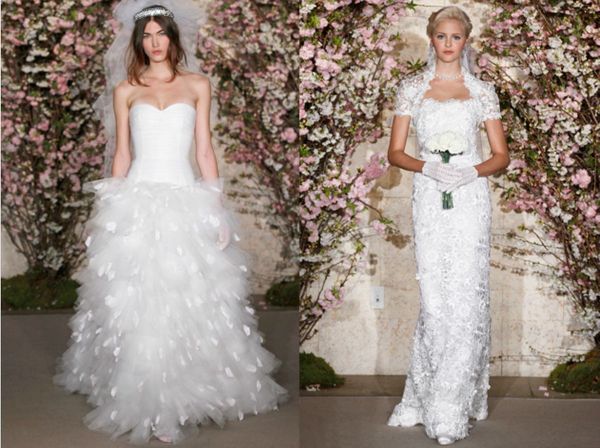 Designer
Regarded as one of the world's renowned fashion designers, Oscar de la Renta and his bridal dresses only spell fierceness, fashion and femininity. Along with the other prestigious awards by his side, he was also named in the International Best Dressed List Hall of Fame in the year 1973. He works as a board member for Carnegie Hall, WNET and Metropolitan opera, and is also extensively engaged in several social and charity organizations.

Inspiration and Goal
At the age of eighteen, Oscar de la Renta left his hometown to pursue his dreams in painting in Madrid. While spending his graduation years in Spain, he became inclined to the world of design and began sketching for some of the eminent Spanish fashion houses. Soon he was called for an apprenticeship for Cristobal Balenciaga, and then his journey from a painter to a leading fashion designer began. In the early stages of his fashion career, he was designed custom clothing for Elizabeth Arden and also made shoes and accessories for Christian Dior. He used to design haute couture collection for a French fashion house, Balmian. Later, he inaugurated his own fashion house and the clothes designed by him have been worn by various celebrities such as Tina Fey, Megan Fox and Hillary Clinton.
Spring 2012 Bridal Collection
Sharing the same frequency with his prior runway success, Oscar de la Renta started off the Spring 2012 Bridal Collection with a full on glamorous white, floral embellished bikini, which was worn underneath a silk organza caftan. This glitzy outfit, if it suits your taste, will work wonders when worn in a beach wedding. The bridal collection wasn't only focused on modern/sassy brides, but some traditional designs were too incorporated in the collection, including spring patterns, flower child themes, lady like trumpet silhouettes, ruffled and lace ball-gowns.
The next ultra-chic bridal outfit channeled in the collection was the tulle shimmer sweetheart bodice dress that featured a sequined embroidered bodice and a ruffled or tiered skirt. This fashionable bridal dress is apt for a perfect traditional wedding.
Among other fashionable bridal pieces, Chantilly lace bodice gown featured a long, cascading ruffle train trussed to a charming tulle skirt. Not only this gown allows you to show off your bridal shoes which most of the bridal dresses don't allow but its snugly fit sweetheart bodice gown will look more flattering on any silhouette.
While there were some bridal dresses which failed to create magic. Case in point, inclusion of fur in Spring/summer collection wasn't digestible as they made dress too heavy and overcrowded. Also, a dress that was designed with a glistening tulle looked more like a plastic cling wrap than an innovative bridal dress.
The Fab Factor
Oscar de la Renta's Spring 2012 bridal collection was immensely engaging. Instead of some minor flaws in the collection and lack of the actual Oscar de la Renta's cohesion, his Spring 2012 collection was convivial and breathtaking. Whether you regard the square neck bridal gown or Taffeta wedding gown or even silk faille strapless gown, you will certainly find this bridal collection satisfying. The collection offered much more than originally expected and it was liked and followed by many brides-to-be. Most importantly, it swirled around the pinnacle taste of Oscar de la Renta.