Wedding is the most important day of your life. So, everything needs to be perfect from your wedding clothes to invitation to decorations to gifts. Everything should be the best yet under your budget. Especially the wedding invitations must be carefully selected as invitations give the very first insight about your wedding themes to the guests. If yours is a Halloween wedding, the invitation card must reflect whether it is a simple wedding or the one with complete bash that has all the terror tactics. It's not hard to find invitation cards designs, but the main difficulty lies in selecting the best one that matches your theme.Here are some tips to help you make a perfect Halloween invitation for your wedding.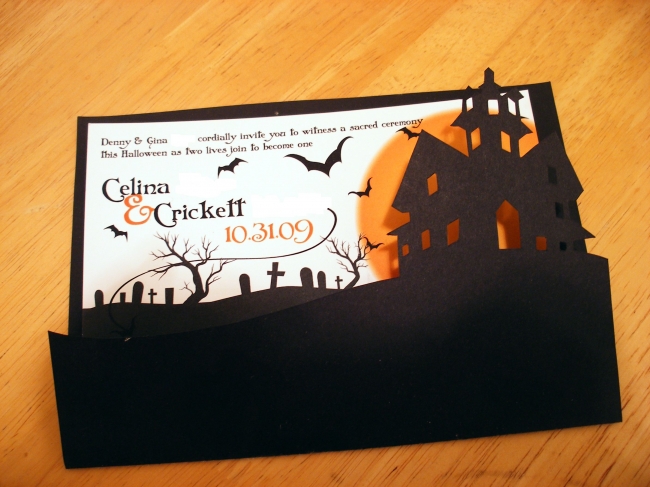 1. Simple and elegant Halloween invites
The easiest way to make a Halloween invitation is to make use of black and orange cards with traditional wordings as well as fonts. You can also go for black envelopes that have silver lining within and an orange card stock that has silver or black printing. Also make use of customary bride and groom clip art, wedding bells or monograms to design the invite. Pumpkins and leaves will also add a beautiful touch to your card.
You can also select some of the well-liked color combination for stylish Halloween invitations, such as black and red; yellow, navy blue and orange; black, purple and orange or orange and beige. Combine these colors with clip arts that will reflect your Halloween wedding theme to the invitees.
2. Halloween-themed designs
Couples who are planning for a costumed and perfect Halloween wedding mainly go for card design that reflects it very well. You may consider cutting the invitation in the shape of the black cat, haunted mansion, pumpkin or a witch's hat or broom. Use a black card stock that has vivid red colored blood splashes across. Also add designs by using clip arts that feature some popular couples in Halloween costume that will represent the bride and groom. Whatever you chose, keep in mind that the design goes with the needs of the Halloween invitation.
3. Halloween invitation wording
The invitation card is the most crucial thing in a Halloween wedding as it will allow the guests to make an idea about the wedding theme or what would they expect your wedding to be like. It is important to let your guests know if they have to dress up accordingly to take part in the odd ceremonies.
4. Tips for Halloween wedding invitation
Writing a Halloween invitation is not an easy task. The invitation should serve as a mirror image about the theme as well as remind guests that it is actually a wedding ceremony. Include RSVP cards with ceremony and reception details that are done for any wedding invitation. Remember to mention the word WEDDING somewhere in the card to make out that it is not an invitation for a Halloween party. Use free templates, graphics and clip arts to save your money. You can also include a picture of the bride and groom in Halloween costumes.
5. Try to be creative
To develop a unique wedding invitation, creativity is very important. The more creatively you think, the more attractive your invitation card will be. An attention-grabbing invitation will articulate the theme in different colors, images and shapes. An admirable image would of a pumpkin, a vampire or a witch and skeletons. You can use colorful sheets in green, orange, red colors to imitate the shapes. Another great idea would be making use of pop-up images of creatures and monsters.
While looking for a wedding invitation, you should always consider the budget. Finding a perfect invitation card is not expensive. You can also opt for a scary invitation without getting scared about the prices. It is a fact that Halloween wedding invitations draw guest attraction easily. All you need is to spend some time to find your perfect card that reflects the style of your wedding as well as your personality. Wedding invitations for Halloween weddings are all full of fun. Despite the scare-factor of the wedding, attendees will be grateful to know the theme of the marriage before it.