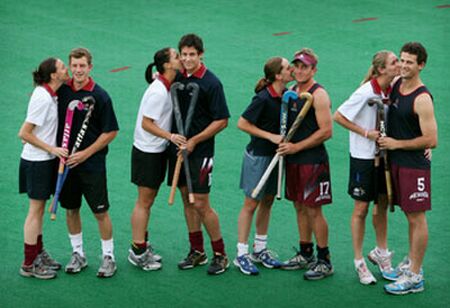 If you are into some sports team it is always best if you have an understanding partner: and in this matter the Hockey team of Queensland is having a great time.
Over the past few years the hockey pitch for the Queensland team had been real lucky: they can boast of prestigious commonwealth games medals as well as love all around with two couples already engaged and two in the queue.
The engaged couple have plans to tie their knot this very year. Here are two of the partners Madonna Blyth, Wayne Barry and Nathan Eglington, Madonna Blyth who share a very comfortable rapport with one another.
The best part of their relationship as both the couples have said is that having a partner who backs you up and supports you in all your efforts is the most wonderful gift that you can ever think of.
It has almost become a trend these days for the player to get engaged with spouses in the same profession: these make things pretty easier for one another.
We wish them all the luck and hopefully everyone will get married this year.
Via: The Couriermail